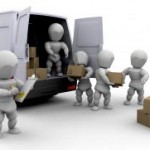 You should never underestimate the amount of physical and mental organisation it takes to move home. Packing boxes is one thing, but transporting them from A to B, is another. It can be extremely exhausting, especially if you're on a tight deadline to vacate your old property.
If you've a sizeable amount to shift or lots of valuable items, you can ease the burden of moving by opting for a recognised removal company. However, once you've decided on doing so, you need to establish which company to use.
Here are four top tips to finding the most suitable removal company
Get a number of quotes
Make sure that you get several professional quotes well in advance of any proposed completion date. Take into account the price, the service you will receive and when the companies are able to conduct the move. For extra ease and convenience, many larger removal companies will offer a packing service. You can be confident that everything will be taken care of.
Give yourself enough time
The quotation process can take a couple of weeks and finding an available date might take another couple of weeks. Give yourself enough time to choose a removal company.
Make sure you're insured
Most removal companies will provide you with dedicated moving insurance against loss or breakages of your property while it's in transit. Make sure this is the case before booking anyone. You should also contact your home contents insurer to find out if your current policy will insure your property while it's being moved.
Get a recommendation
One way of choosing the right removal company is from a positive recommendation. This takes away much of the uncertainty surrounding service expectations. If you can't get a recommendation, then trust your instincts and go with the company that has demonstrated professionalism, helpfulness and friendliness.
Here at Space Centre Self Storage we understand that you can move yourself. If you are in the North Bristol or Gloucestershire area and seeking to do so, we would recommend 1st Call Auto Rentals
However, if you opt for a removal company, do your homework and make sure you are happy with your decision.