When it comes to finding a business storage unit, one of the most important factors to consider is size. You want to make sure you choose a unit that is large enough to fit all of your stock, equipment and tools but not so big that you end up paying for unused space. In this article, we'll discuss factors that you should consider when choosing a business storage unit and which size to choose based on your specific requirements.
5 Factors To Consider When Choosing a Business Storage Unit
Are you looking for a business storage unit but feeling overwhelmed by the decision-making process? Don't worry we have compiled 5 things to consider before making a selection. By taking these factors into account, you can confidently select a unit that meets your specific requirements and safeguards your valuable assets.
1. The Size of The Business Storage Unit
When it comes to choosing a storage unit for your business, the size really matters. Underestimating the size can be a costly mistake, as half-empty units are not cost-effective. To avoid this, make a list of all the items you plan to store and their sizes before selecting a unit. It's essential to ensure that everything will fit in the unit.
You should also consider leaving some extra space to accommodate any future additions. Going for a small unit may not be enough to meet your business needs, and transferring everything to a bigger unit can be a hassle. So, choose wisely to avoid unnecessary expenses and stress.
2. Think Carefully About Location
If you need to access your stored belongings regularly, it's essential to choose a self storage facility that is conveniently located near your business. By doing so, you can save both time and money on travel expenses. This is particularly important if you need to visit the storage unit often for retrieval or delivery of goods.
Additionally, you should also consider the location of the facility itself. The area where the self storage facility is located can significantly impact the price of the unit. Therefore, it's important to weigh up the storage costs for your area and compare them with facilities in nearby areas. You may find that there are cheaper storage units a few miles outside of your area. This option could be more cost-effective, particularly if you don't need to visit the unit frequently.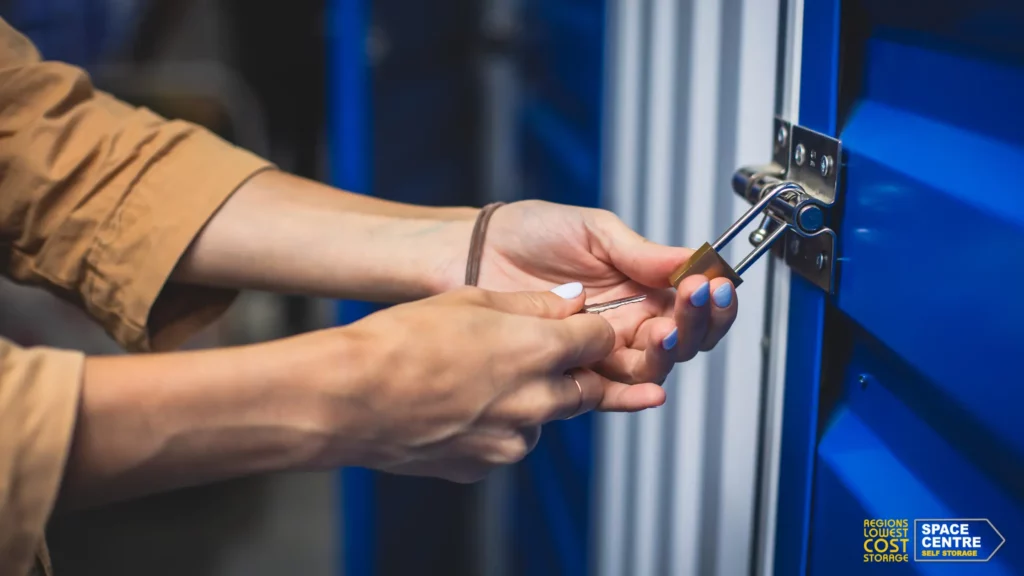 3. Security For Your Business Storage Unit
Security for your business storage unit is a crucial factor that you must consider. You want to ensure that your stored belongings are safe from theft, damage, and other potential security risks. When choosing a self storage facility, look for one that has strong security measures in place. The facility should have strong security measures, including secure access control systems, CCTV video surveillance, and fire safety measures.
4. Business Storage Unit Features
Storage unit features are another essential factor to consider when choosing a self storage facility. Different units offer various amenities, so you need to identify the features that are most important for your business needs.
Here are 3 features you may want to consider:
Climate-controlled storage is an essential feature for storing electronics or other sensitive items that can be damaged by extreme temperatures or humidity. A climate-controlled unit keeps the temperature and humidity levels within a stable range. This protects your electronic equipment from rust, corrosion, and other forms of damage.
Drive-up access is a useful feature that allows you to park your vehicle directly in front of your storage unit. This allows for easy loading and unloading, especially for heavy or bulky items that require frequent moving.
Other features to consider include 24-hour access, on-site management, and pest control. 24-hour access allows you to access your stored belongings at any time of day or night. Whereas, on-site management can provide added security and peace of mind. Pest control ensures that stored items are protected from pests like rodents and insects.
5. Ensure There Are No Hidden Costs
Before you choose a business storage unit and sign the contract, make sure there are no hidden costs or conditions. Ask for a detailed breakdown of all the fees you will be expected to pay, such as insurance costs, deposits, administrative fees, etc.
You should also check if there are any additional charges that may apply on top of the regular rental cost and make sure these are clearly outlined in the contract. This way, you can avoid any unpleasant surprises down the line.
Assessing Your Business Storage Needs
Now that you know what to consider when choosing a business storage unit, you will need to think about your situation in detail. Begin by asking yourself the following questions:
What items do I need to store?
How much space do these items currently take up?
Will I be adding more items in the future?
Do I need short-term or long-term storage?
Do any of the items require special storage conditions, such as climate control?
How frequently do I need to access the items?
Once you answer these questions, you will have a clear idea of the type of unit you need and other factors that are critical to your business.
Recommended: Dos and Don'ts of Business Storage
How To Choose The Size of Your Business Storage Unit
Storage units come in various sizes, but some are more common than others. To help you visualise, here are the most typical storage unit sizes and what they can hold, listed according to household content:
5′ x 5′: The smallest unit available is suitable for small items like boxes, clothing, and small furniture items.
5′ x 10′: Similar to a walk-in closet, this size can hold the contents of a small one-bedroom flat or office.
10′ x 10′: Units of this size can hold the contents of a two-bedroom flat or small house, including large furniture items like couches and mattresses.
15′ x 10′: A business storage unit of this size can hold the contents of a three-bedroom house, including appliances and multiple mattresses.
20′ x 10′: This size can hold the contents of a four-bedroom house or a large vehicle such as a transport van or boat.
It's essential to note that these are general guidelines. Your specific storage needs will determine the size of the business storage unit you require.
Recommended: How To Organise Your Business Storage
Space Centre Self Storage: Why Choose Us?
At Space Centre Self Storage, we guarantee the price for 12 months with no deposit or hidden costs. We also don't require a long-term commitment or charge additional fees for switching to a different unit or extending your rental period. You will also receive FREE insurance up to £3000, and if you need additional insurance, you can use your own provider or ours.
Additionally, each of our units has a smoke detector, and our facilities are monitored around the clock with CCTV, giving you peace of mind your belongings are safe and secure. We have facilities across the UK in Bristol, Stroud, Stonehouse, and Gloucester, and all are located near major access roads.
Are you still struggling to decide which size business storage unit you need? Take a look at our price and size guide, and if you have any questions, please contact our friendly team via our website.