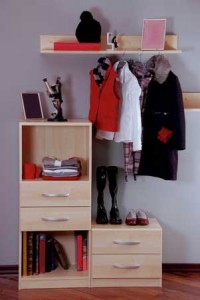 One of the first challenges facing new parents is to find child friendly storage solutions. After all, the arrival of your first child will not only be accompanied by a multitude of toys, games and books, but a lack of space.
So, what type of furniture should you be seeking to solve your storage problems? First of all, make sure there are no sharp edges or corners on any of the storage solutions chosen. Your pieces should be versatile, easy to clean and preferably, not too expensive.
Shelving is ideal for books and games, just like under-the-bed drawers. Maybe a child friendly ottoman would sit neatly at the bottom of your child's bed. Easy to sit on and with plenty of storage space too.
When you start looking, remember this: Your children will not remain as babies forever, so furniture and any other storage solutions need to be adaptable. Make sure the furniture you choose can be used for years – with wardrobes that let you adjust the height of the clothes rails as your child gets older. Likewise, opt for cabinets where you can remove the changing tables once your little one is out of nappies.
Baskets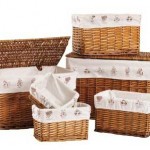 Baskets work for toy storage. They are not only attractive for use in a living room or bedroom, but they allow games or toy sets to be easily stored. Larger items like trucks and dolls can be stored in larger baskets that are often kept on the floor. Why not consider matching the baskets to the room's décor. This makes them even more attractive.
Cubbies
Some storage units feature "cubbies" for use as DVD or CD storage. Sliding baskets full of toys into these cubbies instead makes for an aesthetically pleasing means of storing toys while keeping them easily accessible.
Toy Box
A good old fashioned Toy Box is another ideal storage centre for kids. These can be made of wood with heavy lids that may be secured with latches to keep them safely raised. Less expensive but perfectly functional toy boxes are made of heavy plastic. These are very easy to keep clean. A wipe-down once a week with a disinfectant cleaner will keep the toy box looking new.
Plastic Bins
Some of these might not be particularly attractive, but they work well for storing toys. There are some great examples of what's out there here. Whether clear plastic or a solid color, they effectively house toys that would otherwise be strewn all over a room. Most of these plastic bins will stack neatly on top of each other.
Once you are settled and are happy with your storage solutions, you might want to have a spring clean or a de cluttering session to make a little bit more room for yourselves and your own belongings. After all, as any parent will tell you, a new arrival will not only change your life but your property too.
If you find yourself in de cluttering mode and feel reluctant to throw things away, you may well need to consider temporary external storage solutions for those items. Why not contact your local storage centre and see how much it will cost to hire a small storage unit?
If you have any thoughts on child friendly storage? If you have recently bought a storage basket or shelving that works for you, or even better, recycled and transformed something you already had share your ides in the comments box below.
If you want some advice on smaller temporary storage units, get in touch.