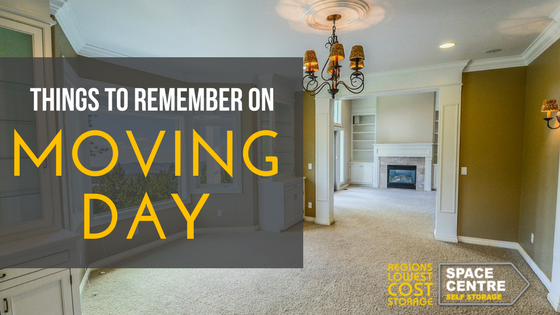 Moving can be exciting but also daunting, especially going to a new city or country far from your current home. Finding new places to socialise, eat and shop is part of the experience but before the fun stuff, comes moving day.
Whether you're moving for a new job, a fresh start or to be closer to family, moving day can be stressful. With so much going on, there are a couple of important things to remember for a smooth move. Some might seem glaringly obvious but you'll be surprised how easy it is to forget something.
Declutter and Clear Out
Getting rid of stuff means there's less for you to transport, unpack and find a spot for at your new home. An added bonus of course is having a fresh start without lugging around all the extra clutter. You also need to ensure that all your kitchen and bathroom items are clean and ready to move. The last thing you, or the moving company, want to do is pack and move dirty dishes.
Take your time and clear out one room at a time. Remember to clear out the loft, the garage and the dreaded garden shed stuffed with all things random. If you find items that you can't let go of stuff, renting a storage unit is always a good idea. Some storage facilities allow long-term and short-term agreements but it's always best to check first.
Moving Day Packing and Labeling
This is one of those 'captain obvious' moments but not using proper packing material could result in costly damage. Make sure your moving boxes are strong enough for the contents otherwise they could collapse under the heavy weight. Where possible, avoid using bin bags for clothes as they can easily tear leaving everything strewn all over the floor. Always use boxes or bags that can seal properly especially if you're moving in bad weather to avoid exposing your goods to the elements. Avoid using containers used for food stuff as they can leave behind bad odours, particularly your clothing.
Labelling is another surprisingly easy thing to do but so many of us forget to do it. Not only does it help you remember what each box contains, it also allows you to keep track of what has been packed and what you may have forgotten. Always use a permanent marker to label your boxes and use the name of the room they must be packed into. More importantly, clearly mark any box containing fragile items as this will ensure the moving company take extra care when loading and offloading.
Pack Personal Belongings First
Moving everything yourself is always an option but hiring a professional moving company can help reduce moving stress. Whatever you decide to do, we recommend that you sort through your personal belongings first. It gives you the opportunity to throw away, donate, or sell any items you no longer need. This includes clothes, shoes, toys, linen, smaller items and even furniture.
Keep aside a few boxes for essential items that you might need for your first night at the new house. Consider all the items you use on a daily basis that you need access to straight away. This includes your kettle, some cutlery and crockery, snacks and more importantly, things you may need in an emergency. For more packing tips on moving day, you'll find our Easy Moving Checklist a very useful resource.
Inform Everyone About Your Move
The hardest part is over and you've managed to successfully pack and unpack what seems to be your entire life. Now you need to inform people that you have moved and this includes friends and family as well. Go through everyone you regularly correspond with and inform them of your new address especially utility providers, insurance company and banks. You want to avoid missing statements, bills and late payment as a result.
Speaking of utility providers, always be sure to take a meter reading at your old property and also when you arrive at the new one. Forget to do this at your own peril as it could result in paying for electricity and gas you haven't used.
What about the keys?
While estate agents have different methods of dealing with key handovers, most will provide you with clear instructions. Some suggest leaving all the keys at their branch while others prefer one set at the branch and one inside the property. One last thing – don't forget to give the new owners or estate agents any alarm codes or special instructions.
On average, people in the UK start planning their move 4-6 weeks before moving day. Planning ahead gives you enough time to find a moving company, organise storage boxes and checking the price of self storage units near you.
We understand that moving day doesn't always go as smoothly as you'd like. Whilst most providers are flexible, not all are, so always check the terms. Get in touch with us to find the perfect storage solution for you at any of our facilities in Stroud, Bristol and Gloucester.