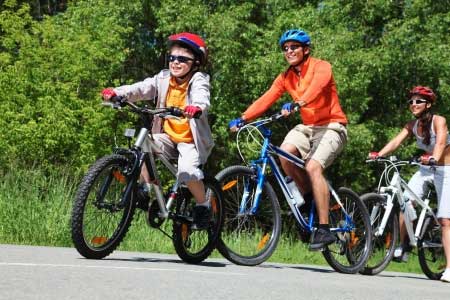 It certainly seems that cycling has become more popular over the last few years as more people are buying and riding expensive bikes, but do they really know how important bike storage is?
Your bike is a valuable item and needs to be properly stored and looked after whether at home, work, gym, going to the grocery store or stopping off for a quick latte. Always remember these golden rules for effective bike storage:
Out-and-About
Only store your bike outside for short periods of time
Use TWO different locks for extra security
Lock your bike to a solid, immovable object like a lamp post – not a fire hydrant
Remove any valuables or accessories from the bike
Storing bikes in a public area is always recommended; try avoid dark and quiet streets
Leaving your bike outside also means that, not only do you have to think about security; you need to consider weather conditions as well. A good idea might be a bike cover suitable for most bike types to protect from rain, wind, sun and other outdoor elements.
Home Bike Storage
Even if your bike is stored at home, in your garage or shed, the windows and doors should always be locked especially overnight and when you go out. If the bike is visible from the outside, make sure you conceal it or cover up the windows of the shed so nobody can peek inside.
Here is a quick look at Space Centre's 5 bicycle storage ideas:
Bicycle racks
Bicycle hoist
Wall mounts
Bicycle cover
Self-storage units
Read more about our bicycle storage solutions in this article where we will guide you in the right direction when storing bikes at home.
Self-Storage
Bike storage can be somewhat challenging especially if you have no more space at home. What if you only cycle on weekends and don't want to add to the clutter?
Your garage is already home to your car and to avoid damaging both, perhaps it's time you looked at renting a small storage unit. Choose a unit that's big enough for what you need, is water tight and can be locked. These are great for when you go away for a weekend or a holiday.
There are also other options out there and one which we feel is of interest come in the form of Stainless Steel Sheds. These can be used for bike and equipment storage, garden tools or anything too valuable for an old weather-worn garden shed. Head over to Ansgard for more information.
The last golden rule is simple; don't get carried away on apps like Strava which is great for sharing and competitive cycling, the downside is that it also tells the world exactly where you are. This, coupled with social media madness when sharing photos, could very well put your equipment on someone else's wish list!
Where do you keep your bicycle(s)? Let us know if you have any suggestions on how you can safely store bicycles without adding to the clutter.