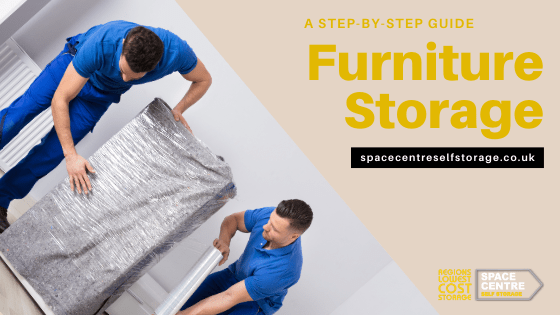 How much do you know about furniture storage and preparation? If you're planning on putting furniture into long-term storage, you must take the necessary precautions to protect it for future generations.
It's easier said than done as keeping furniture in peak condition does take some effort. Keep reading if you want to learn all about furniture preparation and furniture storage whether it's going to the garage or a storage unit.
Furniture Storage And Preparation
Whether you're downsizing, doing major renovations or trying to put seasonal items out of the way, long-term furniture storage is your best option. It even works for treasured antiques or collectables that no longer go with your home décor. Not to mention keeping some quality furniture safe for your children once they get their own place. Follow these simple guidelines to keep everything in good condition.
Clean Everything Properly
The secret to longevity in furniture storage is to never put any dirty items inside. Cleaning it will help prevent unpleasant odours from travelling to nearby storage units and significantly reduce the formation of mould and the amount of dust.
When it comes to wooden or plastic furniture, it's best to use mild soap and water. For wood specifically and antiques, use a wood cleaner to protect the existing surface finish
If you are sanding down the furniture, apply varnish or a protective coating and allow to dry
Clean fabric furniture (couches or seat cushions) with fabric or upholstery cleaner and make sure everything is completely dry before packing it away
Polish any metal furniture or sections with a polishing cloth and metal cleaner. This will help remove any existing oxidation and delay the build-up of tarnish
Recommended: 'How To Avoid Damage When Storing Furniture'
Disassemble What You Can
Before moving and storing furniture, take apart anything you can to save space and make it easier to clean, transport and pack. Many items can be dismantled including desks, bookshelves, tables and chairs among other furniture pieces. This will also help reduce the likelihood of movers breaking or scratching anything. If you do, you can visit a DIY shop and buy a wood repair stick or kit.
Remember to pack all screws, bolts and item-specific tools in a labelled bag attached to the corresponding item. Group the components of every dismantled furniture item to avoid losing or confusing any parts. It's important to pack every piece of furniture carefully and label it clearly for future reference.
Wrap Before You Pack
Covering furniture will protect it from scratches and fading but be sure to use the right wrapping. The best items for furniture storage include old bedsheets or soft blankets as they don't trap moisture.
For leather and fabric furniture, cover and wrap it with sheets or special furniture covers to prevent dust and reduce the risk of rips and stains. When it comes to wooden furniture, don't use plastic wrap as it creates condensation which could cause the furniture to swell.
Never apply packing tape directly to your furniture as it should only adhere to the wrapping material. Remember to place extra padding around corners and edges so they don't scratch other items in the garage or storage unit.
Tips For Packing Glass Items
Glass items should be clearly marked and for extra safety, apply masking tape across the surface to minimise the risk of shattering. Glass tabletops and mirrors need extra care and require a few additional precautions:
Wrap the piece of glass with packing paper
Don't stick the packing paper directly to the glass
Cover the glass in bubble wrap or put the item into a box for extra safety
Use a box that is long and wide, but quite flat, resembling the shape of the glass
Furniture Storage Tips For Garages Or Storage Units
Regardless of where you store your furniture, packing it properly should be at the top of your list. You need to know how to stack things and save space where you can using the information below.
Whenever storing furniture without climate control, it's best to keep things off the floor. Use pallets, wooden planks or cinder blocks to add an extra layer of protection against flooding. You can even use a layer of cardboard or a drop cloth as it's better than nothing.
If possible, keep wooden furniture away from the entrance in case rain comes through the door. And whatever you do, never leave anything perishable inside your storage facility as it could attract bugs or unwanted critters.
How To Pack Furniture In Self Storage Unit
The best piece of advice we can give you regarding furniture storage is to not overdo it. If you shove too many items into a small space, things can easily break. Take some time to properly organise your storage unit keeping in mind ease of access and safety.
Pack furniture methodically, starting with the biggest items and then boxes and smaller items toward the end
Make sure you leave an aisle to access the back and sides of your unit with ease
Try to keep your storage space clean and decluttered
Create a master list on a clipboard near the entrance with a full inventory of everything inside the unit Store sofas end-to-end and stack chairs upside down, seat-on-seat to save loads of space
By cramming in more than you should, you run the risk of knocking things over, bending pieces and causing other damage
Recommended: 'How To Pack Your Self Storage Unit To Maximise Space'
Long-Term Furniture Storage Solutions
When it comes to furniture storage, protection from the elements is vital so it's important to consider all your options. Finding the right storage facility will only help you save money and space but it will also give you much-needed peace of mind.
Storing furniture shouldn't be a hassle or cause unnecessary stress and just requires a calm, calculated approach. One of the biggest mistakes many people make is spending too much on the wrong unit, whether it's too big or too small. Make sure you choose the right size storage unit for the amount of stuff you have. This handy Price & Size Guide can help!
At Space Centre, you can choose a short-term or long-term contract with no hidden costs or small print. Keep your things safe at Space Centre as our units in Stroud, Bristol, Gloucester and Stonehouse are ideal for furniture storage.