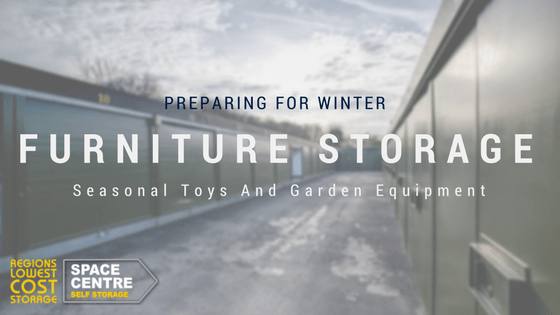 Not too long ago we gave advice on furniture storage and how to prepare it for summer. Within a blink of an eye, the season is almost over and therein lays the next challenge. Winter is around the corner and now you must decide what to store and what to keep. We're also not just talking about furniture storage but also seasonal toys and garden equipment.
Storing your garden tools, furniture or toys in the garage or shed will take up too much room and it's not as safe as you might think. Without even mentioning the clutter you'll create, you have to consider dust, damage and theft. You also can't just cover outside furniture and hope it will hold out against the elements.
5 Top Tips for Garden Tools and Furniture Storage
Without effective furniture storage, your belongings are at risk. Whatever you decide to do, it's imperative that you prepare everything before storage. You don't want to store dirty or broken things; it almost defeats the purpose.
Check all your garden tools before packing away for winter. Clean off any surface dust or dirt from grips and blades and remember to oil tools which are difficult to move.
Use rags to wipe down all exposed surfaces of your petrol lawnmower. Ensure you clean the hard to reach places underneath the engine. Don't forget to drain the oil and any petrol.
Check the hoses of the gas BBQ for any signs of damage or deterioration. Clean all removable parts like the grill and racks for a proper clean prior to storage.
Most furniture types can be cleaned using warm soapy water but remember to wipe and dry off afterwards. After thoroughly cleaning and drying, rub car wax on aluminium patio furniture for best results.
Outside cushions, blankets or throws need to be washed and dried properly before storage.
Storing Toys and Sport Equipment
Paddling pools and other inflatable toys are most susceptible to damage. Any sharp object like a spade or rake could easily puncture and tear your favourite lilo. Be careful how and where you store these.
For all the water rats out there, storing your surfboard, body boards, kayak or even Jetski is vital. Not only do these items take up loads of space, they are expensive to fix or replace. You could rent a self storage unit for all of this plus your trailer. Drive up access and big storage units make this an easy decision. Other beach equipment like windbreaks is great for summer but less than useful with the autumn wind and colder weather. Rather store them away until the temperature gauge rises again.
When it comes to toy storage, baskets and tubs are great. If something doesn't fit in the tubs, get some garage hooks or install additional garage shelving. You could even buy a standalone shelving unit for the shed or garage. Take a look at these very handy toy storage ideas.
If you are short on space but still want to keep some things, why not consider renting a self storage unit? Most storage facilities offer units of all sizes, with drive up access and 24 hour security. What more do you need?
If you're looking for short or long term furniture storage, we have facilities in Stroud, Bristol and Gloucester. Our terms are fully flexible and we don't tie you to a long term contract so you can store for as long as you need. You are also free to change storage sizes at any time at no extra charge.