Whether you're a one-man band or you run a company, small business storage at Space Centre can be of great help to your business while keeping your overheads low. Self storage has become a convenient solution to the many problems businesses face, such as lack of space and security issues.
Ultimately, self storage can benefit small business owners in many ways, particularly when it comes to storing their tools and equipment, stock, documents, and other items that may not fit into your office or warehouse. In this article, we will explore how small business storage can help with day-to-day operations and facilitate its growth.
6 Reasons Why You Need Small Business Storage
Much like how people use self storage for personal belongings, businesses do the same with supplies, seasonal items, office furniture, equipment and in some cases, even vehicles. If you need more convincing, here are a few additional reasons why you should consider a small business storage unit:
1. Helps You Save Money
If you have a small business, you're likely working within a budget. Moving to larger premises may be impossible if you don't have many resources available. By renting out a small business storage unit, you can save money each month rather than overpaying for space you don't need. Self Storage is the perfect solution if you want additional office space without spending a fortune on building a bigger store room or renting warehouse space.
2. Reduces Clutter in Your Office
Your company's stockroom can easily become cluttered and disorganised as soon as new inventory arrives. By using a remote storage unit, you can better manage excess supply and only keep essential stock in-house. You can also place heavy equipment, such as large tools and filing cabinets, in storage, creating more space in your workplace.
For tips on storing tools, please read this blog: Simple Tool Storage Solutions For Tradesmen.
3. Small Business Storage Provides a Secure Space for Stock
Unlike large businesses, small business owners typically don't have in-house storage and instead must store their valuables in a less secure location like their basement, attic or garage. Unfortunately, this makes the items more susceptible to theft or damage.
Small business storage units offer security features that companies can take advantage of, including surveillance cameras, security personnel and gated entry. Self-storage units are also built with fire and disaster safety in mind. So, with all of these precautions in place, you can rest assured that your items are safe in the event of an emergency.
4. Helps To Maximise Office Space
As your small business expands, you may experience a lack of space. Once inventory and supplies grow, there may no longer be room for them at the office. For home businesses, this often means work inventory spilling into areas in your home which could quickly clutter your garage, spare room or living room.
Renting a small business storage unit provides an ideal solution for storing excess merchandise, so it doesn't impact office space or clutter your home. The space that was previously used to hold these items can be converted into an office for a new staff member instead. Small business storage is especially beneficial for business growth as it provides more space to conduct additional operations.
5. Increases Safety
If you work with heavy machinery or other potentially hazardous tools and equipment, it's essential to store them safely when not in use. This is especially important if you have a home-based business, as these items can pose a danger to the rest of your household, including children and pets. Self-storage units are convenient and safe places to keep extra inventory and construction materials. Plus, you'll only need to access them when you have a job that requires those specific tools or materials.
6. Provides Exclusive Access
Since security is our number one priority, we provide each tenant with their own set of locks, keys and access codes to their storage space. This gives you peace of mind that your belongings are well protected, as you are the only person with access to the storage facility.
At Space Centre, we offer FREE storage insurance up to £3000, but if you need extra cover, you are free to choose your own insurance company.
Benefits Of Small Business Storage
Many storage facilities have been built in recent years to accommodate the growing needs of small to medium businesses in particular. These units are usually less expensive, more secure, and easier to access than traditional storage options. Storage units are especially useful for companies that want to purchase large quantities of supplies at a discounted rate.
Some of the other advantages of small business storage include the following:
You can operate your business from nearly any location with a central, low-cost distribution or holding centre.
With lower logistical costs, you can increase your margin by setting up a collection of goods only when needed.
Small business storage at Space Centre is cheaper than renting a warehouse or office space.
With lower operating costs, you can invest money in marketing, hiring staff, or providing employee training.
By decluttering your office and placing items in self storage, you can create a sense of order which could increase productivity.
Our service is flexible, with reasonable storage rates and a short notice period.
Also read: What Are The Benefits Of Self Storage?
Small Business Storage: Items You Can't Store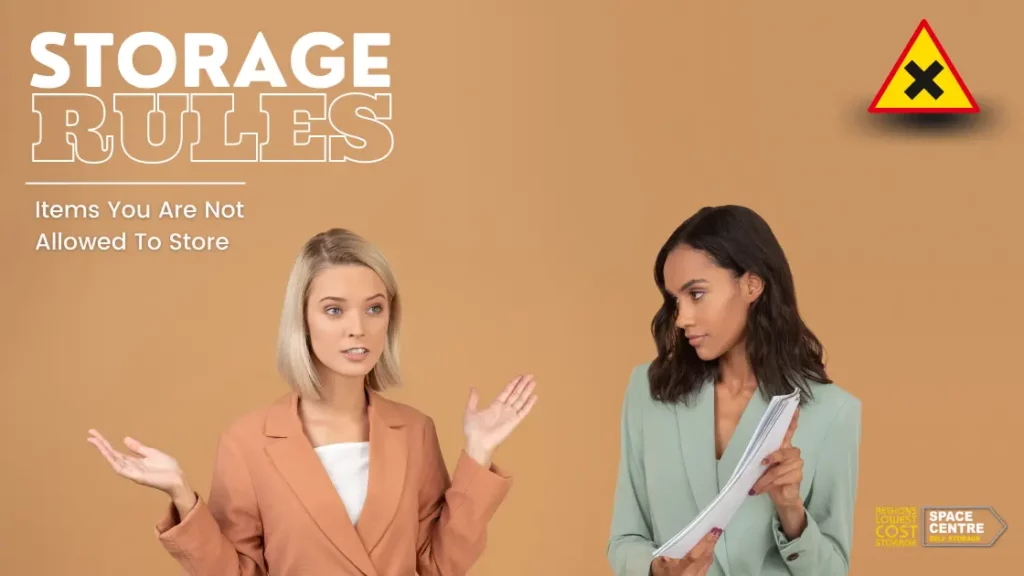 Most storage facilities, like Space Centre Self Storage, will have a clear guide of what you're allowed to store. If there's anything you are unsure about, read the contract thoroughly before signing anything or ask the staff directly. It is essential you do not risk your safety or the safety of others by storing something you are not allowed to.
Some items that cannot go into self-storage are:
Items that can easily catch fire and cause an explosion (petrol, propane, natural gas and other chemicals)
Perishable food items and plants
Animals
Dangerous, pressurised materials, such as aerosols
Weapons, stolen or illegal goods
Fragrances and perfumes
Jewellery or other valuables (unless you have a special insurance policy as storage facilities typically can't be held liable)
Why Choose Space Centre for Small Business Storage?
Before you sign a contract with any storage facility in the UK, make sure you go through the terms and conditions with a fine tooth comb. Some facilities have different policies and procedures than others, which could result in additional charges. Space Centre Self Storage is committed to full transparency with all our customers, guaranteeing no hidden fees or small print!
You don't have to worry about our prices changing for 12 months, and we offer flexible contracts, so you are not tied down. If you need a different size unit or want to extend your rental period on your small business storage unit, that's no problem either!
Get in touch with us today for more information or an obligation-free quote.