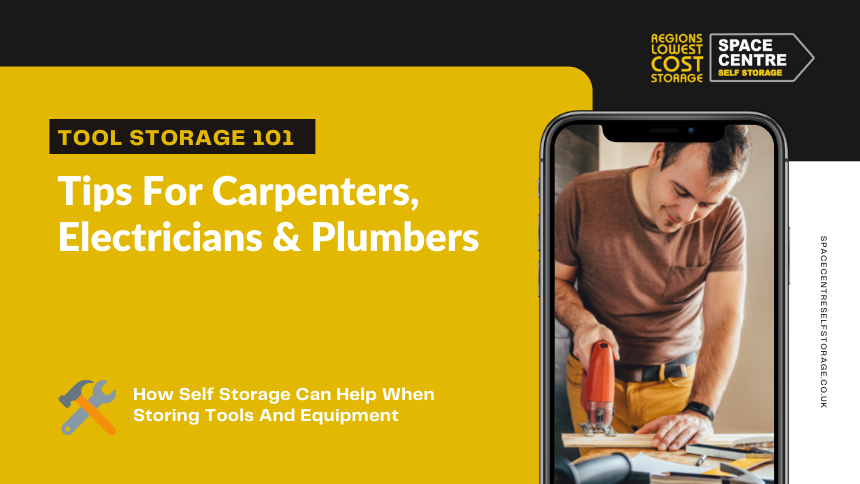 When it comes to tool storage, there's no time to mess about. Whether you're a sole trader, small or medium business, keeping tools and equipment safe should be at the top of your to-do list. Not only are they expensive to replace but if a tool is broken or stolen, you may also lose out on potential business. That raises the question of where (and how) to store your tools when not in use so here we look at some simple tool storage tips and how self storage can help.
Tool Storage Advice For Carpenters, Electricians And Plumbers
As a tradesman, you need your tools with you at all times, or at least in a secure and easily accessible location. If you were to rent business premises, you are likely going to use it mostly for tool storage and that's not a smart decision. You are better off renting a self storage unit as the cost is low and easily accessible which makes it incredibly convenient.
A self storage facility can essentially help you save on rental fees, property insurance and staffing costs. It offers the ideal solution for all your tool storage needs as you can keep dirty work tools out of the house while giving you 24-hour access. If you choose a storage facility in a central location, you can even use it as a halfway point of sorts. Here's how it can work for you.
How Self Storage Can Help When Storing Tools And Equipment
One of the biggest concerns for tradesmen is storing and transporting tools and equipment but self storage offers a unique solution. Whilst you may not need heavy equipment or loads of tools for every job, what happens when you do?
Many tradespeople simply keep everything in their van but that can be very risky. Even if you lock your van, install an alarm and have the necessary tradesman liability insurance in place, there is always a chance of would-be thieves getting their hands on your expensive tools and equipment.
If you rent a dedicated tool storage unit, all your tools will stay dry and safe no matter what. You can keep heavy and expensive equipment in the storage unit until you need them and only carry what you most often use in your van. This means there's a smaller load on your van and less money spent on fuel.
Benefits Of A Tool Storage Unit
All types of tradespeople need specific tools, equipment and parts, such as pipes, fittings and other items. Having your own tool storage unit filled with everything you most often need can make your life a lot easier. Here are some of the main benefits of a tool storage unit:
It provides 24-hour security (and peace of mind)
You can store more items than at home or in the car
It helps avoid running out of parts and being unable to finish a job
Limits back-and-forth trips to DIY stores and merchants to find what you are looking for
Employees can get access to your self storage unit so they can get stock whenever they need to
Units with drive-up access make storing heavy or bulky items much easier
Collect or drop off stock and equipment between jobs, before or after work
Simple Tool Storage Tips
Knowing what you need and what you want to store beforehand is important to keep your business operations running smoothly. Different tools may need different types of boxes, containers, shelves or pegboard. Depending on the item and storage conditions, resealable plastic containers are typically better but you can also use sturdy, good quality cardboard.
There isn't one single rule for tool storage but here are a few things you can do to keep your space more organised.
Create an inventory for different tools and sort them according to category
Use a tool storage cabinet with pegboard backing
Hang baskets or containers on hooks
Maximise vertical tool storage space with wall strips
Invest in a mobile workbench
Use the excess space on the end of cabinets or shelves
Keep nuts and bolts in clear mason jars
Recommended: '10 Tips For Organising Your Tools'
5 Tips For Keeping Your Tools Safe In Your Car
Even if you have a storage unit, there are times you don't have a choice but to keep things in your car. However, there are a few things you can do to keep everything as safe as possible:
Park in well-lit areas with CCTV coverage
Tint your windows, install an alarm and an immobiliser
Display stickers showing that 'no tools are left in this van overnight' although thieves still smash a window or peel back a door just to check
Make sure you have proof of what has been stolen by taking a photo of the van's fully laden contents which will make an insurance claim much easier
Take out separate tool insurance which is often easier to claim against and comes with lower excess
Where To Find A Good Self Storage Facility
With decades in the self storage industry, we know a thing or two about tradesmen and the growing need for secure tool storage. At Space Centre, we have a wide selection of ground floor or first-floor units ideal for equipment and tool storage.
Our staff are friendly, experienced and always ready to assist where they can. We have self storage facilities in Bristol, Stroud, Gloucester and Stonehouse in convenient locations. We also offer FREE storage insurance up to £3000.
Have look at our Price And Size Guide for a visual illustration of how much storage space you may need. When you are ready to talk tool storage, give us a call or get in touch via the website for more information.