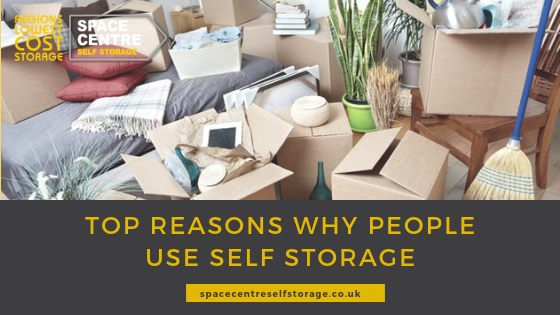 The self storage industry is ever-increasing as more people and businesses need additional storage space without breaking the bank. Compared to renovating an existing building or renting additional rooms, self-storage facilities provide an affordable and convenient solution. It is the ideal alternative for people and businesses wanting to keep their assets and belongings in a secure location.
Besides financial considerations, there are several other reasons why more and more people are turning to self storage. Let's take a look at a few of the main reasons why people use self storage.
Limited Storage Space At Home
Not everyone has a big enough property to accommodate the increasing need for household storage. Self storage is the most sensible option for those looking to declutter their existing living or work space. It is not always a question of storing junk but rather storing items they don't want to get rid of or no longer need on a daily basis.
The same can be said about preparing for the future. As property prices continue to rise, getting into the housing market is challenging enough. Many parents are storing furniture and other household items to help their children get started when they are ready.
Moving House
More people are moving out of their old homes before moving into their new one to avoid losing a sale. When this happens, people often have nowhere to safely store their belongings. While some may be able to ask a friend, the best and safest option is to rent a self storage unit. At the same time, if you are downsizing but don't want to throw away or sell everything just yet, a self storage unit will help while you decide what stays and what goes.
Document And Stock Storage
When it comes to commercial storage, small, medium and even large organisations choose self storage. They often need to store products, samples, receipts and other important business documents. For many, office or warehousing space is too expensive. While some may rent a larger premises, it is not always the best or most economical solution.
In addition to saving on costs, self storage units can also provide climate-controlled environments at a significantly reduced rate than renting property. With the ease of access and 24-hour security, businesses can easily store and retrieve inventory and archives. Self storage provides business owners with much-needed peace of mind knowing that their valuable assets are safe at all times.
Secure Storage For Vehicles And Equipment
Individuals or businesses who use seasonal equipment or hardware can truly benefit from self storage. This includes watersports equipment, gardening tools or camping gear that often clutter the house or office space throughout the year. Self storage units keep these seasonal or surplus items safe during periods when they are not regularly needed.
The same applies to vehicles which may not be called upon for extended periods of time. While additional terms may apply for storing some classes of vehicles, the units offer safe and secure storage for cars, boats, motorcycles and trailers among others.
Renovating And Home Improvement
There's no denying that home improvement projects or renovations can get really messy. If you are adding onto the house, breaking down walls or repairing the roof, chances are dust and dirt will follow. The last thing you need is builders inadvertently damaging your carpets, appliances, sofas or wooden furniture.
Renting a self storage unit would be ideal to house your valuables whilst the work is ongoing. Once the work is complete, you can retrieve your belongings from storage and put them back in their original spot or take the opportunity to redesign your interior.
Self Storage For Hobbies
Everyone knows that hobbies can take up loads of time and space. While some hobbies may require more space than others, self storage units are available in many sizes. Find the one that best suits your hobby whether you collect antiques, love train sets, golfing or weekend fishing trips. Golf clubs and fishing gear take up plenty of space around the home or garage and using self storage can really make a dent in your clutter.
Some hobbies take up valuable space so many people choose to keep their hobbies away from the family home. Not only does this leave more space at home but it also gives you the time and personal space to enjoy your hobby to the fullest.
Student Storage And Working Abroad
Whether you're a student taking a gap year or working abroad for a period of time, you need secure storage. Whatever the reason for being away from home, your belongings need a safe place and asking friends or family may not be the best option. Anything can happen, from damage to theft or simply keeping your things away from prying eyes. Self storage is the solution as all of your things are securely stored until you return.
The same applies to students going home from university during the holidays. They will have accumulated various items during their stay including a television, DVD player, a sofa, and their own bed among other things. Unless it's your final year when the summer term is over, it is unlikely that you want to cart everything back to your parents only to bring it all back after the holidays. If you are concerned about who might be hanging around your rented accommodation while you're away, a local self storage unit close to your university accommodation is ideal.
Why Choose Space Centre Self Storage?
Since 1995, Space Centre Self Storage facilities have provided affordable, reliable and quality storage units. We offer a wide range of sizes, internal or external, with rental contracts covering short and longer stays.
In addition, Space Centre Self Storage offers quality services:
Clean, dry, well ventilated and well-lit storage units
Drive-up access
24-hour security (CCTV and alarms)
No deposit required
No long-term commitments
Free insurance
Flexible to change unit size at any time
'Our customers choose us because we offer quality storage at an affordable price with a flexible and hassle-free approach. Our clear pricing policy enables our customers to know the full costs of their storage. We don't increase our prices once people have moved in and offer a 12-month price guarantee. You can also store for exactly as long as you want to and swap unit size when your needs change.'
Choosing the right size storage unit can be difficult but our staff are here to help you every step of the way. Get in touch if you need a storage unit for household goods, furniture, business documents or tools. You are welcome to visit any of our branches to take a look or experience a virtual tour of Gloucester and Stroud.