Self storage units have become a popular solution for people who want to declutter their homes and free up some space. Decluttering is the process of getting rid of unnecessary items and organising the remaining possessions. This task is essential to create a clean, organised and stress-free living environment. With the changing of seasons, it is the perfect time to evaluate the contents of your self storage unit and decide what to keep, bin, sell, or donate.
How to Declutter Self Storage Units
Decluttering is not just about getting rid of stuff; it's about creating a space that aligns with your values, lifestyle, and goals. This process can be challenging, but it is worth the effort. By following the principles of decluttering, you can simplify your life, reduce stress, and create a space that brings joy and peace.
1. Keep
The first principle of decluttering is to keep what is essential and useful. When evaluating your self storage units, ask yourself whether you still need each item and if it serves a purpose in your life. If you do need the item, keep it. If not, consider getting rid of it.
2. Throw Away
The second principle is to bin or throw away items that are no longer useful. This could be anything from old magazines and newspapers to broken items that cannot be repaired. Don't feel guilty about getting rid of items that no longer serve a purpose in your life. Instead, focus on the benefits of having a clean and organised space.
3. Sell
The third principle is to sell items that are still in good condition but no longer needed. You can hold a garage sale, sell items online, or take them to a second-hand store. Selling items can help you recoup some of the money you spent on them, and it's also a way to give them a new life and make someone else happy.
4. Donate
The fourth principle is to donate items that are still in good condition but no longer needed. Donating items can help others in need and is a great way to pay it forward. Choose a charity that aligns with your values, and consider the items you are donating carefully. Ask yourself if someone else could make use of them, and if so, donate them with joy.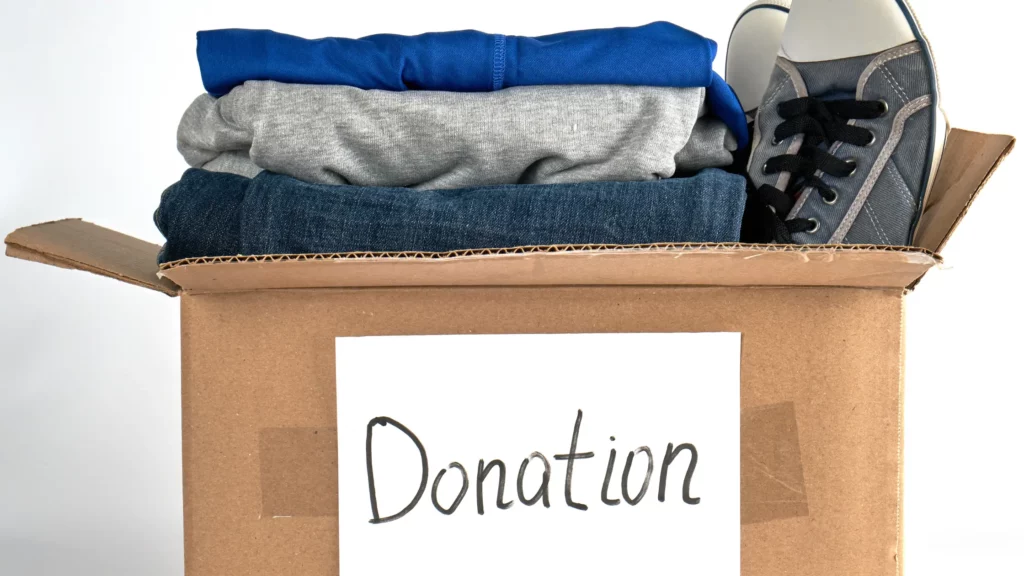 3 Tips for Organising Storage Units
1. Pack and Label Self Storage Containers Clearly
If you were in a rush when you moved and didn't have time to organise and label your items correctly, we recommend taking the time during your seasonal clearout to do this correctly. Not only will it maximise the space within self storage units, but it will also make a seasonal changeover quick and easy.
Now that you know what you would like to keep after decluttering your storage unit, take time to group items together by type or by room.
Then place these items in good quality boxes or clear storage bins and clearly label each box. Taping a concise inventory list of each box's contents to the outside of the box will make finding items in a hurry a breeze!
If you have delicate items in your boxes, make sure to wrap them in bubble wrap and fill the box with packing peanuts for added protection.
2. Rotate and group items by season in self storage units
Soon winter will be over, and you will want to get your summer clothing, beach towels, and outdoor furniture out of your self storage unit. During your clear out, make sure to place any self storage containers that hold winter items, your Christmas tree or holiday decorations at the back of your unit.
Then simply bring your summer items to the front of your self storage unit for easy access. Don't forget to leave a clear path down the middle so that you can access your winter items if the weather suddenly turns cold again.
3. Create an inventory list for your self storage units
Creating a self storage inventory list can be an invaluable tool. Not only will it help you to keep track of what items are in your self storage units, but it can also serve as a guide when packing up and reordering your self storage containers.
If you add more items or remove self storage containers from your storage unit, remember to update your inventory list so you know exactly what is in your storage unit at all times.
If you need more tips on how to pack your storage unit, please read the following blog: What Is The Best Way Of Organising Self Storage Units?
How To Prevent Hoarding in Self Storage Units
While hoarders are often portrayed in movies and magazines, the true severity of their condition is rarely understood. It's more than simply collecting items – this debilitating illness affects an estimated 2.5-6% of people living in the UK, according to Hoarding Disorders UK.
Hoarding is an emotional disorder with various causes, from childhood trauma to going through a divorce. Although this condition can affect people in similar ways, the severity of it varies. Self storage units can help hoarders organise their living space without having to let go of items just yet. But be mindful that storage units can also make the problem worse as it is easy to pile items inside without much forethought.
We recommend the following tips to help you avoid hoarding items in self storage units:
Speak to a therapist to get the support you need
Take time to evaluate your home and storage unit and let go of items you don't need
Ask yourself if an item holds sentimental value, and if not, let it go
Donate items that you don't need to others in need to promote a sense of joy
Downsize your storage unit and save some money
Why Choose Space Centre Self Storage?
At Space Centre Self Storage, we strive to provide a stress-free storage experience for our customers. We never require long-term commitments or charge fees if you need to switch units or extend your rental period. To ensure the security of all items stored with us, every unit has its own smoke detector and is monitored 24/7 by CCTV cameras.
Are you searching for a storage facility near you? We have self storage units conveniently located in Bristol, Stroud, Gloucester, and Stonehouse.
If you have any questions, our friendly team at Space Centre is happy to help. Please feel free to contact us or visit our website for more information.