Storing photographs is a crucial part of preserving all those wonderful memories. From baby pictures to family portraits to candid snapshots commemorating life's most significant occasions, these photographs allow us to remember our loved ones and share them with others across the world. Whether it's through physical albums and cloud storage, or physical photo books, there are several options to choose from when storing photographs. In this article, we share a few easy and affordable tips on storing photographs.
Storing Photographs: Why You Should Print Out Your Photos
In this digital age, worrying about preserving physical printed photographs might feel a little old-fashioned. Still, experts agree that having both a digital and print collection is essential to protecting your photographic memories for years to come. Not only will you have peace of mind knowing your precious memories are safe, but generations down the line can also experience these moments firsthand through tangible prints.
We have no idea how our children will gain access to digital photographs on our cloud or hard drives, so printing and storing photographs of life's main life events is essential for future generations. To ensure that your photos remain safe and intact for centuries, professional archivists recommend utilising a number of specific methods. Though just keeping them in shoeboxes might still keep them in good condition after 30 years, the best way to guarantee their preservation is by using the below techniques.
5 Tips On Storing Old and New Photographs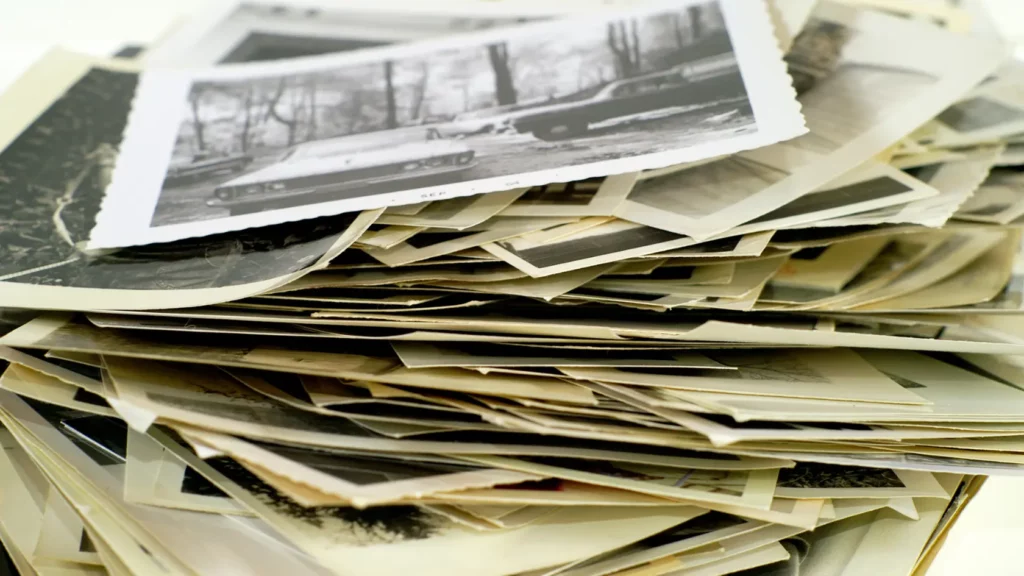 Storing photographs under the right conditions is essential to prevent damage and fading. When considering a place to store your old and new photos, these are the key factors you should keep in mind:
1. Beware of moisture
If you're considering keeping old photos in your basement or attic, be mindful of the possibility that moisture may find its way into this area. Moisture from floods and high humidity levels could damage physical photographs irrevocably, so it is essential to keep them away from moisture.
2. Temperature control is critical when storing photographs
Keeping physical photographs in an environment with a consistent temperature is essential to maintain their integrity. The ideal storage condition should be below 23 degrees Celcius, as temperatures above this may cause the chemicals used for processing photos to fade and discolour them over time.
3. Ensure there is adequate ventilation
An area with plenty of air circulation is essential in protecting photographs from mould growth and organic damage. Make sure to invest in a space where fresh, clean air can regularly circulate for the safety of your photos.
4. Be mindful of lighting when storing photographs
Photos can quickly fade due to exposure to sunlight and other forms of light. To preserve your prints long-term, make sure they're stored in a dark environment or completely encased within an opaque box to protect them from any exposure to light.
5. Before storing photographs, make digital copies just in case
Preserving your family's memories is of the utmost importance, so why not take advantage of current technology and scan those your photographs? Not only does it safeguard against the risk of photo loss or damage, but it also allows you to easily share special moments with loved ones both near and far.
Storing photographs in a self storage unit at Space Centre may be your best solution if you want to ensure your old family photos are safe. Our self-storage units are clean, dry and safe; ensuring that your photos remain in perfect condition for as long as they're stored with us. Whether you're looking to store a few albums, photo books or massive prints, our storage units can be a safe haven for preserving old photographs.
Pro Tip On How To Store Photographs
When managing antique photos, be sure to wear a pair of crisp white cotton gloves because any residual oils from your hands could ruin these precious family heirlooms. As you organise and label them, make sure to keep the prints supported, as they can become brittle with age.
Preparing And Storing Photographs
When it comes to storing photographs, it's best to be organised. Separate your pictures into envelopes or boxes with soft and water-resistant plastic exteriors, and use file folders or dividers inside for added security. An opaque plastic box can help contain your precious memories and keep them safe from any potential damage.
Shoe boxes remain one of the most common choices for storing photographs, and it's easy to see why; they are typically readily available and perfectly shaped, stiff enough that it keeps photos flat while keeping them well-protected. Nevertheless, shoe boxes aren't waterproof, so generally should only be used as an organising tool rather than a long-term storage solution. For long-term preservation, plastic containers which can protect your photos from water damage are necessary.
Tips for Packing and Storing Photographs In Boxes Or Envelopes
When storing photographs, utilise flat and firm materials to ensure the photos remain flat
To prevent any damage or dog-earing, make sure not to stuff too many photos into a space that's too tight.
Fill any excess space in your containers with non-acidic tissue paper.
To prevent old photos from peeling apart, use non-acidic dividers.
Protect your precious photographs and memories by preserving them in albums with acid-free sleeves, sheet protectors, or photo corners.
Refrain from using adhesives on printed photos as they can damage the quality of your prints due to their acidic content.
To protect your photo album's spine and prevent pages from falling out, avoid cramming too many photographs in it.
To ensure your memories are kept safe, opt for photo albums made from textiles like leather that won't attract moths and other pests.
Safeguard your precious memories by wrapping photo albums in tissue paper or placing them in a small box before putting them into larger containers.
Storing Photographs: Digital Copies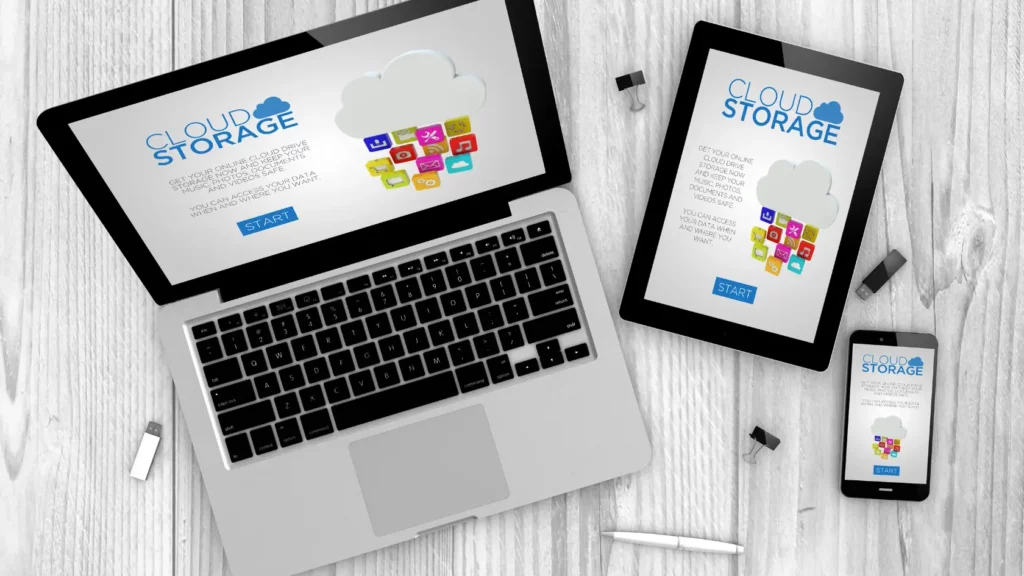 When it comes to storing digital photos, you have two distinct options: cloud-based storage and physical storage. For extra safety or convenience, utilising both solutions can be a wise move.
How To Store Photographs Using Cloud Storage
Cloud storage with companies such as Flickr, Dropbox or Google Photos is a cost-effective option that allows you to easily expand your storage space without the need for physical devices. You'll never have to worry about damage, loss, or device failure again! Of course, this solution isn't perfect, as accessing and uploading photos requires an internet connection. Despite this minor setback, cloud storage remains one of the best solutions available today for storing data securely.
How To Store Photographs on External Hard Drives and Thumb Drives
For those who prefer to take the traditional route, physical storage can be a great choice. To stay organised, you'll likely need multiple devices and an efficient workflow plan in place. Moreover, it's wise to back up your data on another set of hardware at a separate location; this way, your photos are safe elsewhere if something unexpected happens, like theft or fire.
Storing Photographs with Space Centre
By sorting and filing your family pictures both physically and electronically, you are now able to easily share memories with those who matter. Your children, grandchildren, and great-grandchildren will be able to relive the past due to your efforts in constructing a meaningful narrative of their heritage.
If you don't have extra space at home dedicated to storing photographs, why not consider renting a storage unit at Space Centre Self Storage? We guarantee our self storage units are clean, safe and dry, and we have facilities in Bristol, Gloucester, Cheltenham, Stroud and Stonehouse.
If you require any help or would like further details about our storage units, don't hesitate to reach out to us either by phone or through our website. We will be more than happy to answer all your questions!