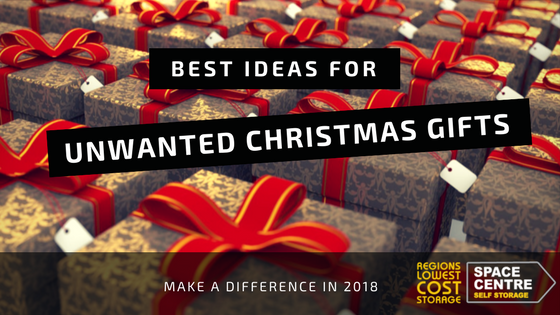 Every year we face the same problem of unwanted Christmas gifts. Many presents are just right but others are often only used once, or sometimes not at all. Items like jumpers, socks, books, games and food items are high on the 'get-rid-of' list. Thousands of presents are soon likely to see the inside of a bin but what are your options? We take a look at our top 5 best ideas to deal with your unwanted Christmas gifts.
Donate, Donate and Donate Some More
Charities rely on donations to run, whether it's a financial contribution or goods that can be sold in their shops. Don't forget those places that may not be charities but could benefit such as local playgroups and community groups.
Contrary to popular belief; we don't need that much to be truly happy. You might not like grandma's knitted jersey with flowers all over, but it could mean the world to a homeless person. Someone might need that scarf and there's bound to be a child who will enjoy that third football just lying around your house.
Perhaps a charity needs a specific item and with a simple phone call, you can find out what they really need. It doesn't even need to be anything expensive or extravagant and, depending on the gift, you could donate it to a shelter. Used or unwanted furniture could be donated to Restored Furniture, clothes are always welcome at The Salvation Army clothing bank and the British Heart Foundation will even collect from your house. You could make someone very happy with something most of us take for granted.
Regift It
This is a good idea as long as you know where each gift comes from. Last thing you need is to give your favourite uncle the same present he gave you. If you have this covered, simply repackage that unwanted kettle or set of steak knives and give it to your friend for their birthday. In fact, there are many occasions you could regift anything you don't want including weddings, housewarming parties, anniversaries or even a prize for a school raffle.
Return Unwanted Christmas Gifts
This is more than likely the most sensible option if the item is in the original packaging and in good condition. Most outlets do require a receipt but some may offer a credit note during the festive season. Alternatively, you could muster the courage to admit to the giver that you don't really like the gift, however, this could have a number of outcomes so be prepared for anything. If you are not brave enough to tell your auntie, perhaps it's best to wear that onesie with pride and stop being ungrateful.
Swap Party
If there was ever a reason to have a party, this is it. January is already in full swing and you're stuck with a box full of unwanted Christmas presents. Why not invite a few friends over for a swap party? Offer your guests some wine and chocolates while everyone brings along their unwanted Christmas presents. You might be surprised at the items you can get in return for your third set of scented candles and bath salts.
Everyone enjoys a fun get-together but if you don't have time and you're in bigger cities like London or Manchester, consider swapz.co.uk or mrsbears.co.uk to find swapping/swishing events.
Selling Your Unwanted Christmas Gifts
Selling is always an option especially with the countless online apps and websites at our disposal. Using Gumtree, Facebook, Preloved, Amazon and eBay could make you some money but just bear in mind there are thousands, if not more, with the same idea. How are you going make your unwanted Christmas gifts standout?
Below are a few tips for selling successfully on eBay (and other eCommerce platforms):
Take loads of good quality photos that will attract bidders and generate sales
Come up with an eye-catching title that includes the keywords for your item
Write a compelling description for each item and be sure to add that it is an unwanted gift. If you're selling electronic equipment, be sure to include technical information.
Choose a selling format; either auction-style or fixed-price listing. Generally speaking, fixed-price listing works best for unwanted Christmas gifts. You could use both variants when you're selling multiple items.
Keeping in touch with the buyer is the secret to success, and not just on eBay. Take the time to answer any questions the buyer may have and provide additional information. Once the sale is complete, contact the buyer to let them know you've shipped the products.
Whether you're moving house, decluttering or having to take things in and out of self storage, remember to consider the charities. Most people have heard of the larger organisations but there are numerous smaller charities you could contact.
We've helped out local charity 'Best4Ben' recently and some of those unwanted gifts may well be useful in future fundraising auctions. Read this article to learn more about Ben's story and how to help.
We've also included a few additional links below.
Keep your unwanted Christmas gifts dry and safe in our storage units until you're ready to donate, give away or sell. Get in touch or take the virtual tour and see for yourself the quality of our facilities and storage units.