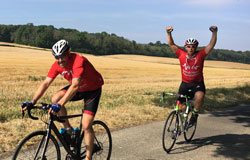 The support people gave myself and my brother Piers for this challenge was immense and huge thanks to everyone for their moral and financial support. Below is a little insight into our journey from London to Paris with the British Heart Foundation.
In September last year, I announced that I would be cycling from London to Paris to raise money for the British Heart Foundation (BHF). Cycling with me would be my brother Piers Marks.
We registered with the BHF and set up our Just Giving fundraising page – that was the easy part done. Then the hard work began! We both had to get out and put in some long hours on the bikes in preparation for their journey of over 400km. The British winter weather wasn't kind with its wet and windy season but we put in the work and by March this year were very pleased with our progress.
I got been bitten by the cycling bug did a number of long cycle rides in preparation and Piers supplemented his cycling with his rugby training. We put out an update of progress at the start of July ahead of the event itself.
So, when July 21st arrived, we were as prepared as we could have been. We arrived at the starting point in Richmond Park along with 35 others, all looking nervous and not knowing quite what to expect. It was a bit like the first day of school – Everyone was spread out around the car park. We all said hi, but no-one was really talking – I guess no-one really knew what to expect.
That awkwardness soon faded and by the end of the 3 day ride, everyone was best friends. Whilst we started our journey on day 1 cycling together, as we got to know the group, we spread out and spent time with other cyclists, learning about their reasons for joining the ride. The event itself was very well organised with luggage being picked up and dropped off at the appropriate points across the 3 days; cyclists only having to carry the essentials likes drinks, snacks and puncture kits for their day on their bikes. Surprisingly, not one person had to use their puncture kit over the journey!
So what was the cycling like? Both of us had put in a lot of work beforehand, but was it the right type of work? Would we find the route difficult? Well, the cycling itself, we didn't find too difficult; the hours already done in the saddle paying off. But the tiredness took its toll on most people. The lack of sleep was harder than the cycling. When you go out on a long ride at home, you would normally come back and get some rest. You don't normally immediately go out the next day and again the day after that. But for this you do, and you don't get as much sleep as you would normally.
If I use the first day as an example, you'll get a feel for what I mean. After cycling from London to the ferry port there was a wait for the ferry and we finally boarded at about 10.30pm. You then share a cabin with 3 other people, so you have the logistics of getting 4 people and all their belongings into the cabin before you get to sleep. Whilst tiring, it also caused many laughs. Trying to get to the toilet was a bit like playing Tetris! You had to move all these bits around so someone could get in, and then you had to try and move them all again to let them back out! Eventually, once everyone was settled, we got about 3 hours sleep before we were up and preparing for their next 90 mile ride.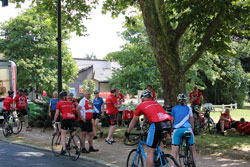 The weather on the other side of the channel was very hot. Ideal for sunbathing, but not so much for cycling! The organisers were however, well prepared and there were regular stops to ensure everyone got drinks and food and no-one dropped behind. There was a mix of abilities and the bikes that people use also has an impact on how difficult the ride is, but as a group, we were reasonably well matched and everyone managed OK. There was one person in particular who was riding in memory of her father who died of a heart attack. She was riding on her dad's bike which was older and heavier and didn't quite fit her and it was really hard work for her but she managed it which was brilliant.
Were there days when the cycling was harder than others? Did I ever think I'd struggle to finish? No, not really. Getting out of London may have been a little more boring and less scenic than the French legs, but the camaraderie and laughter, kept everyone going across the whole tour. There were some moments when tiredness began to take hold but the group dynamic got everyone through – there were lots of hysterically funny moments!
The scenery in France was lovely and the encouragement of the French people in the villages we rode through was unlike anything I'd experienced at home. The French are really into their cycling. When you ride as a group in England, no-one really bats an eyelid but in France people come out and shout encouragement and wave at you. That may have been because of the Tour De France but it was really good.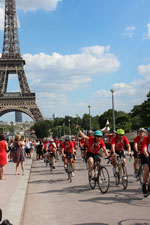 After more than 400km of cycling day 3 saw us arrive at our final destination in Paris – the Eiffel Tower. We spent some time taking the obligatory success pictures and then the whole group went for a well deserved meal together.
The following day we were able to relax and enjoy our view of the Tour De France in Paris. It was amazing when we got to watch the Tour come in. It's more like a procession than a race because there's only a sprinters race that day. They all come up the Champs Elysees and around the Arc de Triomphe. The additional armed security because of recent events did not spoil that experience at all. In fact, once you'd got used to them you forgot they were there! We carried on having fun, oblivious to the fact that there were policemen with machine guns behind us.
Now comes the questions that everyone asks after an event like this – will I stay in touch with the people I met? The reply? A resounding yes. I'm speaking to some quite regularly. You get really close to people. You're cycling with them all day, every day; sharing experiences, eating with them and getting up with them – it's very intense. I'm hoping to meet up with some of them when I do the London Etape in September. It'll be a good opportunity to get together again.
So would I do it again? Again, the answer is yes! And others should think about doing it too! You meet and get close to some lovely people and you laugh so much along the way – I don't think I've laughed so much in my life!
Piers and I raised more than £1800 for the British Heart Foundation, and again, we'd like to thank everyone for their donations. If you're thinking about giving it a go, the London to Paris cycle ride that coincides with the Tour De France is running again in July 2017. See the BHF website for details. And if you don't want to cycle, there are lots of other walking or running challenges you can do.
Images courtesy of the British Heart Foundation