Whether its clothes, sofas, soft furnishings or fabrics and wools for crafting, storing fabric requires some finesse, especially if you want to keep them as good as new with no fading or mould. In this comprehensive guide, we explore a few simple but highly effective tips for storing fabric and furniture long-term.
When storing fabric or furnishings, there are several important aspects you should consider to avoid damage or deterioration. You might think that storing fabric is easy and it'll be fine in the shed, garage or cupboard but it really isn't. If you want to keep your clothes, furniture and other fabrics clean, dry and safe while increasing their lifespan, it's best to follow the tips below.
Storing Fabric Long-Term
Among the most important pieces of advice on storing fabric is to keep it in an airtight container, such as a box or vacuum-sealed bag. Try to keep it in a dry area away and away from direct sunlight to keep it in good condition for as long as possible. Remember, if anything made from fabric gets wet, mould can develop and ruin the item and once that happens, dampness and mould are very hard to remove.
At the same time, direct sunlight can also harm the fabric and cause it to fade which is why storing fabric inside is a better option. Not doing so can also be harmful as it may attract rodents and insects, including rats, mice and bugs. Fabric furniture, especially, makes a rather comfortable home for rodents. Once they move in, they can cause bad odours, eat holes in the fabric and potentially cause disease.
The Importance Of Preparing And Storing Fabric
Homeowners frequently use storage units for large furniture items, clothes and other items. If you need extra space while deep cleaning, want to keep your fabrics and furniture in good condition during a remodel, or are moving soon, a storage unit is often the best (and most affordable) solution.
The thing is, you can't simply put things into self storage without preparing everything first. You need to take some extra steps to protect certain types of furniture when you move them out of your home, such as those made with natural wood or genuine leather. Below, you will find some practical advice on preparing and storing fabric, whether it's upholstered sofas, chairs, cushions or clothing.
1. Choose the Right Storage Facility
When preparing to store fabric, it's important that you find a storage facility with climate control or at least quality storage units that are clean, dry and secure. Consider the location of the storage unit as well — if it's too far from home, moving things back and forth may take longer than anticipated.
2. Inspect All Pieces Before Storing
Before storing fabric of any kind, especially furniture, it's important to thoroughly inspect each piece. Be on the lookout for any tears, rips or holes in the fabric and have them repaired before putting the item into storage.
3. Clean Everything
Make sure to remove any dirt, dust or spills on upholstered furniture before putting it away. Use a vacuum attachment to remove any dust or loose dirt from the fabric. If there are any spots or stains, treat them with a gentle fabric cleaner according to the manufacturer's instructions.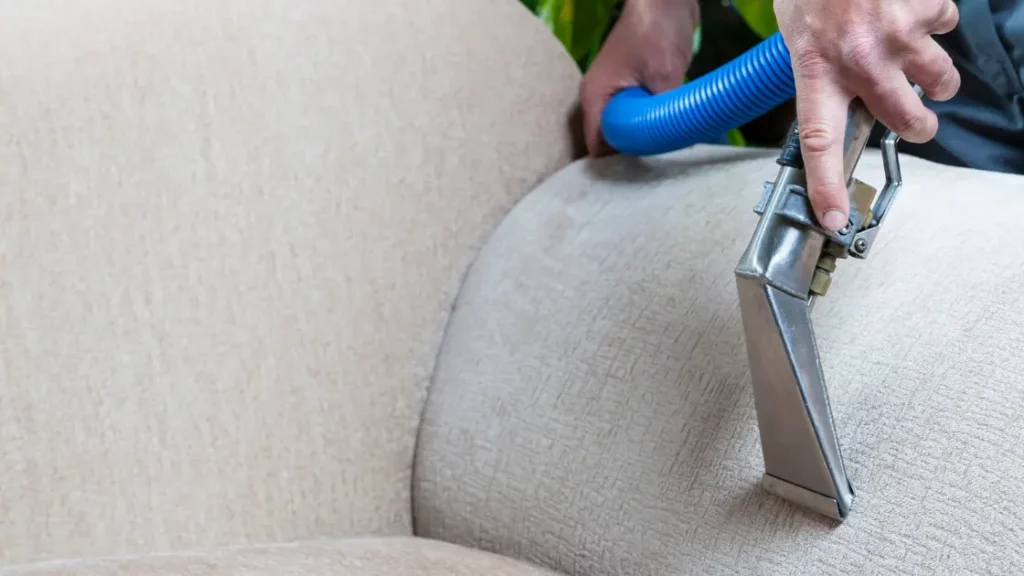 Related: Easy Guide To Furniture Storage And Preparation
4. Protect Upholstered Furniture with Slipcovers
Another way to keep your upholstered furniture clean while in storage is to use slipcovers. You can find slipcovers for sofas, chairs and other types of furniture at most home goods stores. Don't forget to wash the slipcover before using it to protect your furniture.
5. Protect Leather Furniture with a Cover
As with slipcovers, leather furniture should be covered with a special breathable fabric cover before being stored. This will protect the fabric from scratches, scuffs and moisture. You can find covers for all types of furniture at most home goods stores or online.
6. Store Fabrics In Air-Tight Containers
When storing clothes, cushions or other fabric items, keep them in air-tight containers as this will provide maximum protection against dust, insects and moisture. You can find air-tight containers at most home goods stores or online. Make your life easier by labelling each container so you know what's inside and don't have to spend hours rummaging through everything.
7. Put Clothes on Hangers
When storing fabric like clothes, it's best to use hangers. This will prevent wrinkles and keep the clothes from getting tangled up. You can use regular metal hangers or purchase special storage hangers that are designed for long-term storage.
8. Pack Similar Colours Together
You can avoid colours from smudging or becoming discoloured by storing them with similar colours. If you don't have a lot of fabric and plan to use large boxes, separate them into cool and warm colours.
9. Use Vacuum Bags When Storing Fabric
Another great idea for storing fabrics such as clothes is to use vacuum bags. Not only will they keep everything in excellent condition but you will save plenty of space.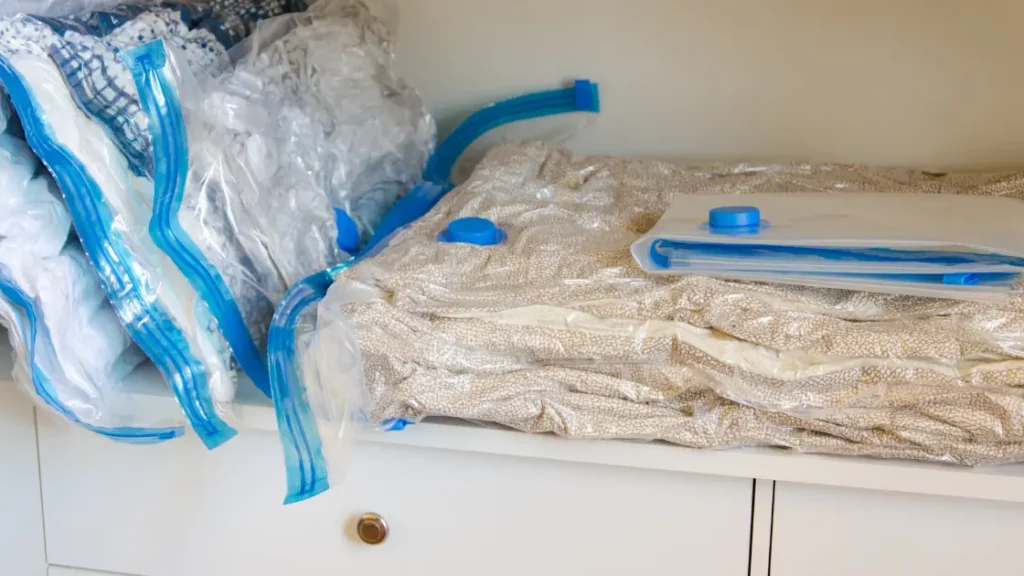 Recommended: Clothes Storage and Preparation Tips for Winter
10. Use Acid-Free Tissue Paper
If you're storing fabric items that may be more delicate than others, such as wedding dresses or antique quilts, it's important to use acid-free tissue paper. It's specially designed to prevent yellowing and other types of damage. You can find it at most craft stores or online.
11. Store in a Cool, Dry Place
As mentioned before, when storing fabric of any kind, it's important to choose a cool, dry location. Avoid storing fabric in attics or basements, as these areas are susceptible to extremes in temperature and humidity. If possible, store fabric in a climate-controlled storage unit.
12. Use Ground Protection When Storing Fabric
Even if you are using the best coverings for individual pieces of upholstered furniture, you should still be careful to avoid moisture from the lowest level of your unit. This is especially important if you live in an area susceptible to floods or in a region with regular, heavy rains. The best way to minimise water damage or moisture when storing fabric is to line the floor of your storage unit with a plastic tarp and use wooden pallets to keep everything off the floor.
13. Pack Your Furniture Properly
While saving money is always a good idea, don't try to squeeze everything into a smaller unit just to save a few quid. In our experience, it's not worth it as you increase the risk of damaging your belongings!
Make sure you store upholstered furniture as you would at home and do not stack them on their side or end. Avoid placing smaller items on top of larger ones to prevent damaging both pieces. For example, chair legs could puncture the soft underbelly of stacked sofas.
Storing Fabric At Space Centre Self Storage
When storing fabric and furniture, it is important to take into account a number of factors such as the material of the fabric, how delicate it is, and where you will be storing it. By following the tips in this article, you can ensure that your belongings are protected from damage and remain in good condition for years to come.
At Space Centre Self Storage, we offer high-quality, clean, dry, easily accessible and affordable storage units that are perfect for storing fabric, furniture, sports equipment and toys among others. Contact us today to learn more about our different sized storage units and storage prices.
We hope that this guide has given you some valuable insights into storing fabric materials so they can leave the storage unit and go straight into your home whenever you need them.