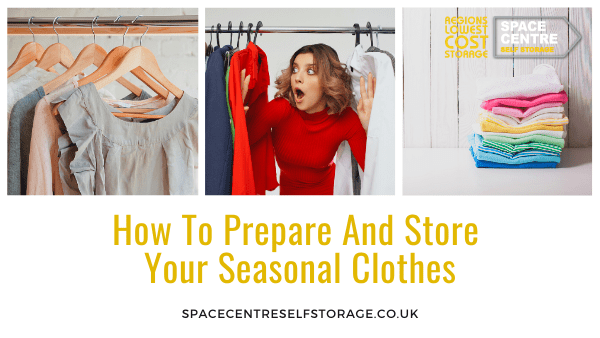 With autumn in full swing and winter just around the corner, it's time to revisit some essentials for clothes storage. The colder weather is a clear indicator that it's time to organise and pack away those summer clothes so you can make room for all your winter woollies. Besides, why clutter your wardrobe with clothing you are not going to wear for the next few months?
Let's face it, organising seasonal clothes can be frustrating as it takes more than simply tossing everything into a box and putting it in the loft. Unless you want to ruin your favourite dress or pair of summer trousers, you're better off following these important tips on effective clothes storage.
Where To Start With Clothes Storage
Start by removing all of your summer clothes from your cupboard and chest of drawers and place them neatly on the bed or large table. This way you can work more efficiently as you can see all of the clothes at a glance.
Sort the clothes into categories like shirts, trousers, dresses and accessories
Be ruthless when tackling each stack and sort it into four piles (keep, donate, sell and discard)
Have boxes and bags at hand for the donation and throw away piles
For the pile you'd like to keep in self storage, the cupboard or the loft, make sure you use quality boxes to keep everything free from dust, insects and rodents
Top Tip: If you didn't wear something during the last season, you more than likely won't wear it next year either. It's best to get rid of it and make space for new clothing.
What About Kids' Clothing?
Anyone with kids will know how fast they grow up and that means many clothing items won't fit next year. If you can't hand it down to their sibling (or they are the only child), it's best to prepare a bag and donate it to charity or consign the clothing for sale.
If you have younger kids or know friends or family with smaller children, you could store clothing that is in good condition until they need it. Considering the price of clothing nowadays, and the rate many kids go through them, you'll be doing them a big favour.
Recommended: 'Hand-Me-Down Kids Clothing Storage Ideas & Organising Tips'
Preparing For Seasonal Clothes Storage
For any piece of clothing you plan to keep, inspect each item to make sure it is clean and stain free. Make sure you wash and dry all clothing before putting it into storage. Even small stains could become darker over time and more difficult to remove after a lengthy storage period.
Don't use starch on clothing you wish to store as it can also attract insects that could cause damage. If you used a dry cleaning service, remember to always remove clothing from the thin plastic bags as they trap moisture that can lead to mildew and even discolouration.
What You'll Need For Storing Winter Clothes
Regardless of how much storage space you have, you need to know how to store certain items and what to use. Do you hang or fold your sweater or cardigan? What's the best way to pack clothing you'd like to keep for next season?
Whether you plan to store seasonal clothes in your spare room, cupboard or self storage, you must have the right supplies. Here's a quick breakdown of what you'll need to ensure your 'mission clothes storage' is accomplished.
Use Sturdy Hangers
If you want to hang clothes for storage, make sure to only use sturdy hangers that won't rust or discolour fabrics. As far as possible, avoid using those thin wire hangers you often get from the dry cleaners. Big items like jackets should be hung on shaped hangers to properly support the shoulders. At the same time, skirts and trousers should be hung by the waistbands to avoid creasing. Use padded or flocked hangers for any silky fabrics to prevent them from slipping off during storage.
Get Special Clothing Storage Bags
When using fabric storage bags, first give them a quick spin in the washing machine to remove dust and mould spores before using again for clothes storage. It's always better to use fabric hanging bags than plastic because air can circulate which helps prevent moisture build-up and damage.
If you're looking for a DIY clothes storage tip, this one is pretty impressive. You can use a 100% cotton sheet or pillowcase to cover hanging clothes and all you do is cut a small opening for the hanger to slip through. This will help prevent dust from settling while allowing the clothes to breathe when in storage.
Use The Right Storage Boxes
Many clothing items are better off folded instead. For example, you shouldn't hang sweaters or other knitted items for too long as they can easily lose their shape. Fold them neatly and get a sealable storage container as it's the better option for long-term clothes storage.
Remember, pack heavier items at the bottom with lighter ones on top. This is not only safer but it also helps minimise creasing when you're ready to unpack. Always make sure to pack clothes loosely so that air can circulate.
Mothballs
Mothballs have long been the first choice for many but they also somehow seem to attract children and pets which can be dangerous. If you are using mothballs, just don't overdo it as the smell can also affect your clothes in storage. While it may not guarantee the same results, a safer option would be to use cedar blocks or balls or you can opt for cedar lined storage.
Vacuum Seal What You Can
Vacuum seal bags are pretty handy and not just for transporting bulky blankets and duvets. Fact is, they are considered as one of the most useful when it comes to clothes storage. These bags can hold a wide variety of clothing items and save so much space once vacuum-sealed. Anyone who has tried folding a big blanket versus a vacuum sealer can attest to how amazingly well it works.
This winter, save space at home by following these incredibly simple clothes storage and wardrobe organisation tips. If you don't have the required room at home, contact Space Centre as we have a wide range of quality, affordable units ideal for clothes storage. Our facilities are conveniently located in Stroud, Bristol, Gloucester and Stonehouse.
There are many organisations you could donate clothing to including the following: