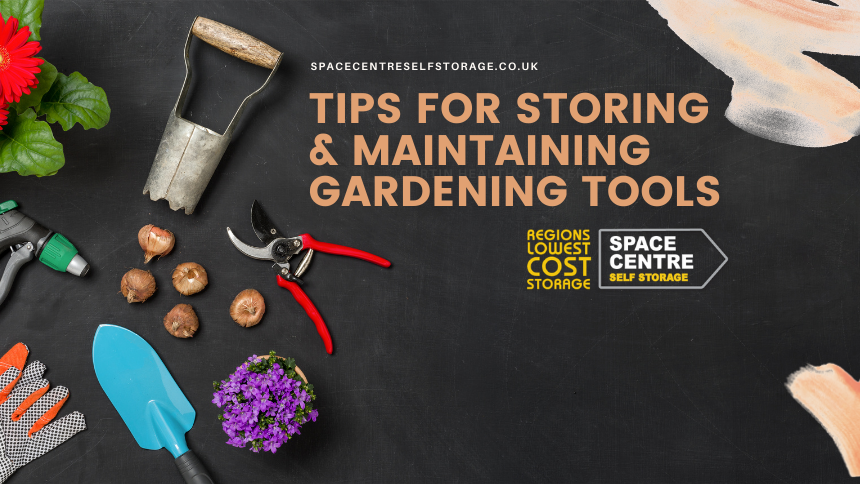 Hopefully, the worst of the bad weather is over and that means getting out into the garden to tidy up or start a new project. If you planned properly and took our advice on garden equipment storage for winter, everything should be good to go.
For those who didn't, you may need to give things a good clean, service or overhaul before you dive into your next gardening project. To help prepare you for the warmer season ahead, this guide is filled with essential tips on garden equipment storage and preparation. You'll thank us later!
Garden Equipment Storage And Maintenance
With spring already in full swing, although it's still pretty nippy out there, many of you are thinking about preparing your home and garden. But first, you need to consider what garden tools and equipment you will use and make sure everything is in good working order.
Whether you use your garage, garden shed or a self storage unit for storing garden equipment, it's important to implement a maintenance routine. By taking better care of your equipment before and after each use, you will increase its lifespan which can save you time and money.
Maintenance And Preparation Of Gardening Tools
Equipment and tool 'hygiene' is essential whether you garden as a hobby or professionally. Caring for your tools is almost as important as looking after your garden and here are a few simple steps you can take:
Remove excess dirt from your tools after each use
Clean your tools thoroughly and use a good disinfectant for hand tools
Apply a thin coating of oil on your metal tools to reduce the chance of rust
If there is rust, remove soapy water, and a wire brush or sandpaper and dry with an old towel
Repair broken tools if possible
Sand down any wooden tools to minimise the risk of splinters
Sharpen your tools using a flat file or get a professional garden sharpening tool online
Check for Broken Tools and Equipment
Before using anything, take it out of storage and visually inspect them to see if anything is broken or damaged. If something needs attention or replacement, especially powered gardening equipment, be sure to consult an expert. Whether it's your lawnmower or hedge trimmer, the right company could repair your garden tools in no time or offer good prices on refurbished and new equipment.
Check Air Filter, Fuel Filter and Spark Plugs
A part of garden equipment storage best practice is inspecting your fuel and air filters for dirt and damage. Power tools often have different filter types so make sure you follow the instruction manual or contact your nearest garden equipment specialist for the proper maintenance advice. In addition to filters, you also need to check that your spark plugs are in good condition. Give them a good clean and reset the required gap or replace them if necessary.
Recharge Batteries and Change the Oil
Garden equipment storage routines may differ between seasons or regions but one thing is certain –leave any batteries at a charge level of 40 – 60% when not in use. Before you start your next gardening project, be sure to test and charge all the batteries for your garden tools.
After storing garden equipment during winter, it's important to replace the oil in your 4-stroke powered tools. This includes lawnmowers to ensure they run smoothly and more efficiently. Stock up on the right oil as recommended by the manufacturer so you can get started straight away and top up as you would with a car.
Lubricate and Tighten Loose Parts
Check to see if any moving parts on your gardening tools need lubricating as it's the only way to keep them in excellent condition. Inspect the bearings, wheels, hinges and any grease points, especially on hedge trimmers and make sure there are no loose parts.
Garden Equipment Storage and Organising Tips
Depending on how exposed your garden equipment is, you should take the necessary steps to prepare for storage. This will include cleaning and detailing the equipment before you put it away. The only way to keep your tools in tip-top shape is by following a few simple garden equipment storage best practices.
Make a habit of storing garden equipment and tools somewhere dry and out of the way
Hang your tools up by fixing nails into the wall
Consider getting a pegboard as you can hang most tools by their handles which helps minimise rust
Make sure each tool has its place by tracing your tool in pencil where it should be stored
Invest in some shelving, boxes or sand buckets to put away hand tools
What About Garden Furniture?
Preparing outdoor furniture form part of our garden equipment storage guide. Whether it's wood, aluminium, metal, plastic or wicker, it's important to follow the relevant preparation tips when taking things out of storage.
Clean your wooden garden furniture with a specialist wood cleaner and use a soft brush
Wipe away excess substance with a clean, dry cloth until the furniture is completely dry
Clean metal garden furniture with warm soapy water using a soft cloth
Rinse the cloth thoroughly after cleaning and ensure all furniture items are completely dry
Use a vacuum cleaner on Rattan and wicker furniture and soft dust cloth to remove excess
For plastic garden furniture, simply wash with warm soapy water and dry with a soft cloth
Recommended: 'Definitive Guide To Garden Furniture Preparation'
Garden Equipment Storage Conclusion
Whether you use garden machinery on a large commercial scale or have invested in a new tool for your small garden, give everything an occasional service to prevent serious problems down the line. There's nothing more frustrating than having to stop halfway through a project due to a faulty machine or broken tool.
This guide on effective garden equipment storage and maintenance should give you a good overview of how to check for problems and taking better care of your gardening tools. If you need a clean, dry and secure space for tools, furniture or any other household belongings, our units are ideal for garden equipment storage.
Contact us today for more information on our pricing and facilities in Bristol, Stroud, Gloucester, Cheltenham and Stonehouse.