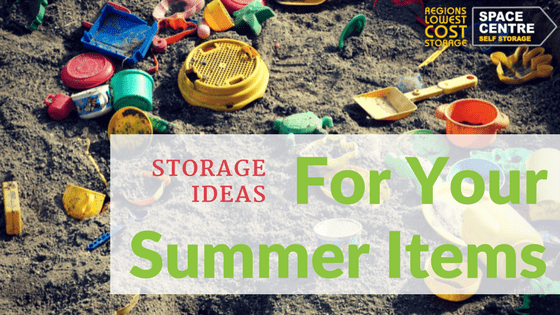 Summer usually means more outdoor activities and many of us have probably added a number of garden toys, paddling pools or furniture to our collection. Not only does this mean more fun in the sun; it also means cluttering your garage or garden shed. Why not use the good weather wisely and clear a bit of space or consider self-storage. Don't leave it until the last minute; think about storage ideas now and how or where you'll store everything at the end of summer.
Storage Ideas for your summer items
Let's first take a look at some toy storage ideas. If you've hosted just one kid's party, you'll know exactly what we're talking about.
Outdoor toy bins
These can be plastic buckets or tubs with or without lids. Just make sure the lids seal properly if stored outside. If you're using large buckets and they are stored outside, drill holes in the bottom. If the toys are plastic it doesn't matter if it gets wet and any excess water will drain out the bottom.
You can also get large toy storage bins which are available online. They have great storage capacity with rolling wheels for easy handling in and out of storage.
Multi-functional DIY rolling storage cart
Ideal for all kinds of storage ideas from balls, rackets, gloves, pool noodles to skateboards and more. Here is an easy guide on how to make one yourself.
See-through toy sacks
Sacks made from strong material to hold a variety of toys with a PVC window to easily identify the content. They are also cinched closed to help control the clutter.
Rolling garbage bin
This is one of our favourite storage ideas. Purchase one specifically for the purpose of toy storage and you'll never look back. They're inexpensive, practical and ideal for balls and other outdoor toys.
Not only will these ideas save you space, toys are also kept in good condition throughout the seasons. If you bought a paddling pool, here are some handy tips on how to clean and take care of it. A major benefit of effective storage means fewer items need to be replaced next year which can be rather expensive.
Storage ideas for outdoor furniture
We've posted a number of blogs about taking care of outdoor furniture and if you haven't already, take a look at our recent post on preparing your garden furniture for summer. Below you will also find some additional storage ideas and tips on how to keep your furniture in good condition.
First and foremost, it needs to be cleaned and properly treated. If it can't be left outside, store it somewhere dry like your garage or shed. If space is an issue, perhaps it's time to consider renting a self-storage unit.
Wooden Furniture
Different types of wooden furniture require different treatments. Oak might be more resilient than teak and doesn't necessarily need to be oiled but it still needs cleaning. Use a brush and soapy water, removing all food remnants, dirt and bird droppings. Teak should be oiled especially if you want to maintain the original colour. Make sure the wood is completely dry before applying any protective coating.
Plastic furniture
Plastic furniture is much easier to a degree as it can survive almost any type of weather conditions. It's simple and easy enough to clean, store and pack. Wash with warm soapy water and dry it properly before storage.
Metal furniture
Metal furniture is more challenging as old paint and rust are common. Remove any loose material or peeling paint and remove any rust with a wire brush. Remember to treat with a rust-proof paint or special coating. Moving joints or parts also need to be oiled.
One way or another, you need to store your furniture carefully. When you decide to use a self-storage unit, the facility will advise you on the best way to store your furniture to avoid damage. It's important to note that not all storage facilities offer temporary storage for garden furniture. Be sure to check your minimum contract terms before signing.
At Space Centre Self Storage we don't tie you to long-term contracts and you can change your unit size as your needs change. We also have drive-up access making it ideal for getting your furniture in and out. Get in touch or leave your comments below if you have more great storage ideas for outdoor toys or furniture.