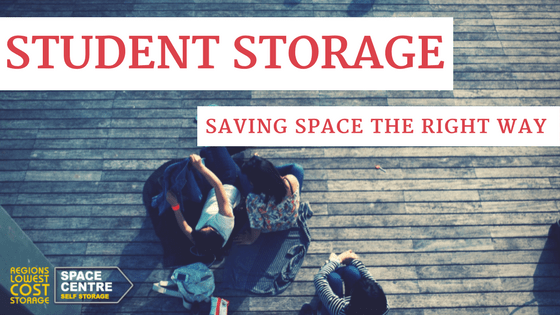 Student Storage – Saving Space the Right Way
I think most parents will agree that student storage is certainly a topic for endless discussions. Well, it's almost that time of year again when many terms end around May or June and the kids will arrive home with everything but the kitchen sink – or maybe they'll bring that along too.
The thing is, do they really need to bring everything back? Maybe they don't feel comfortable leaving their valuables unattended for 3 months. As a parent, what do you do? You could buy a bigger house or simply rent a self-storage unit. We recommend the latter for sure.
Storage Advice for Students and their Families
Students know they don't have much space whether at college, university or back home. Parents could have moved into a smaller place or turned their old bedroom into a nursery or a home office.
What do you do with all the extra stuff and how do you prepare going home for the holidays? What if you're not going home and staying on campus?
Storing what you don't need now is honestly the simplest solution. Do you really need all your winter clothes, bedding and every single book? Maybe there are a few subjects you don't need the books for right now and if you're looking to save space, renting a temporary student storage locker could be the answer.
Let's look at a few tips and tricks on how to pack your valuables when renting a unit for all your student storage needs.
Clean your books properly – Make sure that they are clean as dust, food residue and other dirt can result in permanent damage
Choosing the right container or box – it's important to use the right container and if you're using old cardboard boxes, make sure that they're clean, dry and can be properly sealed
Lay books flat or stand them upright with the edges of the paper facing upward to prevent warping and bending
Avoid boxes that were used to store food as odours and food residue can attract insects and rodents
Wrap valuables in bubble wrap or soft towels
Here are some more tips on how to pack your storage unit. It's all about utilizing the space that you really need to avoid overspending. Remember, student storage is not just for books and bedding, it can be used for almost anything, as a temporary storage facility or for more long-term use.
If you need long-term storage whether you're traveling, moving into a new place or just want to put away your extra things, there are a few key points to remember:
Make sure your unit is the right size and is packed properly – no overflowing boxes packed like a bad game of Tetris as this could topple over, cause damage or injury
You have the key and if you're going away for some time, rather leave it with someone you trust or lock it away at home
Remember to give the storage facility your most up-to-date contact information as well as details of someone else in the case of an emergency
Ensure that you've setup an appropriate weekly or monthly payment plan
Tell us about your experience as a student using a self-storage facility. Maybe you have some good advice you would like to share with our readers in the comments section below.
We have storage facilities in Bristol, Gloucester and Stroud so please get in touch if need advice or a place to safely store your things.