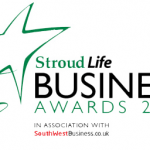 Space Centre Storage Centre were delighted to have been nominated for the best Business at the recent Stroud Life Business Awards 2013 which attracted 260 people and was hosted by former Blue Peter presenter Valerie Singleton.
Held at the Old Lodge on Minchinhampton Common, Space Centre Self Storage were beaten to the top prize by eventual winners Highfield Garden Centre in Whitminster, who also scooped the Family Business of the Year.
Lucinda Dangerfield, co-director of Space Centre Self Storage said; "We were understandably delighted to have been named on the short list and we all enjoyed a great evening. Of course, it would have been nice to win, but we extend our congratulations to Highfield Garden Centre.
"We would like to think that our development as a company and our ambition to grow once again over the next 12 months, will provide us with an opportunity to succeed Highfield Garden Centre in 2014."
Other winners on the night were Businessperson of the Year went to Brendan Conboy from The Door Youth Project in Stroud; Small Business of the Year was Eurolink Connect Telecommunications in Stonehouse; The Social Enterprise Award went to Stroud Common Wealth.
Jacob Kirby from Tarmac & Trail bike and accessories shop in Stonehouse was named Young Businessperson of the Year; Communicator of the Year was First Base Employment in Stroud and Young Business of the Year went to The Canteen bistro-cafe in Nailsworth.
The Customer Care & Service Award was scooped by Stroud-based green energy firm Ecotricity and the Contribution to the Community Award went to Omega Resource Group recruitment in Stonehouse. The Apprentice Development Award went to Delphi Diesel Systems in Stonehouse.
Sarah Pullen, managing director of Stroud Life publisher Gloucestershire Media, gave a welcome address and was followed by Jon Penhale from Omega Resource Group. He talked to the audience about his companies Jobs for the Forces recruitment campaign; a scheme to get former military personnel into work, which is supported by Stroud Life.
Stroud Life editor Jason Chare said: "These were definitely the best set of winners and finalists we've ever had.
It makes me so proud that we are able to celebrate their excellence and that of the thriving business community within the Five Valleys and Severn Vale. That business community is like a family and I am humbled to be part of it."
Space Centre self storage currently has four sites in the North Bristol and Gloucestershire area and provide secure storage at competitive prices.
If you are in need of a storage unit, of any size, get in touch. Co Director Lucinda Dangerfield added; "if you have a question or query about your storage needs, drop in to one of the sites, give us a ring or contact us through the website. We have units of all sizes to suit all requirements and there are no long term contracts to worry about."