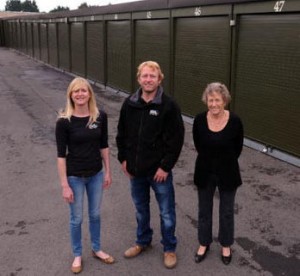 The judging has been done and Space Centre Self Storage are thrilled to make it through to the finals of this year's Stroud Life Business Awards.
They are entered in the category Family Business of the Year. Up against them in the category are Eurolink and Highfield Garden Centre in this final stage of the competition.
Getting into the final also gives them a shot at Business of the Year – an overall award chosen from all 11 category winners.
The gala awards event is being held on Thursday July 18th at the Old Lodge on Minchinhampton Common, a four-centuries-old former hunting lodge.
TV personality Valerie Singleton, perhaps best known for her time as a Blue Peter presenter is hosting the awards. The team at Space Centre Self Storage will have to get through the drinks reception, then dinner before they find out the final result towards the end of the evening.
Owning and running a family business can be tough at the best of times. Space Centre Self Storage are not just running the business but growing it for future generations. Their good business sense and customer service is paying dividends with them bucking some of the national trends in their industry.
You can see a full list of categories and finalists here along with more information about the awards evening.