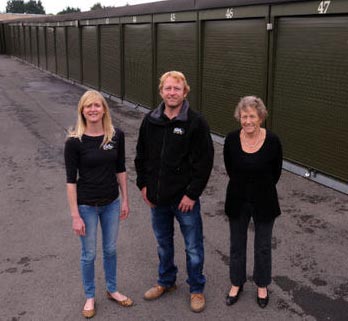 The Stroud Life Business Awards started in 2009 and are a great opportunity for the business community in the Five Valleys and Severn Vale to get together in a relaxed and jovial atmosphere to celebrate the area's best and most innovative companies.
This year the awards celebrate their fifth birthday and are being presented at a gala night at the historic Old Lodge on Minchinhampton Common on Thursday, July 18.
There are various categories to reward all areas of business and business innovation and Space Centre Self Storage have an entry in the Family Business of the Year category.
In the current economic climate running any business is tough but when it's a family business and so the only source of income, the pressure can be tremendous, but it also brings with it additional benefits such as increased flexibility. With three members of the family currently running the business (Mark, wife Lucinda and mother Tanya) and younger generations already showing an interest in getting involved, the mixed emotions of a family run business look set to remain.
Space Centre Self Storage work hard to provide low-cost, secure storage with a flexible, hassle-free approach. Their good business sense and customer service approach is paying off with their occupancy rates being better than many national providers. So much so that this year has seen a major expansion at the Stroud site and Space Centre Self Storage are also looking for a location for a fourth site.