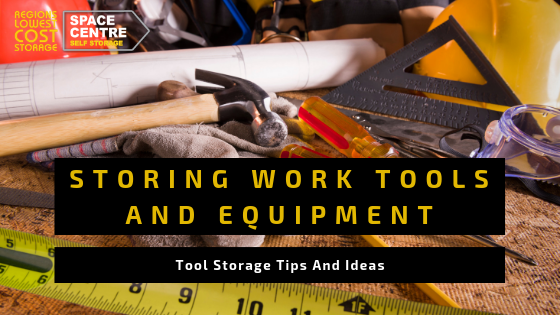 Tradesmen, both sole traders and businesses, need space for storing work tools and equipment. Having a safe space to store tools and equipment is a common concern for gardeners, plumbers, self-employed builders or electricians among others. These are all tradespeople looking to solve the problem of storing work tools in a safe, convenient and affordable manner.
Considering the escalating costs of obtaining business premises, there are very few sole traders who have an actual office. Why waste money on renting or buying business premises when you can simply rent a long-term self storage unit?
The Tool Storage Conundrum
For sole traders who are mostly on the road, storing work tools and equipment becomes a real conundrum. Even if you have a big enough garage or garden shed, it's hardly the most secure option. For starters, you might also have loads of personal belongings already in there and you don't want to mix that with work things.
Then we get to the issue of storing work tools in a car or van which is not as safe as it may appear. There's always a risk when you leave anything expensive in a parked vehicle even outside your house as many of you already know.
So, what's the best solution? Do you remove the signage from the van to deter thieves? Do you squeeze everything into the garage and risk damaging your car when loading and unloading in a confined space? Alternatively, you could take a chance and leave everything in your car but even with an alarm and additional locks, it still won't give you total peace of mind.
Theft Of Tools And Equipment
While you might think everything is safe when locked in your car, think again. Theft of tools and equipment from vans have always been a concern as its relatively low risk for would-be thieves. Some of the methods include the traditional smash-and-grab, skeleton keys and signal hacking to the latest "peek and steal" or "peel and steal".
There's no doubt that tools and equipment are valuable and the cost of replacing them can be exorbitant. In addition to replacing everything, there are other costs you must also consider. This includes the cost of your insurance excess and the subsequent increase in your insurance premium if you made a claim. The more immediate and important cost is losing business as time is money and you cannot complete jobs without tools.
Keeping Your Tools Safe In Your Car
If you absolutely have to store your tools and equipment in your, at least follow this advice to keep it as safe as possible:
Park in well-lit areas with CCTV coverage
Get your windows tinted, install an alarm and an immobiliser as it can deter thieves
Display stickers showing that 'no tools are left in this van overnight' although thieves still smash a window or peel back a door just to check
Always have proof of what has been stolen by taking a photo of the van's fully-laden contents. An insurance claim is much easier in this case especially if you don't have proof of purchase for all the tools
You can also take out separate tool insurance which is often easier to claim against and comes with lower excess
Storing Work Tools In Self Storage
Nearly any business can benefit from self storage especially those who are mobile and use different tools and equipment. If you have staff, they can pick up or drop off tools on their way to work sites. This saves them time (and added security) than keeping the equipment in their vehicles especially if they have an early start or finishing late.
An added bonus of using self storage is that you don't have to pay a high rental price or lighting and heating costs. As a sole trader, you really don't have to spend a fortune on business premises especially if it's mostly used for storing work tools and equipment. Self storage is by far a cheaper and more flexible option than having commercial premises.
At Space Centre Self Storage, we have various sizes available starting from just 10 sqft which is ideal for tool storage. With us, you can even put additional racking or shelves in your units for more space and better organising.
Self Storage Units For Small Businesses
While self storage is the safest (and most affordable) solution, you still need to find the most suitable facility. It's important that you check the facility's operating guidelines, policies and procedures as some may not be set up to accommodate a business-run storage unit.
Storing work tools in a self storage unit not only frees up additional space at home but it also provides safety, security and accessibility. Furthermore, there is no commitment, no high rent or rates to pay and flexibility of terms. You can change to a bigger or smaller unit at any time with no added costs.
Please get in touch if you need more information about our storage units and prices. Our friendly, professional and experienced staff are open to answer any questions you may have. For added convenience, our drive-up units also make it easy to load and unload your belongings. Check out our price and size guide to help you find the right storage unit for your requirements.