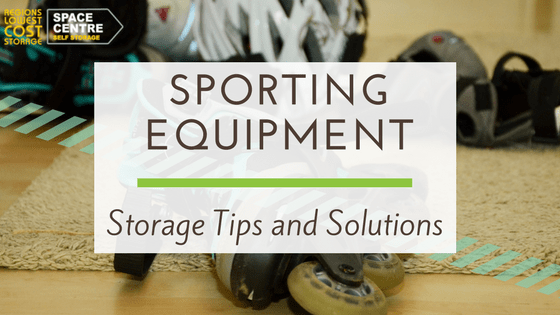 It's almost time again for the Bristol Harbourside Triathlon! For those taking part this Sunday, we hope that you're fit and ready for the 1500m swim, 40km cycle and 10km run. In saying that, storing sports equipment is as important as storing furniture or other valuables especially if you're an avid sports person. Storing a swimsuit and your trainers are easy but what about your expensive bike?
Storing Sports Equipment
The cost of replacing bikes, canoes, golf clubs, climbing/hiking or caving equipment can be astronomical in comparison to storing it safely in the first place. We recently published an article on safe bike storage but what about your golf clubs, cricket or tennis equipment? If you're new to the paddle boarding craze, you know firsthand the price tag associated with the sport.
If you own expensive sporting equipment and you are a serious player, how do you safely store everything? Leaving it lying around in your garage or shed with little to no security is not the right way. To help you keep your equipment in great condition, we've put together a few tips and tricks on safely storing sports equipment.
Self-storage tips for sporting equipment
Sports equipment can last for many years especially if it's looked after properly. Things like golf clubs can be passed onto the next generation of superstars in your family if stored correctly. Same can be said for cricket, tennis and many other types of equipment. The most likely and popular option is renting a self-storage unit. These are ideal for seasonal sporting equipment.
Storage units are relatively inexpensive and far more practical than home storage
24 hour security under lock and key – only you have the key to your unit
A small to medium storage unit should be ideal for seasonal equipment storage
Pack current season equipment close to the door for easy access and rotate according to seasonal requirements
Saves space at home or your garage and keeps the clutter to a minimum
Using a storage unit ensures your that equipment is safe and in excellent condition whenever you need them.
Storing sports equipment at home
Even if you have extra space at home in your garage or shed, you still need to store your equipment properly. There are a few key factors to keep in mind:
Check the manufacturer's instructions for storage tips. This is important for larger workout equipment like treadmills or elliptical machines
Place a cotton sheet or breathable cover over larger equipment. Don't use plastic
Clean the equipment before storage, especially padding, uniforms and shoes
Remove stains from the uniforms and remove dirt and grass from cleats
Use bins or containers to keep equipment organised. Store all equipment for one sport in one bin
The following ideas are pretty useful for storing sports equipment at home or a self-storage unit.
Shelves
Shelving is ideal for getting the most out of your garage or storage unit. Install shelves at the right height and not too close to the door. You don't want a black eye or bruised forehead from bumping into a shelf.
Hooks
This is probably the single most useful storage solution. It allows your equipment to be off the floor and out of harm's way; not to mention space saving and tidy. Hooks can be used to hang your bicycle, tennis rackets, cricket bats, fishing rods and even shoes.
If your storage unit does not already have shelves or hooks, make sure you get permission from the facility before making any changes to the unit.
Bins or Containers
Large bins can also be very useful for storing sporting equipment like, skateboards, balls, bats, gloves and uniforms. You should ideally use clear containers to see what's inside or alternatively ensure that each bin or container is clearly labelled. Use containers with lids where possible to keep equipment dust free and safe from bugs, rats and other unwanted guests.
Have you recently transformed your garage with storage and shelving? Have you found a creative and interesting way to store your equipment? Let us know and perhaps we can share your ideas on our Pinterest Boards.
We have storage facilities in Stroud, Bristol and Gloucester so please get in touch if you need help with self-storage in these areas.