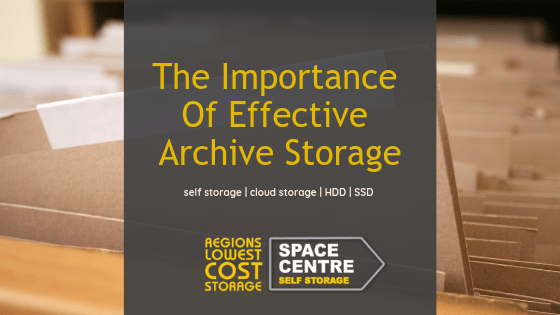 Safe and accessible archive storage has become an essential part of every business and we're not referring to lofts or garages. While the main focus is on storing the latest files and documents, there are many rules and regulations surrounding historic documentation as well. Typically, most business related documents should be kept for six years but there are exceptions.
With so much paperwork and vital documentation, having sufficient document storage space and a logical filing system becomes quintessential. In and among all of that is digital storage which we'll cover along with other aspects of document storage. But first, let's take a look at a few different types of documents and how they are stored.
Types Of Documents For Archive Storage
It's important to know how to store your business files from tax documents, HR records to purchase orders and receipts. While they're all important, not all document types follow the same rules.
Discard These Documents Within A Year
These types of documents include credit card bills, bank statements, receipts, insurance policies and monthly or quarterly investment statements. The only exception to this rule is when a credit card bill has a warranty. In this case, attach the bill to the warranty and file away for safekeeping until the time has elapsed. You also need to keep bank statements with tax documents if you are claiming deductions.
Businesses can immediately shred receipts unless you need them for tax or warranty purposes. Insurance policies can be shredded as soon as you receive your renewal. The same applies to monthly and quarterly investment statements.
The 7-Year Archive Storage Rule
The only documents you really need to keep for 7 years are tax records. Always keep copies of your tax returns with supporting documents like statements and receipts stored safely in boxes or envelopes with the tax year clearly marked. This makes it much easier to find documents from a specific time period when someone from the VAT office or Inland Revenue calls. If you need more information on archive storage for tax documents, visit the HMRC website.
Storing Health & Safety Records
Every businesses must keep accident reports to record all injuries at the workplace except companies with less than five employees. Companies where employees are exposed to noise, vibration or fumes must keep their health surveillance records for 40 years. Anyone in this type of industry needs careful planning on how and where to safely store these records. The Health and Safety Executive (HSE) can provide you with more information on the records you need to comply with.
Lifelong Document Storage
Documents that you must keep for a lifetime include the following:
birth certificates
marriage license
divorce papers
military discharge papers
social security
death certificates
life insurance policies
benefit schemes
estate
planning
When storing paper documents, remember to consider outside factors such as light, temperature and humidity as these directly affect paper. Warm, moist air can cause mould spores where light damages paper causing ink to fade and accelerated browning. While business storage units are ideal for keeping all your original documents safe, consider storing bulk of your paperwork digitally.
What About Digital Archive Storage?
Before deciding on anything, businesses must identify whether or not they need to access and reference the documents on a regular basis. If that is the case, digitising those records will help provide your clients with fast and efficient service. However, not even digital storage is without risks as files can disappear in a matter of seconds.
People lose important documents all the time and for a number reasons. This includes failing hard drives, stolen smartphones and laptops, online services shutting down and natural disasters like fires, floods and earthquakes. To ensure document security, you should always keep multiple copies stored in different ways.
Cloud Storage
Cloud storage is also referred to as "storing information online in the cloud" where companies keep all of their data. The best cloud services offer end-to-end data encryption to keep everything safe while making it easily accessible on desktop, tablet and mobile devices.
Many cloud services offer free limited cloud storage but you can purchase additional storage at a set fee. Examples of cloud storage service providers include Amazon S3, iCloud, Google Drive, OneDrive, Dropbox and iDrive among others.
External Hard Disk Drives (HDD)
External and portable hard drives are similar to those installed in a desktop computer or a laptop. They connect to one computer at a time and are usually wired, although some have wireless capabilities.
Wired or wireless, you can remove these drives from the computer and keep it locked away separate from the main computer. Many external and portable drives have USB 3.0 for faster and more stable data transfers but it only works if your computer also has USB 3.0.
Solid State Drives (SSD)
Solid state drives might look and function similarly to hard drives but they don't have any moving parts. They rely solely on semiconductors and electronics that make data storage more reliable, robust and faster than traditional magnetic drives. Without moving parts, SSD's also use less power making it a great investment in data storage and safety.
Document Storage Using USB Flash Drives
USB flash drives or thumb drives are similar to SSD's but smaller in size and storage capacity. These little technological wonders are portable and can even fit on a keychain or inside your wallet. They are Ideal for backing up small to medium amounts of data that you can carry around with you at all times. While USB drives used to be expensive and only available in small capacities, they are now much more affordable and have larger storage capacity.
You can get flash drives in various sizes from 32GB to 256GB but you can also find 512GB USB 3.0 drives. The difference between USB 2.0 and USB 3.0 is incredible as you can copy a 10GB file on USB 2.0 in 22 minutes while USB 3.0 takes just 6.5.
CD, DVD and Blu-Ray
Not too long ago, CDs and DVDs were very popular for data backup but not so much anymore. While they are still reliable and widely used, it is preferred for songs, music, software and other media files. Due to their shorter lifespan, smaller storage capacity and slower read/write speeds, we do not recommend storing business documents. Rather opt for Solid State Drives, cloud storage and USB flash drives.
Keeping digital documents safe for a long time essentially involves two processes. First, keep moving the data to new storage systems before the old one fails or becomes unreadable. Secondly, keep converting documents to whichever file formats become dominant before the old one is abandoned.
If you find yourself inundated with loads of documents cluttering your office, consider putting them into self storage. You can keep everything clean, dry and safe until you find time to organise and digitise what you can.
For quality, flexible and affordable storage options, contact us today. We can help find the right storage unit for your needs and provide you with expert storage advice. You can also visit any of our branches or take the virtual tour of Gloucester and Stroud.