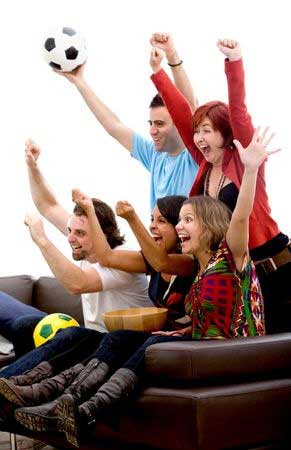 With the football World Cup up and running and collectors from all over the world ready to start bidding for match-day programmes and memorabilia, it's time to start thinking about where and how to store your new batch of collectables.
Most collectors use a spare bedroom or converted garage to store their precious programmes. Or at least, that's where they start. Filed neatly in boxes and stored properly in damp-free surroundings will ensure those valuable items will remain in good condition. However, what happens when the space runs out?
Whatever your situation, DON'T start compromising your collection by leaving programmes hanging around the house or using the shed, outhouse or any other non secure, damp area where programmes can become damaged.
The perfect answer to storing memorabilia lies at your local Self Storage company. A small storage unit is the ideal sanctuary for your programmes, teamsheets, metal pin badges, scarves, hats and the like. You can use proper shelving and even index your items so you know where they are when you next need them.
Also, if you are a collector who likes to sell on too, storing memorabilia is key. You will need to know precisely where a given item is stored. After all, you don't want to spend your time thumbing through thousands of programmes to find the programme you've just sold. Not only is that time consuming, but it can lead to potential damage to programmes, in particular.
Top tips for storing memorabilia
Use storage boxes
Using storage boxes will ensure that programmes don't become dog-eared. It will keep them flat and in good condition for when you come to use them or possibly sell them on. Many collectors will buy plastic sleeves – in bulk – and store each programme or up to three in a plastic wallet. This provides even greater protection, especially for those older programmes in your collection.
Shelving
Shelving is key to your storing memorabilia. Shop around and find the most suitable shelves for your programmes and or boxes and make sure you don't buy shelves that are too high. Not only will it be difficult to access those boxes on the top shelf, but high shelves with boxes can become unsafe. Ask your Self Storage company to give you some indication on what is best and what not to use.
Index your programmes
You might just enjoy browsing your programmes. Thumbing through those FA Cup Final programmes from the 1960s can be enjoyable. However, you might be a collector who likes to sell too. Whichever category you fall into, remember this. You will quickly forget where you stored certain programmes unless you mark your boxes and create a small road map of your unit. That way, you will find it easier to find what you want when you want it.
Make access a priority
If your collection requires you to buy a number of bookcases and shelving units, remember NOT to shove your new furniture into your unit without a moment of thought. Plan the unit's layout, make sure there is a pathway from front to back so those boxes and collectables stored at the back of the unit are as easily accessible as those at the front.
If you're a collector and need extra space, why not contact your local self storage company to see if a storage unit would suit your needs. If you are a collector and have used a self storage company, let us now whether it worked for you and if you have any tips for other collectors. You can post in the comment box below.
If you're in the Stroud, Gloucester or Bristol area and need some extra storage, get in touch.