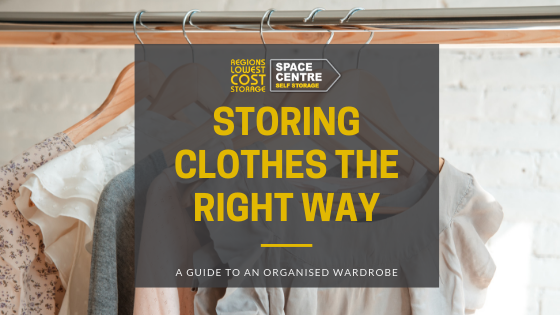 Winter has gone (or so it appears) and we're all hoping for some warmer weather. With that comes storing clothes which can be more challenging for some than for others. If your wardrobe and chest of drawers are stuffed with winter woollies, perhaps it's time for a clear out.
For some, storing clothes for all seasons is not a problem especially if they have additional wardrobe space. They simply move their summer clothes to the front while relegating the winter woollies to the back. Unfortunately, not everyone has that luxury and you need to get creative with storage ideas.
Storing Clothes For Winter
Most of us have limited wardrobe and drawer space which means we need to sort through everything more often. Of course, many of us don't and we end up overfilling drawers with clothes we haven't worn in ages. A big problem with effective clothes storage is that we don't get rid of old clothes when buying something new. We just end up pushing everything to the back and end up with a big mess.
What you need is a disciplined approach and an effective plan for storing clothes. Being more organised will help you see what you have and what you wear more often. A change in season is the perfect reason to do some decluttering. Here are some handy tips on getting the most out of your wardrobe.
Divide Your Clothes According To Season
It may not apply to every country in the world but here in the UK, we often get all seasons in one day. This makes it difficult to split your clothes to exactly match the seasons but you can definitely do something. There are winter clothes that you really don't need in summer even if it rains or is slightly colder than normal. The same applies to other seasons so try and split your wardrobe accordingly. Be smart about storing clothes and add an extra pile to cover the inevitable weather anomalies.
Do Regular Clear Outs
You probably have clothes that you haven't worn in a long time so why keep everything? From t-shirts, jerseys, jumpers, trousers and jackets, if you don't see yourself wearing something again, it's time to clear it out.
Put some time aside and go through your wardrobe properly at the change of every major season. Identify items you no longer want or need and decide what you want to do with them. This also applies to clothes that are too small, old or damaged. You could give it to a friend or family member, donate it to a charity, sell it or throw it away.
Self storage is another option when you want to keep clothes and you can't decide what to do with them. However, there are many other creative ways of storing clothes as we'll see in the next section.
Clothes Storage Ideas
Regardless of how big or small your home is, there are many clever storage ideas but we're only touching on a few of the most popular ones. The trick is to find what works best for you and the available space. You also still need to be organised and take the time to put your clothes in their designated spots. Perhaps one of these clothes storage ideas could solve all of your wardrobe problems.
Put an extra bar in the closet for hanging clothes
Convert an old bookshelf into a wardrobe for additional storage space especially for the kid's bedroom as they don't need massive cupboards
Build your own DIY clothing rack using a piece of wood, add in some wheels and shower rods for hanging space. Putting it on wheels makes it easy to move whenever you need to
Put a bookshelf along the wall a few feet from the corner and install a rod between the bookshelf and the wall for tons of extra storage
A loft bed provides even more space underneath, ideal for a makeshift closet
Use a belt and accessory hook to store camisoles, vests and tank tops
Expert Tips For Storing Clothes
There are a few important things to remember when storing clothes that go beyond DIY projects. For example, garages and sheds are often damp and susceptible to insects so a clean, dry, self storage unit is the best option. Here is a short but informative guide for storing clothes the right way:
Clean Everything Before Packing
The best time to remove stains is during this stage of decluttering, organising and packing. When you leave stains on clothing during storage, they will only darken and could become worse over time. Remember to clean clothing according to the manufacturer's instructions to avoid any damage. Cleaning laundry before packing it will keep your clothes safe during storage and deter insects.
Use the Right Storage
It's essential to use the right containers when storing clothes. Plastic storage containers are great but it can be a breeding ground if any bug larvae are left in the clothing. Cardboard boxes are not ideal as they can attract insects but can be used as temporary storage. One of the best storage solutions for clothes is an unused suitcase that has been thoroughly cleaned. Lining storage containers with acid-free tissue can also really help extend the lifespan of your clothes.
Don't Overdo The Mothballs
Mothballs seem to naturally attract many children and pets which can be dangerous. While it may not be a complete guarantee, a safer option would be cedar blocks or cedar lined storage. And just like any cleaning products, you should store chemicals with care and according to the directions.
Only Hang What You Have To
While hanging clothes may seem easier, you shouldn't hang everything. This particularly applies to sweaters and other knit items as they can easily stretch and lose their shape. A better idea is to carefully fold the items and place them into a storage container. Remember to stack your folded items as you do boxes; heaviest items at the bottom and stacking loosely to allow air to circulate.
Keep Storage Conditions Clean, Cool, Dark, and Dry
No matter what storage method you choose, the area must be clean, cool, dark and dry to protect your clothing. The first step when storing clothes is to properly clean the area beforehand. Choose a spot that will less likely be exposed to heat so definitely avoid areas near heating sources. Keeping the storage area cool and dark will help prevent fading while keeping it dry won't lead to mildew and insects.
Related article: 'How To Avoid Damage When Storing Cloth Or Fabric'
Please get in touch if you need more information about our storage units and prices. Our friendly, professional and experienced staff are happy to answer any questions you may have. For added convenience, our drive-up units also make it easy to load and unload your belongings. Check out our price and size guide to help you find the right storage unit for your requirements.