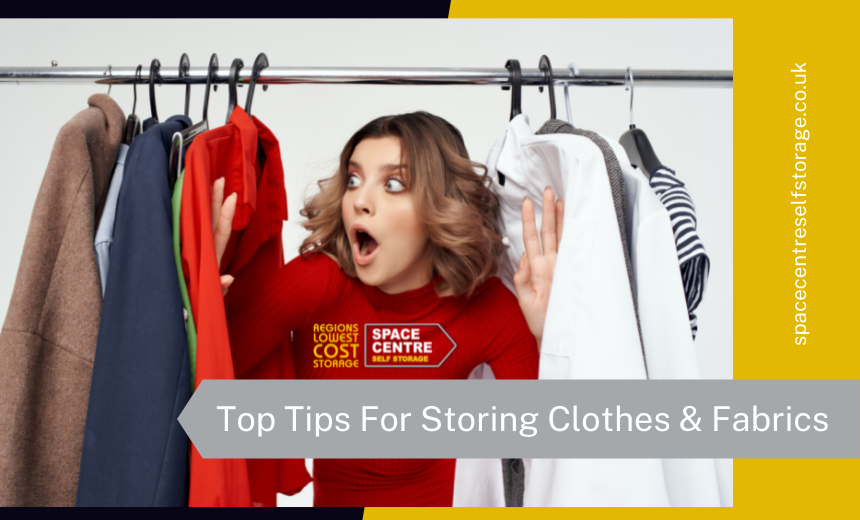 When storing clothes or fabric furnishings, there are several important aspects you should consider to avoid damage or deterioration. You might think that storing fabric or clothes is easy and it'll be fine in the shed, garage or cupboard but it really isn't. If you want to keep your clothes, furniture and other fabrics safe and increase their lifespan, it's best to follow this guide.
Simple Tips For Storing Clothes
As many experts recommend, you need a disciplined approach and an effective plan for storing clothes. Being more organised will help identify all the clothing you have and what you wear more often. First, go through your cupboard and divide clothes according to season. Now, decide what you want to keep, donate or sell and then you can start packing.
Remember, when storing clothes you need to keep in mind dampness and insects which is why a garage or garden shed may not be the wisest decision. These areas are often damp and susceptible to insects so you're better off with a clean, dry and secure self storage unit. Here are some short but informative tips for storing clothes the right way.
Cleaning Tips When Storing Clothes
Before putting anything into storage, make sure you remove all stains as they will only darken and become worse over time. When clean your clothes, remember to follow the manufacturer's instructions to avoid damage. By cleaning everything before packing, your clothes will be safe during storage and deter insects.
Recommended: 'How To Avoid Damaging Fabric Or Cloth In Long-Term Self Storage'
Use the Right Containers
As fabrics are sensitive to many things, it's important to use the right containers when storing clothes. Plastic containers are great but if you don't clean your clothes and bug larvae are present, it could become a breeding ground. Cardboard boxes may not be ideal either as they can also attract insects but they are fine for temporary storage.
One of the best ideas for storing clothes is an unused suitcase that has been properly cleaned. You can also line the suitcase or other storage containers with acid-free unbuffered tissue paper as that can help extend the lifespan of your clothes. Don't use buffered tissue paper as it could damage silk and woollen clothing.
Mothballs And Hanging Clothes
Although mothballs certainly do work, they always seem to attract children and pets which can be dangerous. While it may not be the best solution but a safer option would be cedar blocks or cedar lined storage. Even though it's safer, you should still store it with care and follow the directions as you would with any cleaning products.
In terms of hanging clothes, it may seem easier but you shouldn't hang everything. This applies particularly to sweaters and other knitted items as they can easily stretch. Wire hangers, plastic hangers and wooden hangers all present a certain amount of risk so it's best to carefully fold the items and place them into a storage container.
Remember to stack your folded items as you do boxes by placing the heaviest items at the bottom and packing loosely to allow air to circulate.
Storing Fabrics And Cloth Furnishings
Considering most garages and sheds are damp and susceptible to insects and pests, you don't want to keep fabrics in there too long. These conditions are especially detrimental to fabric furniture and you should consider renting a self storage unit instead. Here are a few easy tips for storing fabric furniture and furnishings.
Wash the furniture with fabric or upholstery cleaner
For tougher stains, spot clean with a mixture of vinegar and water or a commercial-grade cleaner
Let it dry completely before putting it into storage
Store your fabric sofa in the same position it would be at home
Never place it on its end to save space as it could damage the fabric and put pressure on the joints
Do not push it up against the walls or anything else that could cause staining
Disassemble, Organise And Store
You may be able to disassemble some furniture items such as tables or sofas couches with removable legs and screw-on knobs. This makes everything more compact which will help save space and also make things easier to wrap, pack and transport. To make sure you know where everything is and to simplify the re-assembly process later, do the following:
Take pictures of the furniture at specific stages when disassembling
Put all screws, bolts, hinges and other small parts in sealable plastic bags and attach them to the corresponding furniture item
Group all the components of every dismantled furniture item so you don't lose anything or put parts with the wrong item
Pack every piece with utmost care and label it properly
Label the bags in case they get separated so you are not left with hundreds of random screws and no idea where they should go
Wrap It, Pack It And Raise It
Whether you are storing clothes or furniture, packing things properly for long-term self storage is one of the most important parts of the process. You need to provide your furniture with good protection so it can stay safe for the duration of the storage period. Here are a few simple tips to just that:
For short-term storage (less than 6 months), plastic sheets are fine but for long-term storage, we recommend using soft blankets, a cloth sheet or special furniture bags
Place extra padding around corners and edges so that they don't scratch other items in the storage unit
Wrap legs and any other protruding parts using bubble wrap or soft sheets for the most vulnerable areas
Wrap leather and fabric furniture in sheets or special furniture covers to prevent dust and reduce the risk of rips and stains
When storing furniture, we recommend laying down planks, plywood, pallets or wooden blocks and build a base to keep furniture off the floor
Storing Clothes And Furniture With Space Centre Self Storage
We have decades of experience in the self storage industry and know how important it is to pack things properly and have a plan in place. People often forget the basics of storing clothes and furniture but we are here to help.
At Space Centre, we have a wide selection of ground floor or first-floor units ideal for loading and unloading boxes and furniture. Our staff are friendly, experienced and ready to assist with whatever they can.
We have self storage facilities in Bristol, Stroud, Gloucester and Stonehouse in convenient locations. To make sure you are covered when storing clothes and furniture, we also offer FREE storage insurance up to £3000. If you'd like more information, please give us a call or get in touch via the website.