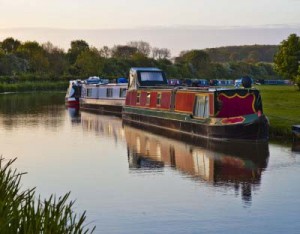 When next year's Indian summer (here's hoping) gives way to autumn and winter and it's too cold to spend your weekends messing about on the river, what will you do with your boat? Some will properly winterize their vessel and leave it outside, either in the water or on dry land. Winterizing will not only protect it during the harsh weather, but will avoid costly repairs once spring comes back around.
Many boaters are turning to self storage companies as a solution to protecting their boat against the harsh elements of autumn and winter. With self storage companies, you can rent a storage unit on a month to month lease. It will save you money overall and help protect your boat during the colder seasons. However, it's not just a case of storing your boat until the following spring or summer. You must consider preparing for winter to ensure its safety.
Firstly, before storing your boat, you should ensure your boat's gas tank is filled to the top before adding a fuel stabilizer. An empty gas tank will start to acquire moisture and any small amounts of gas left will to turn to water; causing the gas tank to corrode and rust. Also, always change the oil before putting your boat into storage.
Secondly, cover your boat with a tarpaulin or something similar to protect it from dust. You should also repair or fix any cracks before you put it in storage. Putting your boat into storage with even the smallest of problems could cause you greater problems at a later date.
Thirdly, give your boat a thorough clean, possibly a power wash. Then apply some anti-corrosion spray to help protect the exterior of the boat. It's recommended to get mildew bags for your boat. They will absorb any moisture and protect your boat from starting to smell. You can find these at any local boat dealer.
A fourth excellent tip is to support your boat's hull when you decide to put it into storage. If you don't, your boat might end up with cracked bulkheads, or an engine misalignment. Then, drain any coolant from the engine and replace it with propylene glycol base antifreeze which is non-toxic.
Finally, clear out the boat, remove any sails, lines, fenders, and anchors. Take out the bunk cushions, fire extinguishers, flares and carpets and empty the cupboards. Ensure that you all hatches and locker doors are propped open as this will help improve air circulation. And don;t forget, after cleaning out the icebox or refrigerator, make sure to pump out the holding tank.
If you want any further information on storing your boat for winter and you live in the North Bristol or Gloucestershire area, why not contact us at www.spacecentreselfstorage.co.uk or post a comment below. You can also look us up on LinkedIn, Facebook or Twitter.