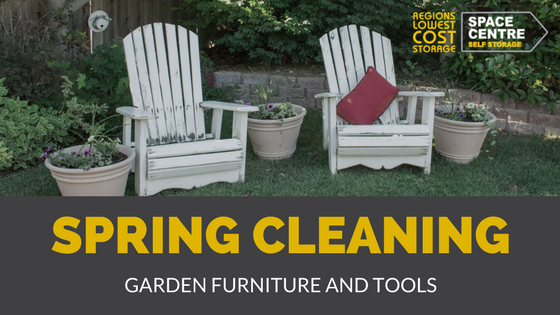 It seems the 'Beast from the East' has finally left us! Forecasts suggest May is the new August for the best summer weather and a good time for some spring cleaning. With warmer weather about, there are jobs to do in the garden including a little garden furniture TLC.
For the super organised who cleaned and stored everything at the end of last summer, it'll be a breeze. Get the furniture out of the shed, garage or storage unit, give it a quick wipe down and you're all set. If the garden furniture and equipment did not spend the winter in self storage, prepare for some serious spring cleaning.
Snagging clothes or injuring yourself on wood splinters or broken plastic is no fun. Neither is getting rust marks or stains on your clothes from moss among other things. We've compiled some handy tips on how to revamp and prepare your garden furniture and equipment for summer.
Spring Cleaning Your Garden Furniture
If you have plastic furniture, you could use soda crystal and warm water to clean off the winter dirt. Just make sure the furniture is not near any flower beds or lawns as soda crystal is not good for plants. Once clean, dry your furniture with a dry cloth. Check for cracks or split struts as some plastics can become brittle over time. Alternatively, you could use a high-pressure washer to deep clean everything, even your patio or driveway.
Some garden furniture has metal framework and if yours does, wash it with soapy water and dry it completely. Remove any traces of rust with a wire brush or steel wool. Finally, wipe with a clean cloth to remove all the rust particles. Now you're ready to give it a coat of paint or similar if needed.
Although you can use a pressure washer on wooden furniture, some machines are brutal and may damage delicate wooden finishes. The safest way is to lightly dust the furniture to remove any surface dirt and then light soiling. Start with the gentlest cleaner and move onto stronger ones as needed. Use a damp cloth to avoid the wood being saturated. Rinse the cloth often and immediately dry the furniture. If you plan to re-stain, oil or paint your furniture for the new season, rub the wood with sandpaper and wipe before re-treating.
Spring Cleaning Tips For Garden Furniture And Equipment
Hopefully your general garden tools were properly cleaned before storing. If not, they'll need a good clean with warm water and soap. Get rid of more stubborn residues using a wire bristle brush. Rub down wooden handles and sharpen blades where necessary. Spray metal surfaces of tools with a light coating of general-purpose oil to prevent rusting.
When it comes to lawn mowers (or similar equipment) you need to be extra careful. Firstly, make sure nothing is plugged in while you're cleaning it and disconnect the spark plug lead. Remove the air filters and scrape old grass cuttings and dirt from underneath. It's essential to change the oil for spring, making sure that the level is topped up. Without insufficient oil, the engine will burn out or cease causing irreparable damage. Petrol mowers may need some lubrication and additional maintenance. Unless you're an expert, we suggest getting your mower serviced by a professional.
Spring cleaning BBQ's is a whole different story especially if it wasn't cleaned properly before winter storage. Check the hoses on gas BBQ's for any splits or cracks and then take out any removable parts. Use warm water and soap but take care not to damage or block the gas jets. Empty and clean the grease tray and put everything back together. Finally, light the BBQ to see if everything is working.
Charcoal BBQ's are slightly easier unless there's a ton of leftover charcoal. Remove the grill for a good scrubbing and empty out the inside of BBQ dish. Using soap, water and some elbow grease, give it a proper spring cleaning treatment. Re-assemble everything and bring out the burgers!
Gardening Tip Of The Week
As with most things in life, prevention is better than cure and you should make a habit of cleaning tools after each use. Here's a great way to keep track of your smaller gardening tools and keeping them in tip top shape. Fill a bucket with sand and mix in just enough multi-purpose oil to dampen the sand. Place the bucket in a covered area close to your garden. All you do now is remove any debris from your tools and simply put them in the sand. The grains keep the blades sharp while the oil prevents rust.
Take a look at this article for more spring cleaning and storage ideas, including clever tips for storing toys. If it all seems like too much time and effort, you could avoid most of the work by renting storage for furniture and tools. Bear in mind that you still need to prepare everything beforehand but it's easier and less time-consuming this way.
Contact Space Centre Self Storage when you're ready to store your garden furniture and equipment until next season. Our facilities in Stroud, Bristol and Gloucester offer a wide range of storage units in different sizes and prices. We offer free insurance, don't tie you to a long term contract so you can store for as long as you need. No frills, no fuss and no hidden costs.