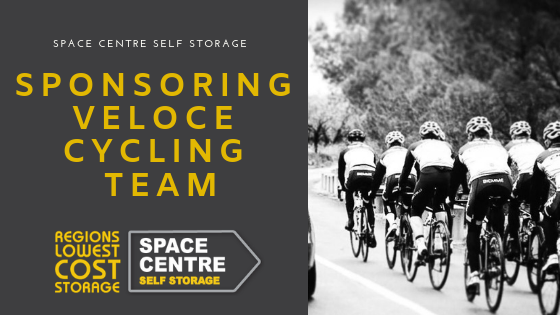 As some of you may already know, Lucinda Dangerfield from Space Centre Self Storage is an avid cyclist and has taken part in several cycling events. She's also great advocate for cycling and has met many different people in the process. Not to mention creating awareness and raising funds for numerous charities.
For some time now, Space Centre Self Storage has been heavily involved in the world of cycling. Not only do they take part themselves riding for charity, they've also sponsored various teams over the years. This year Space Centre Self Storage is sponsoring Veloce Cycling.
Sponsoring Veloce Cycling
Earlier this year, Space Centre Self Storage was the first sponsor for Veloce Cycling as they gear up for a busy 2019 season. Veloce Racing is a rebrand of BPF cycling which was originally based out of the BPF gym in Tetbury. They include E1/2/3/4 riders who compete in criterium (crit) races, road races, time trials, MTB races and cyclo-cross throughout the year.
Veloce Racing is also expanding into women's events and triathlons with an expert group of women already boasting UK and national rankings. In 2019, Veloce Racing is working in partnership with Space Centre Self Storage, Kiri Cycles, Biemme, Cotswold buying agent, CBM, ProGreenMX and Bio Synergy.
Here is a sneak preview of the bicycle for the 2019 Veloce Cycling team.
British Cycling is the national governing body for cycling in Great Britain. Their mission is to deliver international sporting success, effectively grow and govern cycling sports while inspiring and supporting people to cycle regularly. Being active, staying healthy and supporting worthy causes is something everyone should be a part of.
The fact that Lucinda only first started cycling in 2016 should be motivation enough to get you started. While cycling big events is no easy feat, it certainly is possible through hard work, determination and commitment. Not only is cycling fun but it is also an excellent form of exercise and a great way to get more involved with local communities.
Space Centre Self Storage Cycling For Charity
Back in 2016, Space Centre Self Storage Co-Director Lucinda Dangerfield took part in the London to Paris Bike Ride. Her brother Piers Marks, owner of a Stroud engineering company, Northsound Ltd, also joined in. The race started in central London all the way to the Eiffel Tower covering a distance of 400km in 3 just days.
This particular event was in aid of the British Heart Foundation as coronary heart disease is the UK's number one killer. In fact, someone in the UK suffers a heart attack every 3 minutes where 30% are fatal and often strike without warning.
The next cycling event for Space Centre Self Storage was in May 2017 featuring the Cotswolds Bike Ride. Once again they raised funds for the British Heart Foundation focusing on identifying genes that cause inherited heart disease and improving the lives of babies who are born with heart defects. You can find more information about the British Heart Foundation research on their website.
Next on the cycling calendar was the Prudential Ride London. Funds raised here would go to and the Royal British Legion. It truly is a noteworthy cause supporting UK's brave service men and women. In 2018, Lucinda took on the challenge once again along with the Velothon Wales event in July.
Cycling Tips For Beginners
While safety equipment helps prevent any serious injuries, it is important to remain vigilant and ride carefully. As Lucinda learned when she started, "always buy the right gear and the most expensive bicycle that you can afford. You wouldn't play cricket without a helmet or a thigh pad and a box so don't skimp on cycling gear."
Everyone will agree that even though safety is the main concern, you also need to dress properly. You can keep warm for a short amount of time like a 20 minute run but cycling events are different. They usually last a couple of hours which highlight the importance of using the right equipment and clothing.
Looking for a fun way to exercise and stay healthy? You should seriously consider cycling whether you do it for fun, socialising, professional or for charity. For more information about Space Centre Self Storage, please visit our website or take the virtual tour of our facilities. If you're keen on following Veloce Racing in 2019, use the hashtag #keepthedreamalive and check them out on Twitter and Facebook.