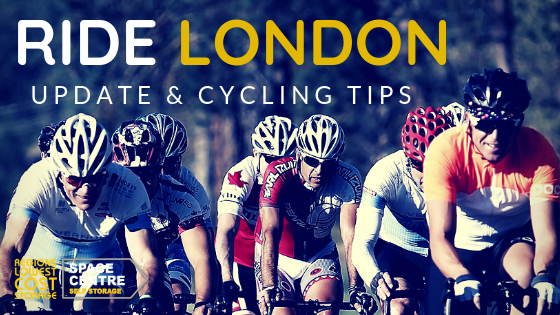 For some time now, the Space Centre Self Storage team has supported various charities and as mentioned in a post from June this year, Lucinda was training hard for the 2018 Ride London. While the events are always a lot of fun, this year proved more challenging mainly because of bad weather. We take a closer look at the Prudential Ride London and how the event unfolded. Lucinda also shares some valuable cycling tips for those interested in starting out.
Prudential Ride London
The Prudential Ride London is seen as one of the world's greatest cycling festivals with a format consisting of a series of cycling events on closed roads. It takes place around London and Surrey where amateur cyclists and professionals strut their stuff. 2019 will see the seventh edition over the weekend of 3-4 August.
Riders can enjoy traffic-free roads in Central London, passing landmarks including Buckingham Palace, the Bank of England, the Houses of Parliament and St Paul's Cathedral. There are also seven festival zones alongside the FreeCycle route, all of which have bike-based activities riders can get involved in. The Prudential Ride London-Surrey 100 event starts in Queen Elizabeth Olympic Park through the capital and onto Surrey's country roads. From there, riders hit the Surrey Hills before finishing on The Mall in central London. Many of the riders do it for charity and in 2017, £12.5 million was raised for charity.
Other events include Prudential Ride London Classique, Prudential Ride London-Surrey 46, Prudential Ride London-Surrey Classic, Brompton World Championship and Prudential Ride London Handcycle Races and Junior Races.
Space Centre Self Storage Event Catch-Up
Compared to last year, the 2018 Prudential Ride London was more challenging as it took place in wet and windy conditions. The event is by no means the Tour de France but it's still fast and dangerous, not something to take too lightly. At the same time, they are really good fun with a chance to network with many amazing companies and people!
The event is suited for amateurs and professionals and while you don't have to be a super athlete, you must be prepared physically, mentally and have the right gear. How you experience the race also depends on where you start – either at the front with the fast, experienced riders or at the back with the amateurs.
With so many participants, it can be quite dangerous no matter where you start especially if the weather doesn't play along. Even with a great start time this year, Lucinda couldn't take advantage due to the conditions and so many people around her struggling to maintain their balance.
It's surprisingly easy to fall off a bicycle especially when traveling at higher speed, in poor conditions and being surrounded by so many people. Riders can hit a manhole cover the wrong way or go around a corner too fast and just like that, they come off easily. Another issue is when someone slams on their brakes and everyone behind them has to do the same. This usually results in a large number of people falling off their bikes.
The fact that Lucinda first started cycling in 2016 should give you some motivation to get started. While it's no easy feat, it certainly is possible through hard work and commitment. Not only is cycling fun but you it is also an excellent form of exercise. And at these events, you get to enjoy the activity (heart in your throat at times) and a chance to support your favourite charity. According to Lucinda, "Some say that cycling is the new golf, although I have never played golf. It's also very sociable though and people network a lot."
Cycling Tips And Advice For New Cyclists
While the safety equipment certainly helps prevent any serious injuries, you still need to ride carefully. As Lucinda learned when she started, always buy the right gear and the most expensive bicycle that you can afford. You wouldn't play cricket without a helmet or a thigh pad and a box so don't skimp on cycling gear.
Everyone will agree that even though safety is the main concern, you also need to dress properly. You can keep warm for a short amount of time like a 20 minute run but cycling events usually last a few hours so using the right equipment and clothing is important.
Many people ask about clipping into the pedals and how it works. Lucinda explains, "The best bit of advice someone gave me about clipping in was that you don't always have to be clipped in to cycle. So don't panic that you are not clipped in, just pedal. On the Ride London event for example, you get people that get off their bikes on the hills and they just stop right in front of you. I ride unclipped uphill so I always have a leg 'free' for added support when I lose balance."
If you have a lawn at home or a patch of grass, practice clipping so you have a soft landing in case you fall as it beats the hard tarmac. It's important to not panic if you're not clipped in; just continue pedaling so you have some momentum. Where people go wrong is trying to clip in while standing still as falling over is inevitable.
How Do You Clip and Unclip?
For those who don't know how it works, it's a bit like a ski boot to begin with, i.e. toe in and foot down and when you want to unclip, it's just a little ankle twist. You can get ones that are looser and you can also adjust the tension to your preference. It is something new riders just have to get used to but when you do, it makes cycling so much easier and you really are much faster.
If you're picturing cyclists at traffic lights mimicking standing up and moving handlebars left and right, it's what the pro's do to keep their balance. They can unclip if they like but they prefer to keep their feet in but it takes a while to get that right without falling over.
What's Next On The Cycling Agenda?
For now, they have not planned any local events like the Cotswold Ride, an event they also participated in last year. But looking ahead to 2019, Lucinda is taking on the Columbian mountains which will be a different type of challenge. Without giving too much away, she will be there for two weeks traveling approximately 1000 miles with one section being a 52 mile climb.
When asked if this is another charity event, Lucinda responded, "No, just doing it. Someone said it was amazing so I thought I'd put my name down for it about 18 months ago and now it's come around really quickly. The 52 mile climb is probably a long gradual incline which is often worse than a shorter, steep hill climb."
If you want to ride for charity in next year's Prudential Ride London, visit their website for more information. You can register for the event until Friday 4 January 2019 or until 80,000 registrations have been received.