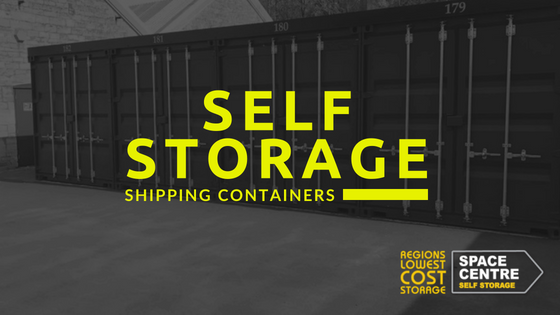 Shipping containers offer a great opportunity for self storage facilities to start, or grow, a business without having to build anything. Chances are that you will find rows of converted shipping containers at most larger self storage facilities.
Did you know that standardised shipping containers have been used for storage purposes since the early 1950's? It became a popular method for storing construction equipment and temporary event storage around the time when the first vessels were built. Today, shipping containers are widely used for a number of different purposes including self storage facilities worldwide.
Why Use Shipping Containers For Self Storage?
Shipping containers are not only built for durability, they are incredibly versatile. Many of them arrive from China and never used again so they ultimately become available to buy. Individuals and businesses mostly use these containers for stock or equipment storage and to keep their goods safe.
Here are a few main reasons why shipping containers make particularly good self storage units:
Thick steel walls make them incredibly durable, strong and capable of easily handling bulky and heavy goods.
It may seem obvious but shipping containers are, in fact, waterproof.
Unlike many self storage facilities, containers are dustproof.
They have tight seals around the doors which also prevent vermin from entering and damaging your goods.
They are secure with a lock on the door handle and a special lock box. The lock box is housed inside a steel box welded to the container protecting your padlock. This offers exceptional security and added peace of mind knowing your valuables are safe, dry and secure.
Containers are easily accessible with the ability to open both doors to store larger items.
With open land, storage facilities can easily add shipping containers to their repertoire which is exactly what Space Centre Self Storage did. Lucinda Dangerfield, co-director of Space Centre Self Storage, saw the opportunity to transform the shipping containers into secure self storage units. They are available at their sites in North Bristol and Gloucestershire. Here is what she had to say:
"All of our external storage units are constructed from new shipping containers that we purchase and then convert into individual units. We fully line and insulate them, re-do the floor, panel the doors and also put an additional roof over the top so customers' goods stay 100% dry. They are very secure and work well, plus they allow customers to park directly outside."
Let's take a look at why so many facilities use shipping containers for self storage.
Movable and Flexible
You can easily and quickly add shipping containers to any open area of land and simply add more as required. A major benefit is that you can place them in areas that are too narrow to support a building. You can also move containers if you need to change the layout of your site or planning a new building.
As they are purposely built for transporting goods, it's easy to set up and relocate them from one place to another, even with belongings inside. Just take all the necessary precautions and work slowly and accurately.
Low Investment and Minimal Maintenance
Probably one of the main advantages of shipping containers is the low cost and long life expectancy. Did you know that shipping containers can last for two to three decades with minimal maintenance? They are also significantly cheaper to implement and maintain, even compared with the purpose-built portable-storage units.
Watertight and Secure
Shipping containers are built for transporting goods on the open sea while exposed to some of the harshest conditions. Their main purpose is to ensure that the contents remain dry and safe during the journey which means they are completely watertight. You can safely store almost anything from boxes, books, furniture, electronics to cars and more.
High Resale Value
Many consider standardised shipping containers a commodity, even though their price is more stable than coffee, gold or oil. One major advantage of a commodity is that they are extremely negotiable. You will find it much easier to sell shipping containers than purpose-built portable-storage units. A growing trend is using shipping containers to construct environmentally friendly buildings which will likely drive the demand even further.
Innovative and Creative Uses For Shipping Containers
While shipping containers are mostly used in self storage and transporting cargo, they are just as useful in other areas. They can be recycled and used in several innovative ways. Here are five of our favourite ways people have used shipping containers:
Mobile Schools
In some of the poorer parts of the world, constructing traditional buildings for schools or hospitals can be expensive. The use of shipping containers for classrooms have become a noteworthy trend. Using renewable energy means that these classrooms provide the same quality of education as any other developing nation in the world.
Container Hospitals
Although bearing resemblance to an ambulance, container hospitals are so much more. Transforming a shipping container into a moveable hospital takes some serious engineering and creativity. These container hospitals can easily be deployed in remote regions or for disaster relief efforts.
Shipping Container Homes
Using containers to build spacious homes is another great alternative that has developed considerably over the last decade. Architects and builders can really turn heads here with a similar concept as 'modular construction'. In addition, using renewable energy means that some of these container homes are entirely off the grid. Take a look at these beautiful examples of container homes in the UK.
Office Space
Office space is limited in many countries and repurposed shipping containers offer the ideal solution. Add more space to a site quickly, easily and without all the additional costs involved with building a fixed office block.
Swimming Pools
The rectangular shape and depth of cargo containers make them perfect for pool facilities. Containers range in size from as little as 10ft up to 50ft, so let your imagination run wild. You can have a small splash pool or a decent sized swimming pool that will allow you to swim lengths (if you have the space).
While containers provide excellent cost benefits, they also help considerably in saving time and manpower during any construction process. Our external self storage units consist of many shipping containers and they have proved a worthy investment. If you need real storage advice and a place to keep your belongings clean, dry and secure, request a quote today.
Have you come across any interesting and innovative ways to use shipping containers? Share your comments in the section below or find us social media.