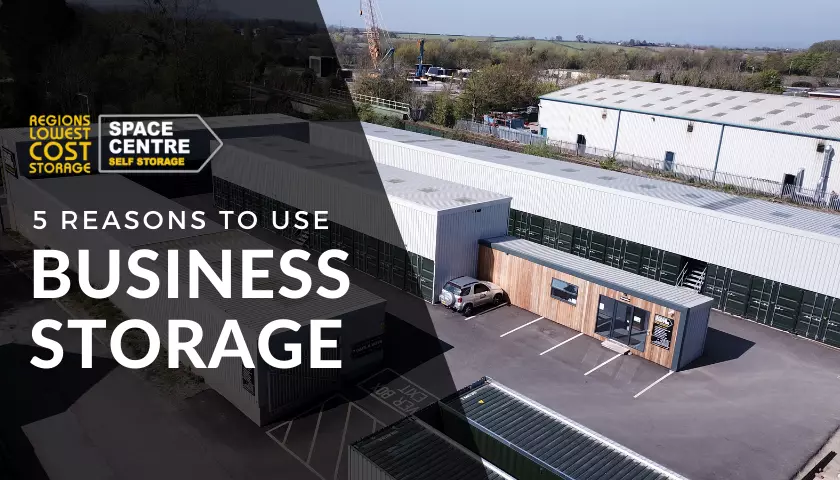 Self storage may be more familiar among homeowners than companies but it also provides many benefits to businesses. Whether you're an existing brick-and-mortar business, an e-commerce company or a start-up, business storage can help in many ways.
Do I Need A Business Storage Unit?
As a small business owner, it might seem unnecessary to rent a business storage unit but it can be a long-term investment. No matter the business type, you will have documents that need safekeeping, not to mention stock, equipment, tools, clothing, furniture and even vehicles.
Business storage is an efficient, affordable and convenient way of storing important documents and essential items that will help your business succeed in the years to come. Discover some other reasons why more companies might want to consider renting a self storage unit.
Related: Smart Storage Solutions For Business Documents
BUSINESS STORAGE FOR EXPANSIONS OR RELOCATION
Moving business premises is a challenging process whether you're downsizing, expanding or relocating. You can rent a storage unit long-term or short-term to keep stock, supplies, furniture, documents and vehicles in a safe place while moving. This will keep things more organised and help you declutter at the same time.
CREATE MORE SPACE IN YOUR BUILDING
Depending on your business type, a business storage unit could eliminate the need for a bigger office which means saving on rent. You can also use it to store your unused office equipment, extra filing cabinets or important, historic documents while freeing up more space in your office for your staff, boardrooms or displays for your goods.
SAFE OFF-SITE STORAGE
Storing important items in a business storage unit is safer than keeping them in your office or at home. Most reputable storage facilities, like Space Centre Self Storage, will have 24-hour CCTV, alarm systems and smoke detectors. There are also locked gates with access control, security fences and staff to help keep things safe and sound.
If you are a retail company or an e-commerce business looking for a safe place to keep your goods off-site, a business storage unit may be the easiest and more affordable solution. In some cases, you can also run a business from your storage unit where you can store and dispatch goods with relative ease.
FLEXIBLE SCHEDULE AND EASE OF ACCESS
With flexible operating hours, you can retrieve items from your business storage unit at nearly any time. You can either personally visit the storage unit or send an employee with the access fob or key to access the unit.
Most facilities have flexible schedules and are usually open 24/7 for access to external units. This means you can give certain staff members access where so they may pack, dispatch and receive packages on your behalf.
Whether you need to get a document, a piece of machinery or simply to check on your items, our staff at Space Centre Self Storage are always happy to help.
HELP CUT BUSINESS COSTS
If you are currently paying for onsite storage, renting a business storage unit may be a cheaper alternative. You could either shift your excess items to free up more space or to downsize your office, warehouse or retail space. It may even be possible for office staff to work from home if your records are stored safely, eliminating the need for a central office.
If you could base your business entirely online, whether you run a plumbing or catering company, your employees can go about their business and access the storage unit whenever they need tools or equipment. Considering the higher overheads of renting an office, a business self storage unit is considerably cheaper and the preferred choice for many types of businesses.
Who Can Use A Business Storage Unit?
Many businesses are choosing a self storage facility in a central location and for various reasons. Whilst some may store equipment, tools or vehicles, others want a safe place for extra stock so they collect something on the way to a customer instead of driving back-and-forth to the office.
Business storage is ideal for landscaping, plumbing, painting or construction companies. Although not many contractors have an office, they still need a secure place to store their tools and equipment.
Market traders, exhibitors and event planners are also among the list of companies using business storage. For market traders, a business storage unit is particularly beneficial for seasonal items while it offers a central, secure location for exhibitors and event planners to store and collect their valuables on demand.
Why Choose Business Storage
Storage facilities can help your business grow as they provide lower overheads, added security and ease of access 24-7. Flexible business storage opens up so many doors for all types of businesses with a common use involving purchasing supplies in bulk at a discounted rate. This results in larger profit margins while ensuring customer satisfaction.
A business storage unit costs considerably less than renting a warehouse or office space which helps lower your overheads even further. This means you can redistribute funds for marketing, staffing or training. Self storage facilities offer flexible rates, terms and conditions with a short notice period for added convenience.
Why Choose Space Centre Self Storage
Many facilities offer a wide range of business storage units in different sizes but you still need to know which one is right for you. This becomes a crucial decision as you don't want to pay for space you don't need.
Get in touch with your nearest SCSS branch if you need advice or more information about business storage. Our friendly staff at our Stroud, Bristol, Gloucester or Stonehouse facilities are always happy to help where they can.
Remember, when storing with us, we don't tie you to long-term contracts, there is no small print or hidden costs. Our prices are guaranteed for 12 months and we offer FREE storage insurance of up to £3000. We have conveniently located facilities near major access roads where each unit has an alarm, smoke detector and CCTV.