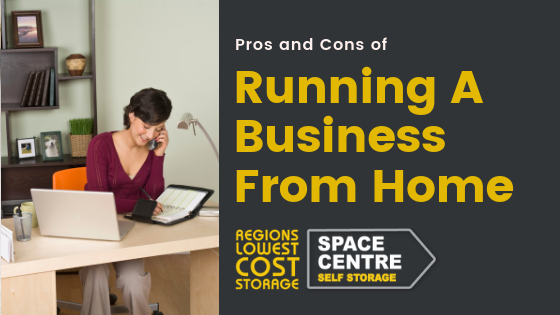 Running a business from home is a simple option if you don't need a rented or owned premises. Not every type of business can be easily operated from home as some require business storage. Working from home is common for people who only need a small office space, who mainly work on their computers or spend most of their time on their client's premises.
Working from home may not be ideal if it significantly changes the use of your home or affects your local area. For example, if you rent your home and receive lots of visitors, your licence or lease may include some restrictions. While more people are running a business from home, is it really for you?
Factors To Consider When Working From Home
For many new business owners, it makes sense to work from home at the beginning but what about when your business starts taking off? You have to think about the next steps and whether it's worth running a business from home long-term. There are many factors to consider including business storage, financial aid, additional staff and personal time management.
We take a look at a few pros and cons of working from home and offer some valuable advice on how to make it work for you.
Advantages Of Running A Business From Home
The first thing you'll notice is the absolute freedom that a home office provides and not just for work. You can go shopping when it suits you, fetch the kids from school or visit the doctor without explaining anything to anyone. To summarise a few of the main benefits, take a look below:
It offers better flexibility in terms of work and home life as you can set your own schedule giving you the ability to spend more quality time with the family
No more cubicle, robot-like lifestyle clocking in and watching the seconds tick by
It cuts out the daily commute to and from the office reducing your carbon footprint
You can essentially work from anywhere – home, coffee shop or restaurant
Whether you work from home or a rented office space, you can claim some of the costs back. It's either as part of your tax-deductible self-employed expenses or part of your capital allowance
You can set up your space just how you want it and no more shared office space with difficult people and rules and regulations
Micromanagement is near non-existent and no-one is looking over your shoulder every 5 minutes
Disadvantages Of Running A Business From Home
While at this point it is difficult to imagine any cons to working from home, there are a few. It may be the ideal situation for some but it won't be a long-term option for everyone.
Distractions are everywhere whether it's the kids, pets or the creature comforts a home provides
Depending on your business type, you may become isolated with fewer social interactions and no, social media doesn't count
It's very difficult to switch off from your work even after 'normal office hours' as the lines can get blurred
You can't properly accommodate clients and staff members and coming across as professional is important
It's easy to stagnate or become too comfortable
If your business requires stock, working from home often lacks sufficient storage space
How To Make It Work For You
One of the most important tips is keeping your home and work life separate, especially if you have a family. Be sure to set your own office hours and stick to the schedule as far as possible. In addition to that, creating a space in your home dedicated to work will also make a huge difference. This means you can leave the 'office' and enjoy spending time with the family.
If you're prone to feeling excluded or isolated, you could consider signing up for a shared office space. The rent is minimal and, in some cases, you can opt to only go in once or twice a week. It all depends on you and how you run your business. You can also connect with people by setting aside time to go out for a pint after work or to meet up for coffee.
For some business owners, professionalism is essential when meeting clients but that doesn't mean you need an office. The world is changing and more people are meeting in coffee shops, restaurants or the golf course. The same applies to staff members as you could hire people to work remotely if you don't have the necessary space.
Business Storage Tips
Not all businesses can renovate or relocate which is why business storage units are a great solution. In fact, the use of business storage units has increased over the last few years especially in e-Commerce. It makes sense to store your products at a safe location away from your work space and only collect when you need to.
This is particularly beneficial if you work from home where space is generally limited. Some businesses that use self storage units include accountants, financial consultants, plumbers, electricians and some construction companies among others. Many of these companies are home-based who prefer not to use their house or garage for business storage.
Benefits Of A Business Storage Unit
Not only does business storage help you save space but your goods are also securely locked away. This is important for anyone dealing with physical goods as many business owners report that theft accounts for a large percentage of reported losses. Here are some of the many benefits of renting your own business storage unit:
Staying mobile – you can essentially run your business from almost anywhere with a central, low cost distribution or holding centre
Reduce the cost of logistics and collect goods on demand only
Substantial savings compared to renting bigger premises
Lower overheads mean you can spend money elsewhere, i.e. staffing, training or procurement
Declutter your home office space (and garage) in the process
Storing paper or important business documents have never been easier and safer
Need More Space?
If you run a home business but don't have the space, don't force things into the spare room, garage or shed, rather rent a business storage unit. At Space Centre Self Storage, we offer short-term or long-term units at affordable rates with free insurance. With us, all your documents, stock, equipment or tools will be kept clean, dry and safe until you need them.
Follow our weekly blog or join us on Twitter and Facebook for more interesting articles, helpful tips and storage advice. Contact us today for more information about our wide range flexible storage solutions in Bristol, Gloucester, Stroud and soon-to-be Stonehouse.