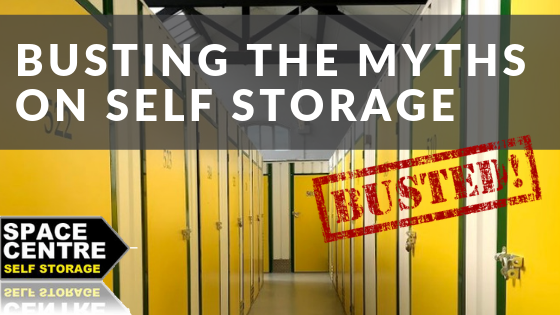 When you think of self storage, what comes to mind first? For some, it is a safe place to keep valuables, a safety net during a life altering transition, while others simply see it as a junkyard for people who hoard things. Whatever your perception, we felt it was time to bust some self storage myths wide open. Allow us to reveal the truth about why more people are using self storage and for what purpose.
Self Storage Is Only For Hoarders
Everyone likes to shop whether we're buying clothes, toys, electronics or furniture. Fact is, we have six times more stuff than the previous generation according to Prof Danny Dorling, University of Oxford. In one year, women buy half their bodyweight in clothing and in London, residents spend an average of £5,781 on home décor and furnishings.
There's no denying that these stats tend to favour the hoarding myth but it simply is not the case. Of course there are those who use self storage to hoard things but businesses occupy more than a third of self storage space in the UK. Take a look at the 2018 Annual SSA Report for more interesting facts and statistics.
Whether you're an antique collector, online retailer, a minimalist or a small business, people use self storage for various reasons. What will you do with your belongings when moving house, redecorating or making room for visiting friends or family members? In this instance, a self storage unit can double as a spare room, at least temporarily.
Are Abandoned Self Storage Units Really Auctioned?
When you think of abandoned storage units, you probably thinking about the television shows, Storage Wars or Storage Hunters? If you dig a little deeper you will know that the practice of auctioning abandoned storage units is illegal in the UK. In addition to the laws and legislation, the shows are mostly fabricated for entertainment purposes. You may want to read this article, "Is Storage Hunters UK Real or Fake?"
In the real world, self storage facilities clear out abandoned storage units but only once the contract has been broken and they can no longer get hold of the customer. Sometimes the self storage provider finds items worth re-selling but there are no auctions involved. Goods are often thrown away, donated or recycled more often than not. Watch this BBC Two video showing what happens to abandoned storage units.
Self Storage Facilities Have No Personality
Many people think that storage facilities are just empty metal shells with nothing but random junk. While some may offer a standardised look, many have taken interior decorating to whole new level. Several self storage facilities have very interesting décor from Star Wars characters at the entrance to historic memorabilia in reception.
While this myth is also busted, remember why you are there in the first place. It's certainly not for entertainment so rather than focusing on a facility's personality, look at the quality, cleanliness and affordability. Here is a great example of quality and affordable storage units from Space Centre Self Storage. Download the price and size guide now!
Why Do People Use Self Storage?
Compared to home renovations or renting more rooms for extra space, self storage is the perfect alternative. This applies to personal and business storage as it offers an affordable and convenient solution to keep assets and belongings in a secure location. While most people use self storage units during home renovations or when moving, there are many more reasons. We take a look at a few starting with home improvement.
Moving House
Moving to a new home is stressful and many people turn to self storage to keep their belongings safe. While some people can ask friends and family to, it does not apply to everyone and many have to rent a storage unit.
Renovations and Home Improvement
Home renovation projects can be dirty, dusty and potentially hazardous as builders can easily damage carpets, furniture and appliances. Renting a self storage unit would be ideal to keep your valuables safe while the work is ongoing. Once the project is completed, you simple retrieve everything from self storage and redecorate to your heart's content.
Document Storage
For many small to medium enterprises, additional office or warehouse space is simply too expensive. They need a safe place to store products, receipts, tax or insurance documents and self storage is the obvious solution. With ease-of-access and 24-hour security, businesses can easily store and retrieve inventory and archives. The same applies to individuals looking to store their personal documents but bear in mind the rules of document storage.
Equipment And Vehicle Storage
Individuals or businesses using seasonal equipment can really benefit from self storage. This includes watersports equipment, gardening tools or camping gear that always seem to clutter the house or office. While there may be additional terms when storing certain classes of vehicles, the units offer safe and secure storage for cars, boats, motorcycles and trailers among others.
Choosing the right storage unit can be difficult but our friendly and professional staff are here to help. For quality, flexible and affordable storage solutions, contact us today. We can help find the right storage unit for your needs and provide you with expert storage advice. Why not take a virtual tour of our facilities in Gloucester and Stroud.