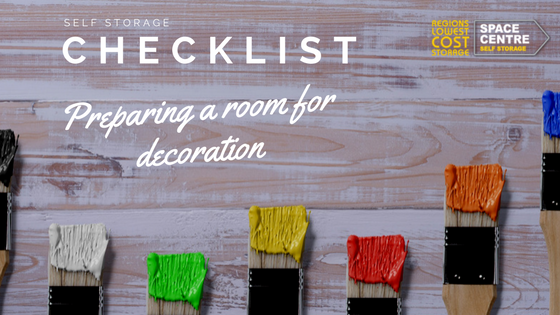 Self storage for decoration is something to really consider while moving or redecorating. As with most things in life, preparation is vital. Perhaps you're moving or looking to add an extension, a conservatory, a new kitchen or bathroom or simply a new coat of paint. What will you do with the furniture? How do you pack and safely store your small, personal belongings? What is the best way to use self storage for decoration?
Whatever project you take on, small or large, your belongings need protection and safe storage. This includes protection against dust, paint and damage either from moving around or the builders themselves. Self storage for decoration is important in getting a room ready and neglecting this step could put your renovations and decoration work at risk.
Preparing A Room For Decoration
A simple tip to remember is making sure you have all the tools and equipment before starting a decorating job. This include scrapers, fillers, paint brushes, rollers and decorators tape among others. It will take much longer and cost twice as much if you keep going to the DIY store.
Don't be frugal in terms of getting just enough paint and paper. Measure the room correctly to determine how much of everything you need and then get a little more. As they say, "It's better to have and not need, than to need and not have!"
Self Storage For Decoration Tips
Onto the important part of making sure the area is clean, empty and ready to decorate. If you're painting, prepare all the surfaces properly by cleaning, sanding and filling before you start. Firstly, remove all the furniture or, at the very least, cover them with plastic to avoid damage. Put furniture in another room if you have space or get your own self storage unit. Moving furniture isn't the only concern – everything else needs to be covered, protected and packed as well.
How do you protect the floor while decorating? You could simply use bed sheets or plastic as long as you don't leave any gaps. Paint, dust or dirt could easily find its way in. The sheets need to be thick so nothing soaks through onto the furniture either. Although there are several alternatives but the best solution is a carpet protection film. Think of cling-film but for carpets. There's no need for tapering as it simply sticks to the surface and protects against heavy foot traffic, dust, paint or any debris associated with moving or renovating. The film is easy to remove and leaves no adhesive residue.
Next up is removing any fragile items like glassware, paintings or photographs before you start. Although not ideal, some people keep everything in the room against a far wall or a table top covered in plastic. It's better than leaving it on the floor but we recommend removing it from the room entirely. Whether this means putting it in different room or renting a self storage unit. For a small price with short-term self storage, you can clear a room for a week or two while you decorate. Your furniture and all your belongings will be safe and secure.
Safety Tips While Decorating
Safety always comes first especially in terms of construction and renovations. If you're using chemicals such as strippers or thinners, we recommend using gloves, goggles and a mask. The same applies when sanding as grit can easily get in your eyes and cause serious damage.
Always be careful when using knives and, if possible, always retract their blades when not in use. If you can't reach at space at the top of the wall, don't be a hero and stack books on a chair to stand on – they will move and you will fall! Always use the appropriate equipment and although an old kitchen chair may be fine in some areas, rather use a good step ladder.
If you're looking for short- or long-term storage while renovating, we have facilities in Stroud, Bristol and Gloucester. Our storage units are clean, dry, secure and affordable without tying you to a long term contract. You can store for as long as you need. Please give us a ring or get in touch on LinkedIn, Facebook or Twitter if you need more information. We'd be happy to answer any questions you may have.