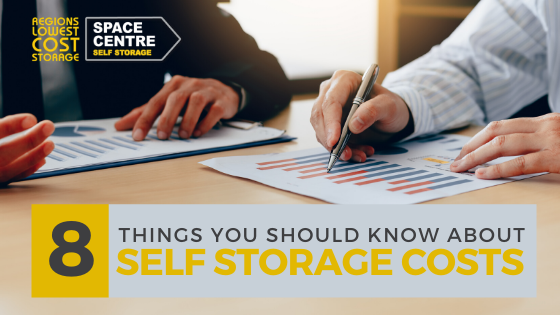 When talking about self storage costs, it covers more than just the physical unit. When selecting the right storage facility for you, there are several factors to keep in mind. Some you may not even realise go hand-in-hand with overall self storage costs with things like insurance, travel expenses, access charges and security deposits among others.
For those looking to store a large number of things for a long period of time, the costs are often even more important. Before you decide on a storage facility, make sure you shop around for the best price without forgetting the many other considerations. In this article, we'll cover most of the self storage costs you may encounter and what it all means.
How Are Self Storage Costs Calculated?
The price of self storage will largely depend on how much stuff you want to store, the storage period and the replacement value of your belongings in the unlikely event that something goes wrong. Another important fact to remember is that self storage costs tend to increase the closer you are to major cities. For example, storage facilities near London with higher real estate and running costs will generally have higher storage prices.
On average, the cost of self storage is around £23.11 per square foot per year (source: SSA Report, 2019). Remember, this is the national average and prices can vary depending on the location of the facility. Also, keep in mind that the value quoted by the SSA is the base rate and excludes VAT and insurance.
How Much Does A Self Storage Unit Cost?
Almost all storage facilities have differently sized storage units and will charge per square foot. Normally, the larger the unit, the cheaper the price per sq. ft. This means you need to determine the right size storage unit while taking into consideration the likelihood that you may add more items over time. Thankfully, our price and size guide can help simplify this process.
Your total self storage costs are also calculated by the duration of your rental period. Storage facilities will generally have set fees for a week, month or annually if the facility offers long term storage. Storage will be cheaper per month if you have a longer contract in place. For example, an annual contract will typically cost less per month compared to monthly storage without a fixed contract. Knowing how long you might need a storage unit for will help get you the best deal.
What's Included In Self Storage Costs?
As mentioned earlier, the cost of a self storage unit includes more than just the unit price. When looking for a storage facility, you need to keep the following in mind:
Quality of the facility
Location and travel expenses
Storage insurance
Security deposits
Cancellation fees or rental extension costs
Access charges
Reputable Storage Facility
Quality changes the price of everything and that includes self storage. While not all cheap storage facilities are bad, it's worth mentioning that you should do a proper inspection before making your decision. Truth is, a poorly maintained facility could be cheap upfront but it may incur additional costs further down the line. Think about water damage, mould and mildew.
Recommended: 'How To Find A Self Storage Facility Near Me'
Location and Travel Costs
It's best to choose a storage facility as close to your home as possible with easy access to main motorways. This makes it easier for you to drive to and from your storage unit without footing a hefty petrol bill. Some facilities may have a moving or transporting service included in the price but if not, you either need to move things yourself or hire a man with a van which will add to the overall costs.
Self Storage Insurance
As with your home contents, you need insure your belongings against damage or theft when using a self storage unit. Of course, the level of cover will depend on the premium that you pay. Many facilities charge for insurance over and above the price of renting a storage unit. Some may even insist that you use their providers whilst others will allow you to use your own.
Space Centre Self Storage automatically includes free insurance as part of the total price up to the value of £3000. If you need additional cover, you can use our services or your own insurance provider. If you do it yourself, you will have to provide proof to the facility that you are covered in full. Also, don't simply rely on your normal household policy and it may not cover your goods when in storage.
Cancellation or Extension Charges
Before signing anything, remember to ask the storage facility if they charge cancellation fees if you were to leave before the end of the agreed date. Also, ask what their policy is on extending your rental term or if you need a different size unit. Some facilities will add an additional charge to the rental price which you may not even know about.
At Space Centre Self Storage, we understand that life happens and you don't always have control over your situation. To that end, we don't tie clients to long-term contracts and there's no additional fee should you wish to change your unit or extend the contract. We believe in offering flexibility so you have more control and peace of mind when storing with us.
Access Charges and Security Deposits
While not all facilities have access charges or security deposits but some do and it can be tricky to spot. Make sure you go through the terms and conditions for getting your deposit back at the end of your rental and whether you need to pay extra for access on certain days or between certain times.
Most facilities have set opening hours similar to shops and offices with either 8.00 am – 6.00 pm or 9.00 am – 5.00 pm during the week. Weekend access may be a little different as you will find many variations between storage facilities across the country. It's best to contact them directly and find out all you need to know.
Guaranteed Prices
We guarantee prices to our clients and will not change it for at least 12 months, if not longer, after moving in. Other storage providers may not provide any price guarantees or they may limit them to a shorter period of time. If storing longer term, is there a chance that your rental costs could go up?
Benefits Of Using Space Centre Self Storage
Customers choose Space Centre Self Storage as we offer quality units at affordable rates along with a flexible and hassle-free approach. We also have a clear pricing policy that gives customers a full breakdown of their self storage costs. Here is a breakdown of why so many people choose Space Centre Self Storage:
No increase in price once you rent a unit
Prices are guaranteed for 12 months
Store for as long as you want and change to a different unit size without a paying a fee
No deposits and no hidden charges
No long-term commitment necessary
Units are clean, dry, secure, internal or external with drive-up access
Facilities are close to major access roads
Each facility is armed with CCTV and smoke detectors
Looking for affordable storage in Bristol, Gloucester Or Stroud? Get in touch with our friendly, experienced staff for more information or to reserve your storage unit.