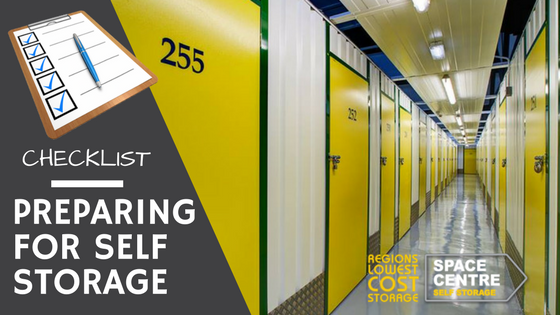 Self storage is used for many reasons but it all comes down to being organised and prepared. Whether you're moving home or office, downsizing or running a business that requires additional storage space, there are numerous things to consider. Effective decluttering, packing and transporting to keep valuables safe certainly come to mind.
As we all know, clearing everything you no longer need is a challenge in itself but it does get easier. From there it's all about proper handling, transporting and packing which is where our checklist comes in.
Self Storage Checklist
Consider asking yourself these questions:
Are all the items allowed or appropriate for the storage facility?
Is everything clean and dry?
Do you have containers or boxes?
What about packing tape or bubble wrap for fragile items?
Does anything need to be disassembled?
Have you taken a comprehensive inventory?
What will you need easy access to (if anything)?
Packing Your Self Storage Unit
It's important to find out if all your items are appropriate or allowed to be stored at the facility. Commonly disallowed goods include combustible, hazardous or toxic materials, perishable foods, asbestos-containing materials and car oil. Some items may need to be stored in a climate-controlled environment. These range from computers, audio-visual equipment, antique furniture to DVD's, CD's and vinyl records.
A great storage tip is grouping items to be stored according to how they will be organised. Furniture can be freestanding but other items will need to be packed in boxes or plastic crates and stacked. Be sure to pack your storage unit in an organised way. Don't arrange things haphazardly and keep items you need easy access to close to the front.
Don't just use any box from the attic or supermarket, only use strong, durable and clean boxes. In fact, plastic containers with lids are the better option as it offers more protection and they're safer to stack. Closed and sealed containers keep items free from dust, odours, insects and mould provided everything is clean and dry. In addition, pack boxes with even weight distribution and keep heavier items at the bottom.
A great idea for storage sanity is to do a comprehensive inventory check. Make notes of everything in storage and then use a magic-marker type pen to label all your boxes. This way you won't spend hours trying to find something.
Sticking to the basics is always recommended. Ensure that your storage unit is clean, dry and dust free. Excess moisture and water damage from inside or outside can be a serious issue. Mould could cause even further damage especially to fabric or wooden furniture, curtains and linen. Here is a great article on how to avoid damage when storing fabric or cloth.
Preparing Furniture For Self Storage
Self storage is a great solution for furniture but it can easily get damaged if not stored correctly. You need to know how you are going to stack everything to avoid damage and/or injury. Wooden furniture, in particular, needs to be treated and covered. Bigger items can also be dismantled if necessary to save space and easier transport. Furniture with sharp edges could break, damage or scratch other valuable items so be sure to use cardboard, foam padding, bubble wrap or soft quilts around the edges.
Most furniture items can be taken apart and re-assembled relatively quickly but don't forget to keep the corresponding nuts, bolts and screws with the right furniture. One way of doing this is to keep it in a Ziploc bag and strapped to the furniture or placed inside locked drawers or cupboards. Read this article for additional tips on storing and preparing furniture for self storage.
Storing Tips For Antiques and Other Valuables
Antiques should be carefully wrapped and treated if required and clearly marked especially if it's fragile. These items should be individually wrapped in bubble wrap; firm enough to stop movement and provide a cushion, but not too tight that arms and spouts poke through the packaging and get damaged.
A golden rule is to never overfill when packing boxes. It's better to have gaps filled with bubble wrap or newspaper than full boxes that can result in costly breakages.
Mirrors and large framed pictures should be wrapped carefully with protective wrapping and stored upright against the wall. Blankets, sheets or felt can also be used to protect these antique furniture items.
Packing Tips for Crockery
From tea sets, serving bowls to vases, stemware and other breakables, start by cleaning everything. If you don't know this already, vinegar is a great way to get your glassware shinier than ever. Once cleaned, it's time to pack but be careful, crockery requires a delicate touch. The secret is how you stack your plates, saucers and bowls and believe it or not, packing them on their side works best.
Be sure to wrap each item individually with tissue paper or bubble wrap. For added protection, place foam sheets or more bubble wrap between the items to avoid them banging and clanging. As mentioned before, fill any excess space in the box with packing materials so nothing can move about. Don't forget to clearly label your boxes "Fragile" or use "Fragile" packing tape.
To keep glassware and crockery safe and avoid breakage in storage, don't place any heavy items on top of your fragile boxes. Also, avoid stacking boxes too high as they can deform, topple over and cause damage or injury. Keep your glassware and crockery at the back of your storage unit especially if you don't plan to use them anytime soon.
Using the right packing materials and correct storage method for all your valuables are as important as finding the right storage unit. If you need self storage in Gloucester, Stroud or North Bristol and aren't sure of the unit size you need, get in touch. Our staff will be happy to help and provide expert advise. You are also welcome to pop in to view the different unit sizes or take the virtual tour.