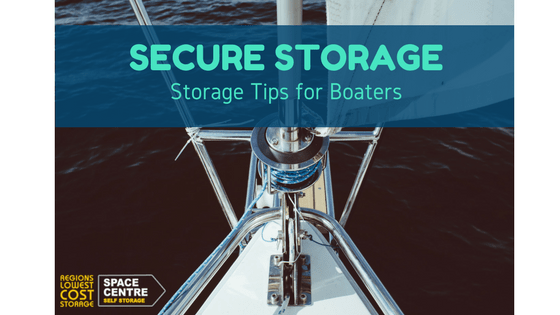 Now that the weather is improving, everyone is raring to get out onto the water. For the permanent boat residents, it must be particularly exciting to finally untie the mooring lines and get the motor running.
Regular maintenance is of the utmost importance for boat owners, especially after winter. Check out these helpful tips to ensure your boat is ready for the season.
If you are renting a boat, make sure you choose wisely. The last thing you need is a boat too small for your family. Inspect the boat thoroughly, tick all the important boxes related to sleeping quarters, living arrangements and storage space. When you are satisfied with your choice, get the family on-board and start packing.
Secure Storage Guidelines
Owning a boat is great but one of the main concerns is the question of where to keep it when you're not using it. In fact, the same can be said about your belongings. What do you do with everything when going on a boating holiday? Where can you safely store your valuables? Budget, convenience and availability are all things that should be considered.
Secure storage for boaters is necessary for a number of reasons:
Not enough space at home or in your garage
Seasonal storage – safely stored while it's not in use
Bigger boats should probably be kept at the marina as it is convenient but the rates could vary substantially. Some marinas actually allow you to purchase a permanent slip which can be expensive but it is also a long-term asset. This is particularly useful for those in high demand areas as it guarantees you a slip whenever you need to store your boat.
Smaller boats can be kept at a self-storage facility where your boat, and other belongings, will be kept out of the way and under 24 hour security at very reasonable rates. It really is a no-brainer.
Top 5 Storage Tips for Boaters
It's important to remember that storage is an issue on and off the boat, especially for the seasonal boaters. Space is limited so make sure you only take items that are absolutely necessary, i.e. sufficient cooking utensils, crockery, spare gas canisters and extra wood to keep the burner going. It's probably a good idea not to pack 20 pairs of stilettos, golf clubs or boxes of toys for the kids.
Here are our top 5 tips for boat storage solutions:
De-clutter – decide what is an absolute must and don't be a hoarder
Fill up dead space with extra storage (baskets, shelves or drawers)
Hook it and hang it – extra space to hang pots, pans and utensils
Vacuum pack your clothing and bedding – you can cut the space needed by half
Pack the essentials to cater for all weather conditions, i.e. wind and water proof jacket, rubber soled shoes, a hat and gloves
Belongings left behind are a different story. You could leave your things at home or with a friend but once again, a lock-up storage unit is always the right answer.
If you decide on a secure storage facility near you, remember to ask the experienced staff how to optimally pack your storage unit. Saving space ultimately means saving money. Also leave your contact details and those of an emergency contact in case they need to get hold of you.
Please get in touch if you need advice or more information about self-storage. We have vast industry experience and storage facilities in Stroud, Bristol and Gloucester areas. You should ideally choose a storage facility near your permanent mooring point. It makes transport and storage so much easier.