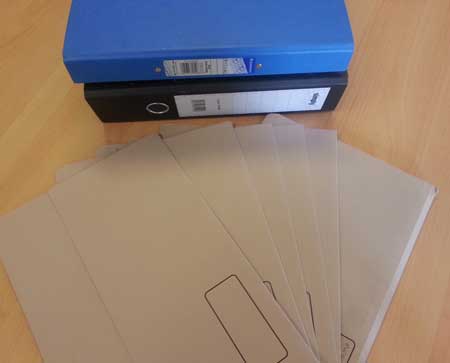 Secure document storage is vital for most companies. However, finding the necessary space to store your documents can create problems.
You may find that you've started to take important documents home to store them safely in your study or garage. Have you been forced to price up an office extension to house extra filing cabinets and storage cupboards? Or has it come so cluttered in the office that you looked at moving premises?

If you recognise any of the above, don't fret. There's a simple answer. Why not contact your local self storage company and rent a small storage unit? It will not only ensure your documents are kept in a safe, damp-free environment, but will enable you to de-clutter at work and provide some extra space and comfort for you or your employees.
Lucinda Dangerfield, co director at Space Centre Self Storage, who have storage centres in the North Bristol and Gloucestershire areas of South West England, has seen at first hand how self storage can provide a simple solution to local employers seeking more space at work.
"We provide units for all sorts of people, ranging from local gardeners to solicitors and ebay sellers to antique collectors. However, we have seen an increase in the number of local businesses who are coming to us for storage space," said Lucinda.
"With so many documents needing to be stored these days, it's becoming difficult for some small businesses to find the necessary space in their offices to store the likes of financial and legal documents. We can help – and there are no long-term contracts to sign. A small unit will house thousands of documents and files and give you back that extra space at work."
What documents need to be kept and for how long?
Financial Documents
There is a legal requirement to keep some records such as tax , VAT, employment records etc. for a minimum of 6 years. Income records, expenses, bills and other financial documents are also included in this. However, when archiving financial records for tax purposes, you should keep business and personal financial documents, like receipts, for up to 10 years in case you get audited. You may find this HMRC link telling you what you need to keep and for how long useful.
Contractual Documents
Contractual documents have a designated maturity or termination date. This date can also be the designated date to discard the document. These need to be kept safe.
Storing Wills
The original will must be stored until after the death of the client or until you are able to return the original to the client. Some firms keep wills indefinitely, while others have a policy of holding the original will for 50 years from the date of its creation. There is no absolute rule, but you should always err on the side of caution, even if you believe or know that a later will has been made
If you have any questions about secure document storage or how much it would cost to rent a small unit, why not give us a call or contact us. You can also find us on LinkedIn, Facebook and Twitter