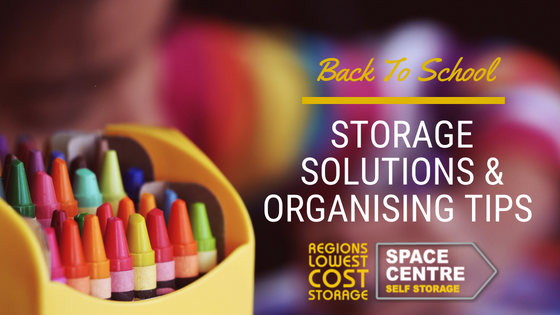 The kids are back at school in just a few short weeks and we're all preparing for a messy house. A new school term means more books, bags, sport kits, musical instruments and uniforms. Organising and decluttering everything effectively is just one of the many back to school storage solutions. We all know how quickly things pile up so instead of cluttering the floor, cupboards or under the bed; perhaps it's time to prepare storage space for all the back-to-school goodies.
Sports kits and equipment are probably the main culprits of cluttering especially if your child participates in multiple sports. Other back to school items to keep in mind are pencils, pens, markers, lunch boxes and seasonal clothing.
Don't forget, it's not too long before the weather changes which means bringing out those winter woollies from storage. Snow boots, overcoats, hats, scarves and gloves will all make their appearance and will need their own storage space.
Creative Thinking For Creative Storage Solutions
Before you even thing about any of the storage solutions, you need to be organised. Take some time to clear out what is not needed from last semester and organise everything to see what you really need. Also consider what new things you might get and ensure to create additional space for those as well.
Organising your existing storage space and making sure it's neat and tidy will save space, time and money. You will also have a better idea how much space you need whether at home or a small storage unit. Ask yourself these questions when decluttering and organising:
Is there storage space under the bed for extra boxes?
Do their bedside tables have dead space underneath?
What about an extra row of hooks behind the door?
Is there space for additional shelving or racks?
Getting yourself organised is one thing but what about the kids? Experts suggest that you should encourage your child to partake in decluttering and organising. If they were involved in making decisions about how and where to store their things, they are more likely to use them.
Top Storage Solutions For Back To School
There are several ways to neatly store stationery, clothes and other school items. Here are a few great organisation and storage solutions to simplify back to school and maximise storage space.
Decluttering effectively requires good organisation skills. Get someone to help you and do one room at a time otherwise you will not get anything done.
If your children are entering their first GCSE year, they will have more books than before. Consider buying a small shelf and fixing it to their bedroom wall. It's small, unobtrusive but one of the many extremely valuable storage solutions.
Unless you don't have a choice, avoid getting a bulky bookcase as it takes up too much space.
Make room in the loft if you need extra space for seasonal clothes or additional uniforms. Store clothes in sealed bags to keep dust-free and perhaps include hanging space as well. This ensures everything remains in good condition for the next term or season.
Lunch boxes and school bags also need their own storage space. Here are some incredibly creative storage solutions for food containers from magazine holders for water bottles to DIY sliding shelves.
Use metal buckets to store various school supplies and put them on a lazy susan for easy access.
Clearly label boxes and baskets to keep everything in place and well-organised.
Don't just throw away unwanted clothes as there is always someone out there who will always be grateful. Contact your local charity shop or ask the school if you can put a notice on the board.
Back To School And Self Storage
If you've decluttered and still have too much stuff, perhaps it's time to consider renting a self storage unit. For those who already have a small storage unit means you could potentially create extra space around the house. Depending on the time of year, simply pack and store some of those unwanted seasonal goods in your unit.
We always like hearing from you so please share any good storage solutions you may have for back to school. Post your comments below or find us on social media.
Space Centre Self Storage have facilities in Bristol, Stroud and Gloucester with clean, secure and affordable units. Our experienced staff members are always on hand and happy to assist in any way they can. Many of our storage units are on the ground floor with drive-up access making loading and unloading much easier. If you like, we can also provide you with boxes, bubble-wrap, packing tape and padlocks. For all your storage needs, please get in touch to reserve your storage unit today.