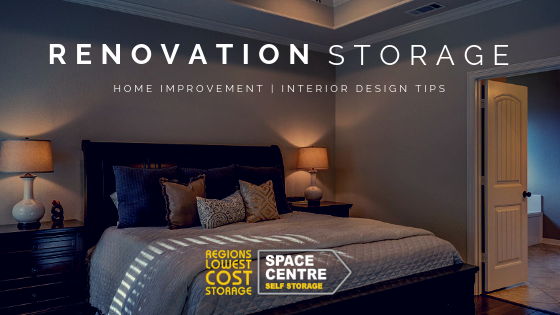 Along with moving house, home improvement is one of the main reasons why people decide on renovation storage. If you're not moving but in the process of renovating or redecorating, it is very likely that major construction projects will result in the need for temporary storage space.
Whether the kids are off to Uni or moved out to start a life of their own, there is now an extra room you could transform. Depending on your hobbies, interests or future plans, you could turn that extra space into a dressing room, study or a home office. Small bedrooms are perfect renovation projects but don't underestimate everything that goes along with it. Thinking about it and actually doing it are two different things and effective planning may involve more than you realise.
Preparing For Renovations
Several obstacles often accompany the excitement and enthusiasm of home improvement but you can save time, money and effort if you are well-prepared. Whether you're knocking walls down or redoing the floor and walls, things are likely to get messy. Planning ahead is vital especially determining what exactly you want to do and how you are going to do it.
Look at the scale of the task at hand and be realistic about how long it will take you. Free up as much space as possible to allow you to work freely and easily. If you're trying to manoeuvre around a room full of furniture, it's likely to take twice as long. Worse still, if you can't remove the furniture and you haven't protected it properly, it may end up getting damaged. It is for this reason that renovation storage is so important when decorating or doing any form of home improvement.
Before you start anything, make sure that you have all the required tools like scrapers, fillers, paint brushes and rollers and decorators tape. It will take much longer if you keep going to the local DIY store to get the right tools or equipment. Remember to accurately measure your room to work out exactly how much paint, paper, tiles or other essentials you will need. Don't be tempted to try and 'make things stretch' too thinly as it will only result in a partly finished project. Read this article on Preparing A Room For Decoration for additional preparation tips.
Renovation Storage Tips
When it comes to home improvement projects, keep in mind what you will do with all the furniture and how to safely store your small, personal belongings. What is the best way to use renovation storage when renovating, redecorating or downsizing?
Effective renovation storage is all about being organised during the building process and also finding a suitable self storage facility. Once renovations are underway, choose one spot and keep all your important things, away from the remodeling area. If your entryway is out of bounds during the renovation, find a safe place for your cell phones, chargers, keys and other essentials.
If you have enough space at home to store everything while remodeling, just remember to pack it properly. Always cover furniture and other large items with clean plastic or cotton sheets to protect against dust, debris and paint spots. It also keeps furniture in good condition.
For many of us, space is limited which is where temporary storage comes into the equation. Many renovation storage rules apply at home as it does in a short-term storage unit and we've highlighted a few tips below:
Wipe, dust or clean everything before putting into self storage
Use blankets, bubble wrap or special packing paper when storing household items, collectibles or antiques
Use the correct type of boxes, storage containers and other packing materials
Dismantle furniture to save space and keep the screws, nuts and bolts together
If any special tools are required for disassembly or assembly, make sure you include it as well
Don't stack heavy items on top of smaller ones
Walk-in Cupboards And Bedroom Storage
If you are planning a big renovation, you should create a magnificent master suite with a walk-in cupboard or dressing room. They are becoming increasingly popular as it adds value to your property and they create a sense of luxury with a number of practical advantages. It helps you declutter your bedroom with additional bedroom storage and your clothes will look better and last longer.
Building a room from scratch is messy and expensive but if it is next to or near the master bedroom, it is easier. Simply close up the door from the dressing room to the hallway and add a doorway to the new room from your bedroom. This will give you much easier access, more bedroom storage space and create a 5-star feel.
If you don't have space for a separate dressing room, you can always create use a long run of wall or large nook in your bedroom. Use wardrobes or a partition wall behind the bed to make a dressing area that feels like a walk-in cupboard. An ideal way of using this space is to line the walls with clothes storage and leave room for a dressing table. Why not add a bench for seating or extra storage in the middle of the room? Take a look at this interesting article with a number of handy tips on How To Create A Dressing Room.
A few of our favourite bedroom storage ideas include:
Upholstered storage ottoman
Bedrooms storage baskets
Bedside tables with additional storage
Chest of drawers
Freestanding hanging rail
Beds with built-in storage underneath
Storage trunks or bins
Temporary Renovation Storage
If you are looking for extra space to store your furniture, antiques, toys, clothes and other household goods, give Space Centre Self Storage a call. We have a wide variety of unit sizes suitable for all types of storage. Visit our website or talk to our friendly, professional staff to get an idea of how much space you need. We can provide information on how to store your belongings and exactly how much space you require. After all, why pay extra for renovation storage you don't need?
We are conveniently located near major access roads in Stroud, Bristol and Gloucester. Our storage facilities are in secure compounds and each unit is alarmed and fitted with CCTV and smoke detectors. We also provide your own high-quality padlock so only you have access to your unit.
If you have any interesting storage ideas or would like to share some of your own tips, please comment in the section below or find us on Facebook, Twitter, Pinterest or Google+. We'd love to hear from you and our readers always appreciate a good story.