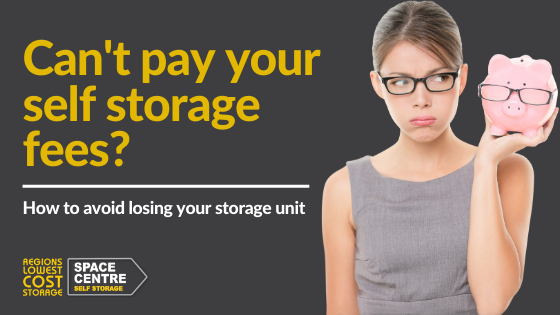 When renting a self storage unit, many people often neglect to think about the long-term impact. This includes self storage payments and the real issues around what happens when you don't pay. Just think of the TV show, Storage Wars and how they auction the contents of those cheap storage units.
The question we often get asked is whether self storage centres can actually arrange public auctions if customers don't pay. Well, the answer is "Yes" and "No". Whilst they have the right to hold or sell the contents until any debt has been repaid, there is a process every storage facility must follow.
We look at some of the consequences when missing payments and what to do if you find yourself in a sticky situation.
What Happens When I Can't Pay For Self Storage?
With self storage contracts, you must pay the rental fees as agreed. If you fail to meet those agreed payments, the storage facility has a right of lien over the contents. That means they can keep your contents until you pay any outstanding debt.
When you can't make a payment, they can eventually sell the goods to recover the debt but it doesn't happen overnight. There are processes in place that all self storage facilities must follow. They must give notice that you are in arrears and inform you of what will happen if payment is not made.
If you ignore their notices and don't make any payments or special arrangements, they are entitled to dispose of the contents of your storage unit. Remember, as long as your belongings are in there, they are losing money as they can't rent it to anyone else.
Can You Afford Self Storage?
People use self storage for many reasons and increasingly for longer periods. Before signing anything, read the contract thoroughly and carefully consider the ongoing cost from the start. Is it something you can easily afford without impacting you personally or your business?
Sometimes a customer's circumstances may change and a review of their financial situation is needed. Maybe a construction project or home move is taking longer than expected resulting in increased costs or a business might experience a slow-down, especially with Covid-19 about.
If your personal circumstances have changed and the self storage costs are starting to cause a strain, you should consider removing your goods from storage. This is the best way to avoid getting into a situation where your stuff may be sold or auctioned off in the first place.
How To Avoid Losing Your Storage Unit And Belongings
As with any outstanding debt, hiding from the problem is not the answer and will only make things worse. The best thing to do is speak to the manager or owner if you know you're going to have a problem paying the next few bills. The same applies when you've already missed a payment as honesty is the best policy in this scenario.
If you're open about things, they will more than likely be willing to make an arrangement to help you. Ultimately, they don't want to chase you for payments and would prefer not to involve legal action as it is costly. You could always request to change to a smaller storage unit that you can more easily afford. At Space Centre, we don't charge you extra as long as that specific unit is available.
Recommended: 'How To Make The Most Of Your Storage Unit'
The Price Of Non-Payment
If you do not follow the best practices mentioned above and don't make payment or arrangements, the storage facility will follow the process of chasing payment until they can legally sell the contents of your unit. In an attempt to clear the space, they typically use skips, recycling centres, house clearance companies and some may even try selling your goods privately.
No storage facility likes chasing people for payment nor do they want you to lose access to your belongings but it is well within their rights to do so. The easiest way to avoid this issue is to never let things get to the stage of repossession so make sure you approach the facility as soon as possible.
Are There Exceptions To The Rule?
The only exception to the rule is when there is a genuine reason for non-payment and receiving no response to letters. This is common when someone passes away and their family members are not aware that they had a storage unit. If there's no obvious paperwork and the property isn't owned, chances are good that it could be overlooked.
It's important to plan for self storage and know all the costs involved so you don't get surprised further down the line. The key factor is to avoid getting into arrears in the first place and to take time to think about what you are storing and how you are storing it.
Recommended: '8 Things You Need To Know About Storage Costs'
Final Thoughts
Make sure you rent the right-sized unit from the start so you are not paying for space you don't need. You should always think about what might happen if you need to store items for longer than you initially planned for. If you need advice about how to best store your items, speak to your centre manager.
At Space Centre, we don't tie you to long-term contacts and there is no fine print or hidden costs. Our prices remain the same for at least 12 months and you can store with us without having a minimum rental period.
Our storage units are clean, damp-free, secure and accessible with facilities in Gloucester, Bristol, Stroud and Stonehouse. Visit our website for more information or contact us to reserve your unit.