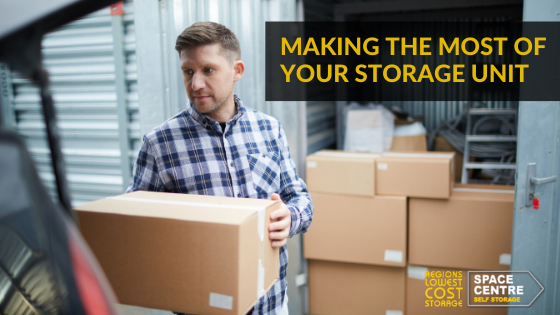 Want to maximise the space in your self storage unit? Packing a storage unit properly takes time and some extra effort but by doing so you will be able to utilise the space better while saving money. Many people think they need a massive storage unit but only because they don't know how to use the space properly. The good news is that Space Centre Self Storage can help!
Our facilities are clean, dry, secure and properly run by professional, friendly and expertly trained staff. They will be able to give you the advice you need on maximising storage space and ensuring everything fits in perfectly.
Choosing And Packing Your Self Storage Unit
Many facilities have a wide variety of storage units in different sizes but you still need to know which one is right for you. This is an important consideration as you don't want to pay for space you don't need.
A poorly organised business storage unit is not only wasteful but it can also be a dangerous place. Incorrectly stacked boxes or if it's packed too high could topple over resulting in damaged goods or injuries. While finding a storage facility may be the easy part, packing it properly should be a top priority.
Label Everything Properly
While packing up the office or stock room, you may know where everything is but what happens when you get to the storage unit? Even if you know that the smaller boxes are for books or documents and the bigger ones for tools, chances are you might not remember it a few months down the line.
The only way to ensure you know exactly what is packed where is to plan ahead and label absolutely everything. It certainly makes unpacking much easier but you will also know where to find something quickly and easily instead of wasting time digging through dozens of boxes.
You should use a unique number to indicate which room the box belongs to along with a short description of the contents. Use a black permanent marker and don't forget to clearly mark boxes that contain fragile items.
Plan The Layout Of Your Storage Unit
Regardless of how often you will access your storage unit, it's important to plan the layout of the available space. Besides, it's always easier to streamline the packing process by planning ahead instead of storing random items until the unit is full. The only thing this will result in is a disorganised storage unit and no way to easily find anything.
Be smart and place heavy items against the walls while leaving a pathway in the middle. This is a great way to ensure you can easily access your boxes whenever and wherever they are. You could draw up some sort of floor plan to remind you where each box is located which brings us to the next point.
Disassemble Furniture And Create Your Own Storage
You can save time and loads of storage space by dismantling certain items before packing your storage unit. Some furniture items can be taken apart, including TV units, tables, desks, chairs and sideboards. Use the space in drawers or cupboards to store smaller items inside but remember to tape the corresponding nuts, bolts and other small components in a Ziploc bag to the item.
For example, you can store books, CDs or DVDs inside the fridge but if you do, leave the fridge door ajar for some circulation. Another clever trick is to use empty rubbish bins to store any excess tools or utensils. Whatever you decide to do, label the drawers so that you know what is inside and always try to keep similar items together.
Keep A Master List (Inventory And Floor Plan)
Some may think this is over the top but we can guarantee that it's well worth the extra effort. It really is simple as all you have to do is write on a piece of paper the contents of each box and the corresponding number. This is particularly useful when you want access to a specific item at a later stage especially when the box is packed out of view.
Keep a clipboard near the entrance of your self storage unit with a full list of everything you packed inside. For larger storage units, you can even draw a map that indicates the rough location of all your belongings. If you packed smaller items into a desk, cupboard or chest of drawers, remember to make a note so you don't forget about it.
Pack Big Items First And Always Vertically
If you are going to store larger items like beds, mattresses or other bulky furniture, it's best to store them vertically. Doing this will maximise the use of vertical space which will leave more room for the rest of your belongings.
Also, you should pack large, bulky items first and ideally against the walls of the storage unit. This way it's out of the way when you are looking for something specific, especially smaller boxes located in the middle of the unit.
Use furniture items like desks or dining room tables to form a strong base to stack other items on top. This will, of course, help save even more space but just remember to cover the furniture with bubble wrap, a blanket or high-density plastic to prevent damage.
Use Shelving Or Racks
While shelving may take up space in your unit, it actually helps create additional space, especially vertically. Besides, piling things on top of one another will only lead to damaged goods, crushed boxes and scratched furniture.
Packing a storage unit is not about seeing how much stuff you can squeeze in and simply hope for the best. Instead, you want an organised space where you can easily retrieve what you are looking for while knowing everything is in good condition.
Although some storage facilities have built-in shelves, others may not but you can find out if they will allow you to use mobile shelving. This is designed to maximise space while providing easy access to your goods without being a permanent fixture. Fact is, using mobile shelving effectively can double your storage capacity and improve the overall flow.
Utilise The Full Height Of The Storage Unit
Storing items properly along the wall and in an organised way is one thing but truly utilising the available space means packing all the way to the ceiling. Often, people forget about this but you'll be surprised how much space you actually have. Start by packing heavier items first and at the bottom with smaller, lighter items on top. This is also where shelves come into their own as they can reach the ceiling with loads of storage space.
Lastly, you should keep any item you need regular access to as close to the entrance as possible. Storing items you will use the most at the front of your storage unit will make your life so much easier. If you don't do something like this, you will spend a lot of time scratching through boxes and boxes until you eventually find what you were looking for.
Final Thoughts
It's simple really; storage units just make sense especially when you have extra stock or if you run a seasonal business. Keeping stock, equipment or confidential documents safe is a primary concern for many and an organised self storage unit is the perfect solution. Adding shelves to it, along with a proper layout, will ensure quick access while everything remains in good condition.
Not sure how much space you need or what it will cost? Visit our website to see a detailed breakdown of the sizes and storage unit prices so you can make an informed decision. Please read our blog or follow us on social media for more tips on business storage, household storage, decluttering and home staging among others.
If you're looking for affordable storage units in Bristol, Gloucester or Stroud, get in touch with our friendly, experienced staff for more information.