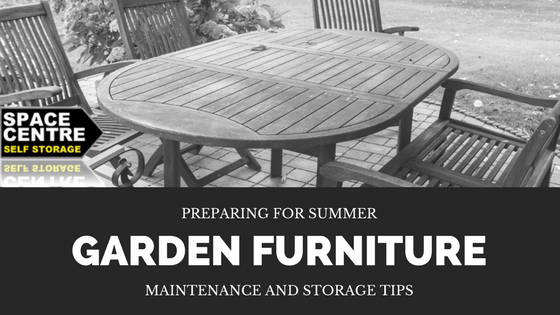 We've recently had an unusual spell of hot weather and most people probably still have covers on their garden furniture or they haven't even taken it out of storage yet. With the beautiful weather it's definitely time to get out into the garden. Have you taken good care of your garden furniture and is it ready for summer?
If you chose self-storage or properly utilised the last bit of space in your garage, you did the right thing. Your mower, hedge trimmer, spades, forks, BBQ, table, chairs along with all the garden toys, should be clean and ready to go. That is assuming you cleaned them before you put them away in the first place!
If not, then our tips will certainly help. We've included some tips and tricks on how to clean your garden furniture and get your garden tools ready. There is also additional info about helping to find storage solutions for kid's toys over the summer.
Preparing Garden Furniture for Summer
For most furniture types a good wash with warm soapy water will do the trick. Make sure you wipe everything down afterwards.
Wooden furniture might need a once-over with some sandpaper before you re-stain or oil
Metal furniture might have some rust spots. Remove using a wire brush or steel wool and wipe with a cloth. Repaint to avoid further damage.
Plastic furniture is pretty hardy but can become brittle over time. Check for cracks or splits in the backs and seat struts. You don't need your mother-in-law falling through the chair.
Take seat cushions inside or store them in a plastic waterproof container
Use appropriate covers to keep furniture clean while outside
Preparing Garden Equipment for Summer
If your garden tools were not cleaned before being put into storage, they might need a good clean with soap and water. Use wire bristle brush for the more stubborn stains and rub down wooden handles. Where necessary, sharpen blades on garden shears, mowers and other garden equipment.
When it comes to mowers, you always need to be extra careful. If you looked after your mower throughout the year, all you need is a quick maintenance check. But if not, you need to scrape old grass cuttings from underneath, check the blades and lubricate petrol mowers if required. Some might say it's best to leave it to the mower specialists in your area.
With a gas BBQ it's vital to check the hoses for any signs of damage or deterioration. The last thing you want is a gas leak. Take out all removable parts like the grill and any additional racks to give them a good clean. Make sure you don't block or damage the gas jets.
Charcoal BBQ's are slightly less glamorous. Once again, take out removable parts, empty the leftover charcoal wash the inside with soap and water. Here is a quick time-saving hint: While the BBQ is still warm, make it a habit to scrape the grill with the BBQ brush to clean off bits of food whenever you've finished cooking. It saves so much time and effort and trust me, you'll thank me later.
Toy Storage
In an ideal world, kids would play with one or two things and put everything away neatly before moving onto something else. Unfortunately that seldom is the case and we end up with the entire toy box outside.
So what will encourage children to put away their toys at the end of the day? We could explain the value of replacing things and the importance of looking after your stuff. There is only one way to get it right. Give toys a place, use tubs and make storing toys as easy as possible for them.
Here are a few useful and practical tips:
Store tennis rackets, cricket bats and skipping ropes in the garage using appropriate hooks and shelves. Keeping things neat and in one place is ideal.
Use clear plastic boxes with sealable lids. Kids can see what's inside without strewing about everything to find their favourite toy
Buckets are great for indoor storage of games, balls and especially water toys. If a bucket or box is being used and stored outside, drill a few holes to let water drain through the bottom
Multi-purpose furniture like a garden bench normally has a storage box big enough to put in a few extra things
If you find at the end of the season you've got too much stuff, consider using self-storage to keep things in good condition and avoid having to replace tools, furniture or equipment. Self-storage is going to be much cheaper than having to replace your patio furniture every year!
We have facilities in Stroud, Bristol and Gloucester so please get in touch if you need help with self-storage in these areas.