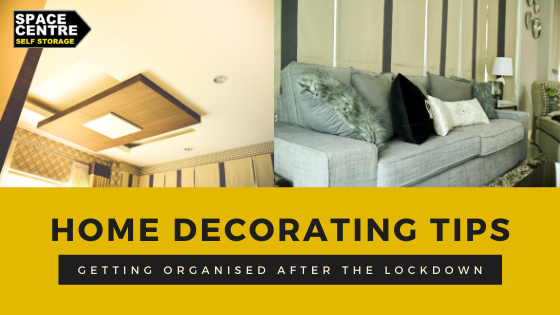 The lockdown has resulted in many of us doing work in the garden or decluttering our homes. Some of those areas may need a new coat of paint, varnish, rearranging or storing. Whilst most of the restrictions are gradually being lifted, you still can't really go anywhere for extended periods. This is the perfect time for renovations and these home decorating tips can help.
Home Decorating Tips: How To Get Started
Home decorating is an exciting prospect but it's often accompanied by several obstacles, including time, money and space. Whether you're simply repainting or knocking down walls and redoing the floors, things are likely to get messy.
By planning ahead and being prepared, you can save time, money and loads of effort. Start by looking at the scale of the task and set a realistic timeframe for completion. Free up as much space as possible so you can work freely and easily without trying to dodge furniture as it will only take longer.
Considering the work involved and size of the project, can you shut yourself away undisturbed by anyone for hours? If you're doing renovations in the evenings, you'll need to split the work into bite-sized, manageable chunks.
Do You Need Permission?
Whether you're renovating your kitchen, adding a spare room, bathroom or conservatory, major home renovations require preparation. Whatever you do, make sure you know the law as some projects may require approval depending on the rules and regulations of your local council.
If your home renovation needs approval, you must first submit a development application to your council. From there, they will publicly exhibit the application and make their decision. You should be able to find the necessary application forms on the relevant council website.
Recommended: 'Building Regulations Approval'
Preparing For A Home Decorating Project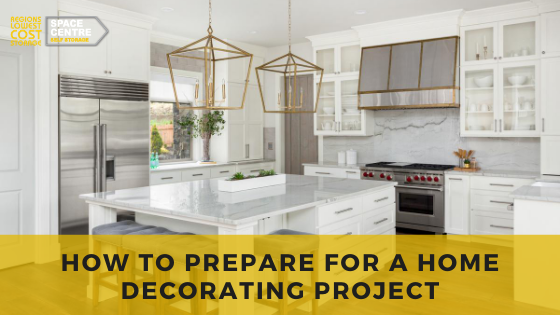 After giving the room a good clean, you now have to consider where to put the contents and how to keep everything clean, dry and safe. Whatever your project, large or small, you need to protect your belongings against dust, paint and even builders. To help make a success of your home decorating project, here are five preparation and safe storage tips.
1. Cover Furniture and Carpets
Make sure you cover your furniture and carpets with suitable sheets for any home decorating project. You can use plastic sheets or even bed sheets but don't leave any gaps as spilt paint could easily ruin the exposed area. Remember to use thick sheets to absorb any small drips so nothing soaks through onto the furniture or carpeting underneath.
Recommended: 'How To Prepare A Room For Interior Decorating'
2. Protect Against Builders
If you are doing interior renovations, builders will need to come through your house and that means dirty boots and possible damage. Protect your floors with sheets or mats and make sure you remove valuables from cupboards and tables to avoid them being knocked over and broken.
3. Pack Crockery and Glassware
When decorating your kitchen, the crockery can easily break so safe packing and storage are essential components. Use the right boxes and packing material to keep fragile items safe and then pack them in a different room or a self storage unit. Any breakables should be handled with care and marked clearly to ensure nobody throws the box or drops it on the floor.
Don't crowd items together, always lift items off a stack, don't slide them
Stack smaller items at the top and make sure the stacks don't go too high
Do not crowd items of glassware together. This will increase the likelihood of scratching or breakage. Stemware should be stored upright, on its base, and not stacked
Recommended: 'Best Tips For Packing Glassware And Crockery'
4. Protecting Furniture And Storage Boxes
If you have room at home and decide to store furniture in the spare room, garage or shed, make sure you protect everything properly. Cover your furniture and don't drag items across the floor. Avoid packing your shelves too high and leaving breakables on the floor. Always use proper storage boxes and label them accordingly so you know the contents of each.
5. Consider Short Term Self Storage
If you are short on space, you should consider a short term lease at a local self storage centre. Just remember that you still need to pack your belongings correctly and these tips will help you get organised.
Create an inventory list of everything going into self storage
Clean the storage unit and all of your belongings before placing anything inside
Use all the right supplies (various boxes, packing peanuts, packing tape, bubble wrap, furniture covers, marker pens, newspaper and a sharp pair of scissors)
Don't use old or flimsy boxes as they may have to last longer than you initially intended
Stack items neatly and not too high
Keep items you may need access to close to the entrance
Always leave an aisle down the middle to reach items at the back
Disassemble what you can to save space
Home Decorating Safety Tips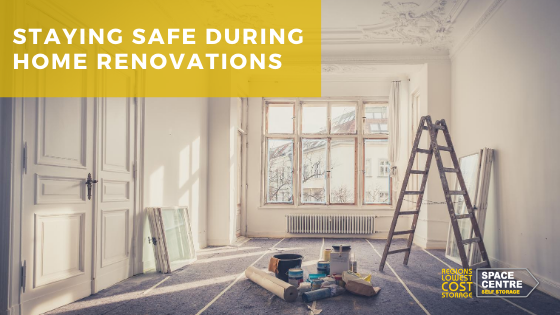 Safety is important when doing home renovations as there could be chemical strippers or thinners. If that is the case, remember to use gloves, goggles and a mask. The same applies when sanding as grit can cause serious damage if it gets into your eyes.
Use sharp tools very carefully and remember to retract the blades when not in use. When you can't reach the top of a wall, don't try to build a tower of books stacked on a wobbly old chair as you could fall and get badly injured. Rather use a small step ladder or a longer ladder if necessary.
Recommended: 'The Hottest Home Design Trends For 2020'
Why You Should Consider Space Centre Self Storage
Space Centre Self Storage has been in the business for more than 20 years and has expanded to four branches across the UK. You can find us in Bristol, Stroud, Gloucester and Stonehouse. There are a large number of units in all sizes and we are happy to rent on a short-term or long-term basis.
We offer FREE storage insurance up to £3000 without any upfront deposits and you can use our provider or your own. All of our units are purpose-built for renovation storage, household storage, business storage, student storage and even vehicle storage.
The units are in secure compounds with alarms, CCTV and smoke detectors. We also provide you with your own high-quality padlock so only you have access to your unit. Get in touch with our friendly, experienced staff for more information or to reserve your storage unit.