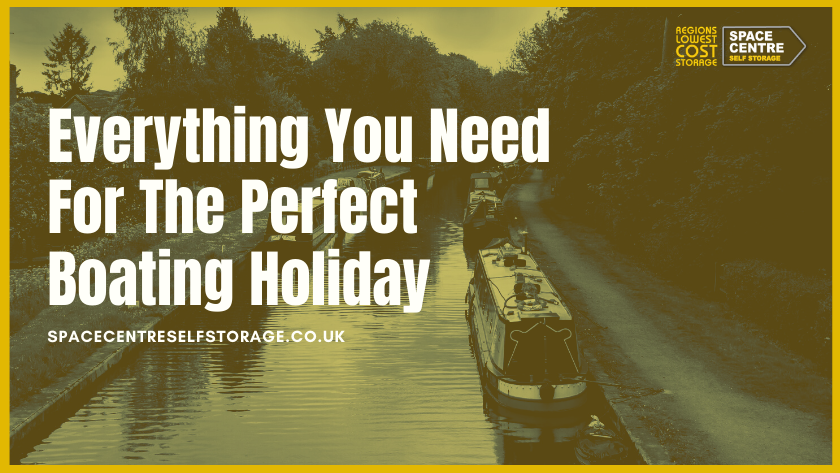 As more people are staying at home again this year, popular destinations are filling up fast and that means looking for alternative holiday experiences. Considering the UK is slowly opening up for travel, few things compare to a boating holiday cruising along the beautiful British rivers and canals.
In this article, we share some important boating holiday tips covering everything from what to pack, how to keep things safe and smart boat storage ideas. Holidays are supposed to be relaxing so keep this boating holiday guide close at hand to ensure everything is organised and you are ready to go.
Planning A Boating Holiday?
As exciting as a boating holiday can be, living on a houseboat or a canal boat is completely different to a hotel or AirBnB. Storage is often minimal and that means packing light is essential! To maximise the limited space on board, you need to be selective in what you pack and make sure you pack everything properly.
Whilst canal boats don't offer the same as a self-catering cottage, for example, they are specially designed with smart storage space to fit all the essentials. To make it easier for you, we've compiled a list of items you will and will not need based on a typical outdoor or self-catered holiday.
What Essentials Should I Pack?
The essentials you need for a boating holiday may vary depending on whether you have children or bringing along your pet. If it's a trip for the extended family with a dog or two, here is what you should pack:
waterways guide
first aid kit
insect repellent
personal medication
flashlights
extra batteries
mobile phone chargers
sunglasses and sun cream
carrier bags or bin liners
extra bottled water
board games and playing cards
CDs or DVDs
air freshener
dog bed, dog food, a bowl, collar and lead, towels, old blankets and a buoyancy aid
Recommended: 'Questions For First-Time Boaters'
How Much Food And Beverages Do I Pack For A Holiday On A Houseboat?
Houseboats are self-catering so take enough food and drinks but not too much as storage space is limited. Besides, it's not like you're in the middle of the ocean so you can always visit local pubs, shops and markets along the way. This way you get to enjoy the scenery and find some beautiful local produce.
Some boating holiday packages include a grocery service or you could use a delivery system from major supermarkets. Although most houseboats have a hob, oven, grill, microwave, fridge, cooking utensils and crockery, it's best to ask what they have beforehand. Here are some essential items you should pack either way:
Bread and butter
Snacks
Drinks and breakfast items (some fridges may be small)
Dried or tinned foods as they are easier to store
Boxed wine instead of bottles
Coffee, tea, sugar, salt, pepper, cooking oil, sauces, foil and cling film
What Clothing Do I Need For A Boating Holiday?
The UK weather can be unpredictable so it's important to follow the weather report and pack a variety of clothing, enough for the whole trip and a few extras. This includes waterproof jackets, sturdy shoes with rubber soles, and warm clothing items are must-haves. Everything else is entirely up to you as it may depend on your location, the type of houseboat and the activities you have planned.
If you purchased new walking boots for your boating holiday, do yourself a favour and wear them in to avoid painful blisters. Also pack thick socks and plenty of plasters, especially if you're planning on doing a lot of walking. A top tip is to put some Vaseline on any area that is rubbing so make sure you pack that as well.
What About Toiletries, Bedding And Linen?
Most houseboats will have sheets, blankets, pillows and duvets but we recommend finding out before packing any extras. Whilst you can take your favourite goose feather duvet and contoured pillow, space is minimal and you may have to sacrifice something else.
Some houseboats also provide basic toiletries but it's always best to ask first as you never know. Either way, there's no harm in packing extra loo rolls, soap, shampoo, conditioner, shower gel, toothpaste and toothbrushes.
Can I Pack Electrical and Electronic Items?
Almost all modern canal boats will have standard 240V plug sockets, but some may have a limited electrical output. It's best to avoid energy-sapping appliances such as blenders, toasters, heaters, electric kettles and hairdryers, although a travel or low-power hairdryer should be fine.
Some houseboats also have USB sockets and normal plug sockets for charging mobile phones, tablets and laptops. Same as you would in a car, only charge your devices while the engine is running otherwise you risk draining the battery.
Before you pack anything, ask the hire boat company what sockets your specific boat will have so that you can bring all the necessary adapters and leads.
What Not To Pack For A Boating Holiday?
Whilst narrowboats have some storage, hanging space is limited so avoid packing bigger items. Unless you have extra room for it – inside or outside – don't bring your bicycles, canoes or kayaks without finding out all the information from your hire boat company.
How To Maximise Boat Storage Space
One thing you'll learn from living on a houseboat is how to be incredibly organised. Considering the limited space, you will quickly find out what you need and how to maximize every part of the boat. Even though boats usually have hull storage, small cupboards in each bedroom and some may even have a storage locker on the back but it's still not a house.
That means finding smart ways to make the most of every nook and cranny. With that, here are some of the best boat storage solutions we could find to help make your boating holiday a massive success.
Baskets, crates, bins and boxes
Wall storage ideas
Add hooks to maximise wasted space
Add cabinets with shelves
Seating storage or storage benches
Built-in stair drawers
Recommended: 'Creative Storage Tips For Houseboats'
Need A Secure Self Storage Unit?
A secure storage unit is a great consideration if you are planning an extended boating holiday or moving onto a houseboat. It's the best way to keep everything clean, dry and safe. If you have important documents and valuables at home, you should consider leaving them with someone you trust simply rent a long term storage units.
Finding the right storage unit for your needs is challenging as it depends on several factors. This includes things like the facility's location, level of security, access times and the distance you need to travel to and from. The good news is that Space Centre has facilities in conveniently-located facilities in Stroud, Gloucester, Stonehouse and Bristol.
Visit the website or contact our friendly, experienced staff if you have any questions or need help choosing the best storage unit for you.