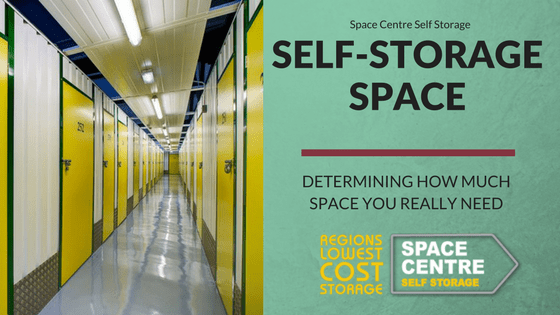 One of the most frequently asked questions from people looking for self-storage space is just how much space they need. It can be a challenge to calculate or visualise how much space is required especially for first-timers. This is an important step in the process as you don't want to pay for space you don't need right? It's easy to picture your furniture in your living room, dining room or bedrooms but not so much when you have to stack everything into a smaller space.
Self-storage units can be used by almost anyone and are available in many different sizes. Moving house or renovating can be stressful especially if you're running out of storage space which makes this is the ideal scenario for self-storage. Take a look at one of our earlier posts on Tips When Moving Home.
Working Out how much self-storage space is enough
Keep in mind that you don't need a storage unit the size of your house to store everything. It's easy to miscalculate the self-storage space you actually need when looking at your furniture spread out at home. The moment it's packed and ready for storage, you'll be able to see more clearly how much space is required.
Something else you have to consider is the height of the storage unit. We provide you with all the necessary information so you know how high you can go and what to expect. To help you visualise just how big our units are, we compare our units to van sizes. This gives you a great indication of the unit size and also how big or how many loads your goods will be.
You can save space by utilising the storage your own furniture provides. Besides stacking couches properly like sardines in a tin; if you're storing cupboards, desks or chest of drawers you could easily pack smaller boxes or cartons inside. Just remember to keep an inventory of what is packed and where. The last thing you want to do is search for hours just to find one small item. You could use sticky notes, labels or a stock sheet with notes indicating where everything is.
Many businesses also use self-storage units and for a number of reasons including document or stock storage. Before anything else, ask yourself how often you will access your unit and if you need to install shelving or racking. This means you'll need a little more space so a slightly bigger unit would be a good idea. Remember that some facilities are not accessible 24 hours and others might not allow you to add shelves so be sure to ask the right questions before deciding on a storage facility.
Tips for packing your self-storage unit
Once you have decided on the right storage unit, it's time to pack up and start playing Tetris with your storage pieces. Here are some really handy tips on packing and storing your goods.
Make sure you use good quality boxes and not old or flimsy ones lying around in your garage
Store valuables or breakables in bubble wrap, tissue paper and in plastic boxes
Fill boxes as full as possible and distribute weight evenly so stacking is easy and safe
Label each box properly so you know what is where
Leave a walkway to the back of your unit for easy access to everything
To maximise self-storage space, beds and tables could be taken apart or folded
Cover all furniture with dust sheets
Mirrors, glass and picture frames should have their corners protected with foam or cardboard
Don't forget to check your home insurance policy. Make sure your goods are still covered while in self-storage. We provide free insurance for your goods valued up to £3000 but if you're storing your entire house content, you'll probably need to arrange additional insurance.
If you are still unsure about how much self-storage space you need, you are welcome to visit any of our facilities or simply take the virtual tour of our Gloucester and Stroud facilities. Please give us a call or get in touch via LinkedIn, Facebook or Twitter if you need more information. We'd be happy to answer any questions you may have.