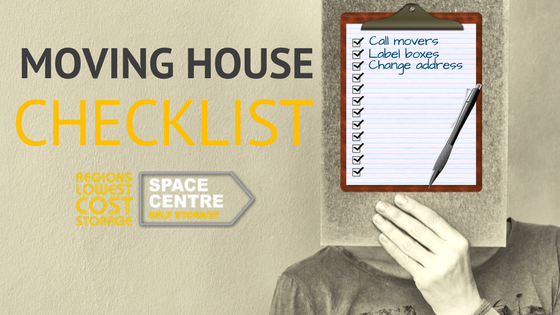 We've mentioned before how stressful moving house can be but a good moving strategy can make all the difference. The first part is getting all the questions answered in terms of school district, local health services, public transport and the daily commute to and from work. Once that is covered and you found a property, the next step is crucial. Preparation is key to everything and the golden rule is to never wait until the last minute to plan a successful move.
Before you start packing the moving van and stuffing your car with whatever you can squeeze in, there are a few things to consider for a stress-free move. Our checklist for moving house will help you before, during and after.
Are You Moving House Yourself or Using Professional Movers?
For some, moving house yourself might seem like a good idea but you really need to think this through. Bear in mind all the big items like couches, dining room table, TV stands, fridges and freezers. Do you have the right vehicle and expertise to pack and move everything without causing any damage?
If you are using a removal company, book them 6-8 weeks in advance and also confirm 2 weeks before the move that everything is still in order. Here are some handy tips for choosing the right removals company.
Time To Declutter and Organise
Moving house is the perfect time to get rid of all that clutter. Do you really want to move loads of things you no longer need? Use this time to organise all your belongings well before the move. It helps you minimise your junk, makes moving easier and you could also save big on removal costs. A typical way of doing this is putting everything into four piles – donate, sell, recycle or throw away. You should start organising and packing at least 2-4 weeks before your move.
Make An Inventory List And Get Packing
Make a list of everything that you are moving and label boxes according to rooms so that unpacking will be a breeze. It will also help you keep track of everything you have so nothing gets misplaced.
Whether you're using a removal company or doing it yourself, you need to a packing plan. Pack one room at a time and be methodical – don't pack things you no longer want or need. Don't overfill boxes and remember to use bubble wrap, paper or foam chips for fragile items. Separate a box or two of essential things that you'll need on moving day to travel with you such as kettle, cups, plates coffee, keys, snacks and phone chargers. Make sure the 'essentials' boxes are put aside so they won't end up in the removals van by accident.
In addition, you may want to pack an overnight bag for everyone with a change of clothes and toiletries. If children are starting a new school within a day or two, it's advisable to have their new school uniforms in these boxes of essentials in case there's no time to fully unpack.
Child and Pet Care
Moving house is tiring and stressful so you'll have very little time to watch or entertain the kids. If your move is a short hop across town it may be advisable to ask a friend to take care of your children and pets on moving day. For a long distance move, arrange a babysitter to take the kids out for the day and ask your vet what they recommend for your furry friends. If the kids are with you during the move, make sure they have things to keep them occupied as boredom and frustration are bound to set in.
Change or Update Your Address
Contact the post office, bank and your car insurance company to update your address on their system. You want to avoid missing statements, bills and late payment as a result.
You must also notify your gas, electricity and phone providers that you are moving house. Give them the date you plan to move out of your existing property, the new address and moving date. Before you leave, make sure you take a meter reading at your existing property and also when you arrive at the new one. If you forget to do this, you could end up paying for electricity and gas you haven't used.
Is Your New House Insured?
Your existing home insurance policy needs to be reassessed to be fully covered during the move. Also, contact your insurance company to update your address and find out what your policy covers. It's important to know this in the event of loss or damage to your items during and after the move.
Additional Storage Space
If you are downsizing or if your new house doesn't have a garage or shed, make sure you have enough storage space for belongings that won't fit in your new home. If you want to keep things you don't have space for, consider renting a small self storage unit. It will keep everything safe and secure until you can use them again.
Self storage units are ideal for short-term storage especially if don't know what to do you're your belongings. You can keep it in storage until you decide whether to throw things away, put it all on eBay or trying out a car boot sale or local auction.
We have facilities in Stroud, Bristol and Gloucester. Please get in touch if you need help with self storage in these areas or require expert moving and storage advice.